Why We Created Stacks House, the Financial Empowerment Pop-Up Where You Can Ride a Mechanical Piggy Bank and Literally Punch Your Debt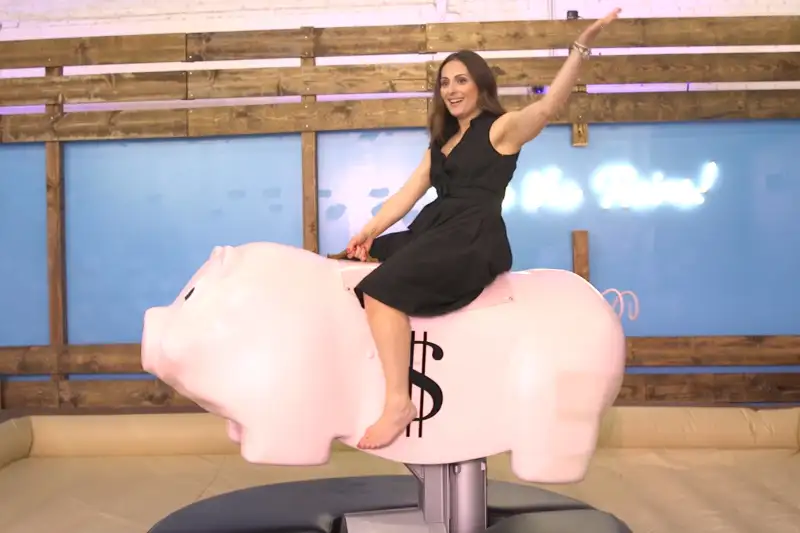 It's tempting to pull your money out of stocks when the market gets choppy. But retreating can be a costly mistake, as recent history shows: The Standard & Poor's 500 has returned nearly 14% so far this year after ending a volatile 2018 down about 5%.
People who pulled out last year would have missed those gains. You can discover the rewards of persistence and other money lessons for the next five weeks at Stacks House, an 11,000 square foot over-the-top pop-up experience (Museum of Ice Cream-style) dedicated to women and money.
Situated in Downtown Los Angeles and then touring the country, Stacks House was created by me, a long-time financial author, speaker and podcaster, and my two co-founders Patience Ramsey and Kindra Meyer, who each bring with them over 15 years of experience in marketing and brand building.
Stacks House is a pop-up with a purpose designed to financially educate and empower women. Collectively, women will control two-thirds of the wealth in the U.S. within a decade, according to the Family Wealth Council. Yet we earn less, save less and pay more for things than our male counterparts, creating additional obstacles to our financial freedom. With Stacks House, our goal is to equip women with the inspiration, and information, to realize their own financial potential. We kick off in Los Angeles with plans to tour the country to major markets like Austin, Detroit and New York.
Each room is dedicated to a key financial pillar, from debt management to earning your worth and to establishing goals to saving for retirement.
One of our most popular attractions is our "Retirement Rodeo" mechanical piggy bank, a wild ride we developed in partnership with Charles Schwab. "Saving and investing are both building blocks of financial success, and our mechanical pig serves as a vivid illustration of the importance of sticking with your plan through bumpy times," says Terri Kallsen, executive vice president and head of Schwab Investor Services.
Adds co-founder Meyer, who is the brainchild of the Retirement Rodeo, "We wanted an experience that would bring to life the fluctuations of the market. What better than riding a mechanical piggy bank with its unpredictable moves?"
The 30-second ride is meant to reflect 30 years in the market and the benefit of holding on. On our accompanying stock screen, we use actual market data from January 1, 1989 to December 31, 2018, to illustrate you would have ended up with over $2.4 million with an initial investment of $30,000 and annual contributions of $15,000 for the next 29 years.
The rodeo is also outfitted with iPad stations where guests can take a retirement IQ quiz to test their investing smarts.
The Retirement Rodeo is just one example of the many interactive rooms at Stacks House. In our adjacent Debt Boxing Gym, you're greeted with a row of punching bags and a boxing ring, all encouraging guests to knock out their debt. Our Stacks Salon is a relaxing room that resembles a retro hair salon where we bring advice and inspiration around negotiating and earning more money via audio clips of my interviews with Suze Orman and Sallie Krawcheck and our own publication, She Stacks Magazine.
A big centerpiece at Stacks House is the Money Moves room, where we've built larger-than-life, photo-friendly installations - from an illuminated birthday cake to a walk-in home, all designed to inspire women to make smart money moves during life's big "moments." This room is created in partnership with our presenting partner Zelle.
"We are so excited to partner with Stacks House to inspire and empower women to make smart money moves during all of life's moments," said Rose Corvo, Chief Marketing Officer for Zelle. "Whether it be splitting costs while traveling, gifting or sending and receiving funds for emergencies, we want to show attendees a fast, safe and easy way to move money."
Whether you're looking to experience a one-of-a-kind event with friends (and spice up your Instagram feed) or get actionable information and inspiration to get your personal finances in shape, there's something for everyone at Stacks House.
The activation is open five days per week, Wednesday through Sunday, beginning on April 17 through May 19. Tickets to Stacks House may be purchased online at www.stackshouse.com for $38 while tickets last.