4 Ways to Prepare for the 'Bomb Cyclone' That's Coming to the East Coast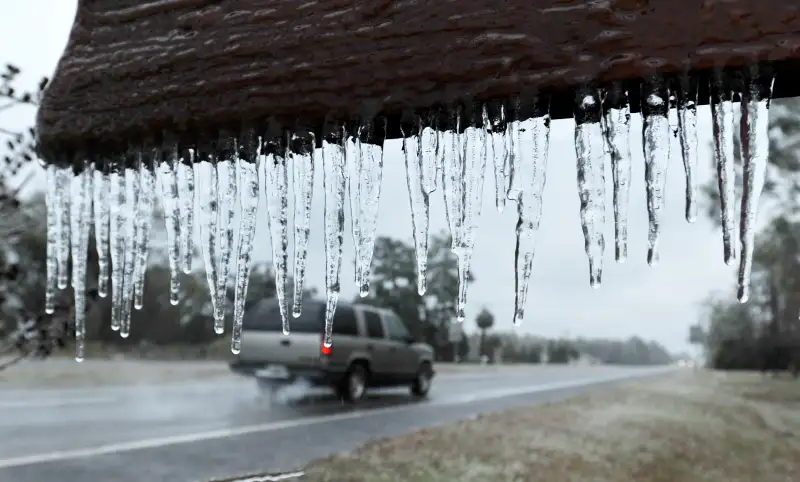 Grayson, a monster winter storm forecasters have dubbed a "bomb cyclone," is snaking its way up the East Coast, and people are bracing for the worst. The winter storm is making its way through Georgia, the Carolinas, and Virginia today, and will be in the New York City area tomorrow, with some major airlines preparing for possible delays and cancellations. By Thursday and into Friday morning, winter storm Grayson is expected to pummel Boston, Rhode Island, and Maine.
If you're in an area that's likely to get hit, it's important to stock well-stocked supply of food and emergency equipment on hand. But while big blizzards like winter storm Grayson have a way of turning even the most even-keeled among us into doomsday preppers, you probably don't need to take winter storm preparedness to the extreme and tundra-proof your home to protect your family.
Here's a winter storm preparedness list to make sure you and your family stay safe during winter storm Grayson, without spending a bunch of money.
Make an SOS plan
Take a few minutes to consider the worst case scenario. What will you do if a winter storm knocks the power out? Or if your pipes freeze? Jot down an emergency plan, just in case, and research how much it will cost to fix those. And be prepared to evacuate if you need to. Ready, a federal campaign designed to mitigate disasters, has a good online checklist to get your family evacuation-ready; the Red Cross has a list of local emergency shelters as well. If you have time, caulking and stripping your windows and doors can help keep the cold out. In a pinch, Apartment Therapy recommends covering your windows with bubble wrap, which can run you just over $8.00 for a big roll at Target.
Stock up on food
It's a good idea to have warm clothing and blankets on hand for every member of your family. You'll also want to prepare for the winter storm by stocking up on plenty of matches, long lasting candles, at least one flashlight (with extra batteries), a first aid kit, and a fire extinguisher in good working condition. All of these things shouldn't run you more than $10.00 to $15.00.
Food-wise, make sure you stock up on bottled water and non-perishable food items like canned goods and granola bars before the storm hits — each cost under $2.00 at your local grocery store. Also, hand sanitizer, towelettes, and things that can be used for sanitation are important when water sources are dwindling. Backup generators and heaters can be expensive, but if you live in an area that gets pummeled with snow every year, it's not a bad idea to buy or rent good equipment from a home improvement store. If your family needs a backup power supply for medical equipment, like a ventilator, FEMA may reimburse you for the cost. There are safety hazards involved, so be sure to read up on how to properly use a generator before testing it out at home.
Monitor winter storm updates
Tune in to weather reports on local radio or TV stations for the latest winter storm updates. For the ultra-prepared, a good AM radio will run you less than $100. Smartphone apps like Disaster Alert, Weather Underground, and Dark Sky are also good for tracking emergency notifications — and they're free.
Stay inside
Stay off the roads as much as possible during a winter storm like Grayson. If you absolutely have to drive, make sure your car is properly winterized (snow tires, antifreeze, flashing hazard lights, etc) and equipped with a FEMA-approved emergency supply kit. You'll also want to keep your gas tank full, so you can leave quickly in an emergency. But beware of price gouging. Gas stations sometimes use storms as an opportunity to exploit panicked consumers — if the cost seems higher than it was last week, report any suspected gouging to your state's Attorney General office.