Last-Minute Tips Before the Storm Hits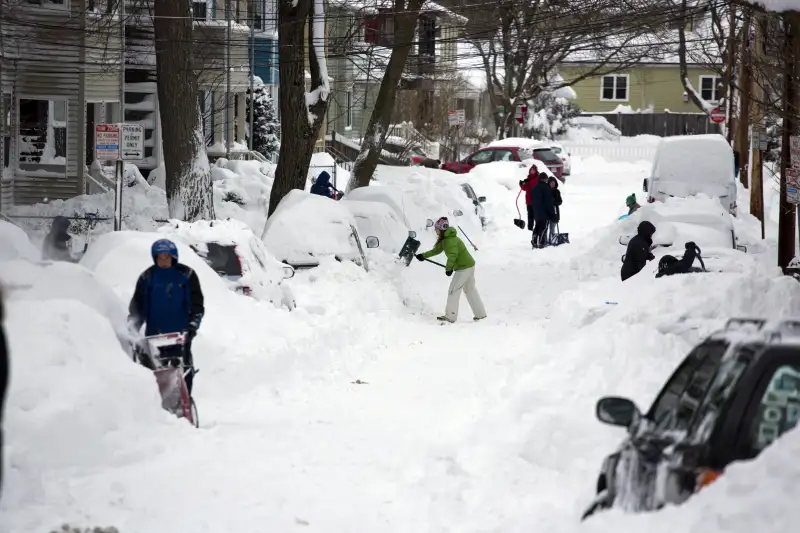 M. Scott Brauer—Demotix/Corbis
Before the first significant storm of 2016 hits the East Coast, there are a handful of things you can do right now to make sure you're fully prepared for whatever it may throw at you.
1. Don't Panic—but Do Get the Essentials
We're already seeing reports of panic hoarding at supermarkets and grocery stores. A lot of it, as consumer psychologist Kit Yarrow explains, is overblown and irrational behavior. But that said, you still need a few essential supplies. You'll want to have enough clean drinking water and nonperishable, easy-to-prepare food on hand for at least three days. Each person in your family will need about a gallon of water a day according to FEMA, but you may want to store a little more for washing and food preparation. (Don't forget to buy a non-electric can opener, if you don't have one, so you can dig into those cans of beans.)
2. Prepare to Be Without Power
Don't struggle to stay connected during or after a storm-induced power outage. Make sure all your cell phones and other mobile devices are currently charging, especially bigger devices like laptops that can then be used to power up smartphones if necessary. You may also want to invest in an external battery pack or cordless charger if you're making a last-minute run to Walmart.
Lengthen your gadgets' lifespans by getting news from an old-fashioned hand-crank or cordless radio and by actually using a flashlight instead of the flashlight app on your phone. Just don't forget to stock up on extra batteries.
3. Hit the ATM
If the power gets cut off in your area, you won't have access to ATMs to get cash, so consider taking out $100 to $200 in small bills to use should any unforeseen emergency need crop up, or to pay the nice kid down the block who offers to shovel your walk.
4. Fuel Up
Though you're likely to stay off the roads once the storm begins, fill up your tank at the last opportunity before severe weather sets in, especially if you park your car on the street. A full tank will keep the fuel line from freezing in blizzard temps, advises the Red Cross.
5. Get Your Pharmacy Refills
You'll want to have at least a seven-day supply of any necessary medications on hand as well as any medical items you might need, such as extra hearing-aid batteries or backup contact lenses and a fully-stocked first-aid kit, recommends FEMA.
Consider replenishing stores of sanitation supplies like hand sanitizer and wet wipes to use if your water resources become limited.
6. Turn on the Tap
To help keep your pipes from freezing in the cold weather, allow a tiny amount of water to drip from the tap.
7. Buy a Long Extension Cord
You could die from carbon monoxide poisoning if you use portable generators indoors, in attached garages, or too close to the house. And to use one safely outdoors, make sure you have a long enough extension cord to keep it at least 20 feet from any door, window, or vent. You should also avoid the temptation to use any outdoor heating or cooking equipment like a grill, camp stove, or propane heater indoors, or to try to heat your home with the stove.
8. Gather Your Personal Documents
Before the storm comes, make sure you know where all important documents are kept, such as the deed/lease to your home, passports, birth certificates, and insurance policies; better still, gather them in a secure place. That way you can access them quickly in case of a medical emergency or post-storm to file an insurance claim. You should also write down important phone numbers in case you can't access the contact list in your phone.