The Biggest Reason Women Aren't Getting Married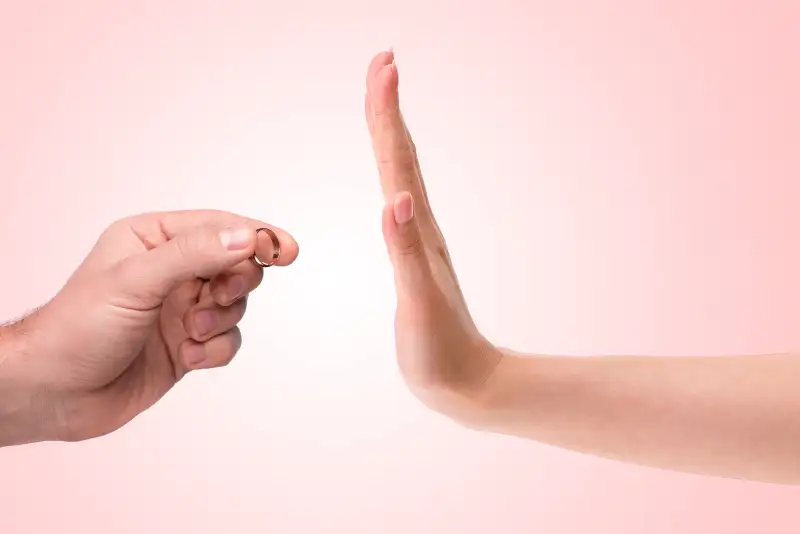 Photo illustration by Sarina Finkelstein for Money; Getty Images (1); Dreamstime (1)
It's probably no coincidence that as women have gained economic power in recent decades, they've been less likely to tie the knot: From 1980 to 2010, the proportion of American women who were married fell from 74% to 56%. Now one researcher has looked more deeply into the reasons for that trend. In a recent paper, Na'ama Shenhav, a Ph.D. candidate at the University of California, contends that women's rising earnings relative to men's is responsible for about 20% of the decline in the marriage rate.
Though the spike in job opportunities for women—and their increased ability to control their own reproductive health—has contributed to the decline in women getting married, the wage increase is the most significant factor, according to Shenhav. Specifically, every 10% increase in women's wages relative to men's leads to a 7% decline in marriage.
Additionally, this decrease is most frequently seen among women who "would have married lower quality spouses," Shenhav writes, measured in terms of relative educational attainment and age. Now, if women do marry, they're more likely to seek out a partner with a higher level of education relative to their own, as well as one who is the same age or younger.
Read More: The Gender Pay Gap in 3 Scary Lists
Since the growth in women's wages during that 30-year period has been more substantial than that of men, women have become increasingly important to the financial stability of the overall household. That fact has caused many women, even those of lower socioeconomic status, to postpone or forgo marriage, Shenhav suggests.
As women become less financially reliant on men for household necessities, the decision to marry becomes more dependent on factors like love, social norms, or the desire to start a family.
It might seem counterintuitive to tout growth in women's wages while the gender wage gap has remained relatively stagnant. For instance, a new report from Glassdoor found women take home 8% less in base pay and 11% less in total compensation than men. However, women's wages have increased by about 30% over the past three decades. On average, they take home about 80% of the amount that men do, compared with only about 65% of men's earnings in 1980.
While it's a positive development that women are less likely to get married just for financial security, the trend might still be bad news for women who support themselves: Wage gains for women are, by and large, not significant enough to keep up with increasing prices.
Here's a look at the gender wage gap in your state.