How to Watch Game 7 of the World Series Tonight for Free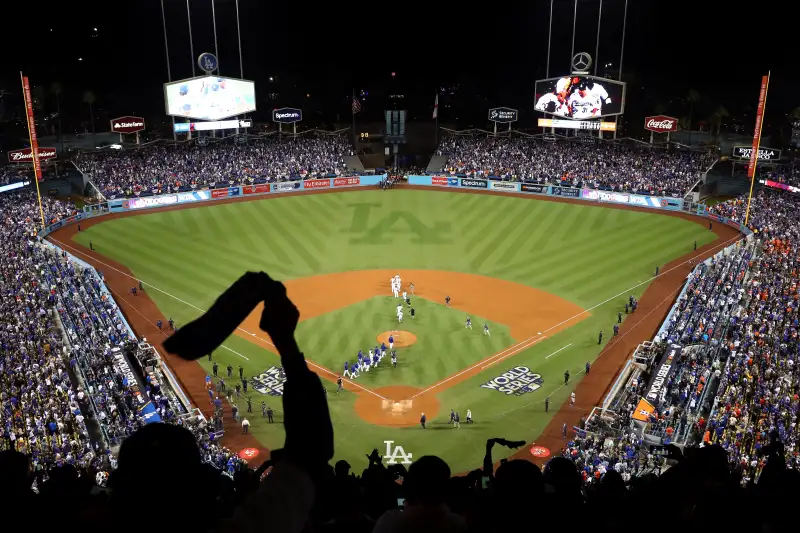 Joe Scarnici—Getty Images
It's been an absolutely epic World Series thus far, so it's fitting that the Houston Astros and Los Angeles Dodgers will play a deciding Game 7 on Wednesday at 8:20 p.m. (E.T.). The Dodgers beat the Astros 3-1 on Tuesday night to tie the series at 3-3, and the Dodgers will host the winner-takes-all game tonight in Los Angeles.
The 2017 World Series is making history in several ways. The two teams have already combined to break the record for most homeruns ever in a World Series, with a total of 24 so far, including seven in Game 5 and an all-time-high eight homeruns in Game 2. If the Astros win tonight, it will be the first-ever World Series championship for the franchise; a Dodgers' victory will bring the team its first crown in nearly three decades. The 2017 World Series is also clearly a showdown between two Major League Baseball powerhouses, marking the first time since 1931 that both teams won more than 100 games during the regular season, with 101 wins for the Astros and 104 for the Dodgers.
How to Watch Game 7 Live
Fox has broadcasted all 2017 World Series games, and it will air Game 7 tonight across the country. The first pitch is scheduled for 8:20 p.m. (E.T.), 5:20 p.m. (P.T.). Yu Darvish is expected to start on the mound for the Los Angeles Dodgers, while Lance McCullers Jr. should be the starting pitcher for the Houston Astros.
To watch the game on regular TV, simply tune in to your local Fox channel. You don't necessarily need a cable TV package. Broadcast networks like Fox are available for free in most areas if you have a digital antenna.
How to Live-stream World Series Game 7
If you don't have a TV, or don't have access to one on Wednesday, check out one of several streaming TV services that make it possible to live-stream Game 7 online. Luckily, these services all have free trial periods, so you can watch on your preferred device without paying a dime. Depending on your choice of service, you might be able to watch via video game console, as well as Apple TV, Amazon Fire TV, Roku, XBox, Android, and Chromecast, among other options.
Here are services live-streaming the World Series tonight:
DirecTV Now starts at $35 per month for a package that comes with 60+ channels, including local Fox stations airing the World Series in more than 50 U.S. markets. New customers can sign up and watch for free for seven days.
FuboTV is a new sports-centric streaming service that lets you live-stream over 70 channels, including the NFL Network, NBA TV, NBCSN, and several Fox stations—including the main Fox broadcast of the World Series. New subscribers can watch for free for seven days during a trial period. After that, it costs $19.99 per month, and then goes up to $39.99 after two months.
Hulu Live packages, which start at $39.99 after a free seven-day trial period, come with live-streams of Fox and other broadcast channels.
Playstation Vue offers several streaming packages from $39.99 per month, and all are available for free during a five-day trial period. Take note that local Fox broadcasts are not available for all subscribers, however: According to CutCableToday.com, which offers a comprehensive guide to watching the World Series without cable, Fox live-streams are available from Playstation Vue only in 34 markets around the country.
Sling TV offers two different basic streaming packages, and the Sling Blue option comes with 40+ channels including Fox in most markets. Sling Blue costs $25 per month, and new subscribers can try out the service—and watch the World Series—for free for seven days.
YouTube TV is yet another streaming service that includes Fox in its packages. Prices start at $35 per month, but the service is available with a longer-than-usual free trial period—stretching 14 days before you're charged. So, if you sign up today, you watch Game 7 tonight and check out everything else YouTube TV has to offer over the next two weeks, for free.