How to Watch the 2017 World Series for Free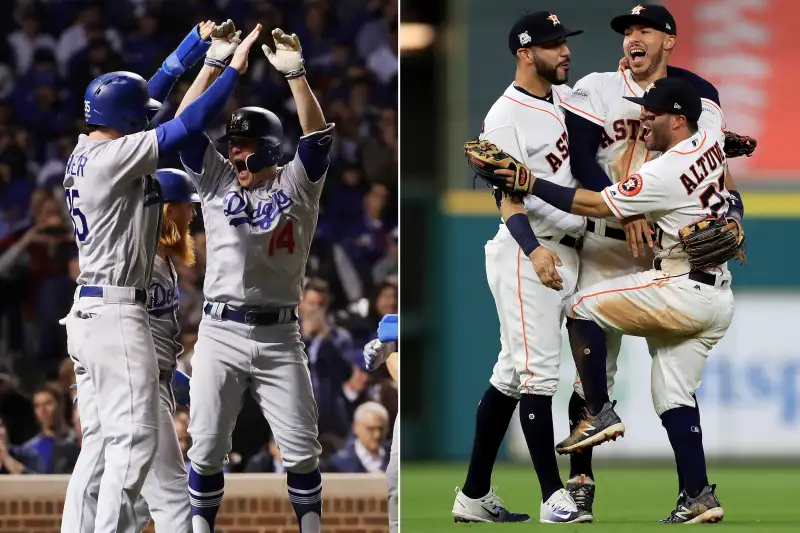 Dogers: Jamie Squire—Getty Images; Astros: Ronald Martinez—Getty Images
The 2017 World Series between the Houston Astros and Los Angeles Dodgers is set to be a historic contest no matter which team wins.
The Astros, coming off a devastating hurricane season in their home state of Texas, have a chance to secure its first World Series win in franchise history. And the Dodgers are ending a nearly 30-year absence from the World Series — and hoping to come out with the top prize, which could include a serious pay day.
The two teams, both of which competed in the National League before the Astros moved to the American League in 2013, will face off once again this week for the top title in Major League Baseball. The Dodgers have home field advantage, with the World Series beginning and, if it lasts long enough, ending in their stadium in Los Angeles.
FOX will be airing each game of the World Series, starting Tuesday night at 8:09 p.m. ET. However, it's possible to watch the World Series without cable.
How to watch the World Series without cable or online
If you don't have a cable TV package or can't head to a local bar airing the World Series, there are a few ways to still watch the baseball playoffs.
Sling TV is an easy way to watch the World Series without a cable package. The streaming service can be used on devices like Apple TV, Roku, Amazon Fire TV, among other options, as well as online or on mobile devices. For $25 per month, users get access to the Sling Blue package, which includes live television on a number of channels, including FOX.
PlayStation Vue also offers a streaming service that can be used to watch the World Series on PlayStation 4 and 3 consoles, Roku, Amazon Fire TV, Apple TV and Android TV, as well as online at psvue.com/watch. Fortunately for baseball fans, the platform's cheapest deal — $40 per month — includes FOX.
The recently launched Hulu Live also airs FOX and is available for $40 per month. The platform is available online at Hulu.com, on Apple TV, Amazon Fire TV, Roku, XBox, Android and Chromecast.
And this year, the MLB is partnering with YouTube TV, a subscription-based channel on the platform, to promote and air Wold Series content. FOX is available on YouTube TV, which is available for $35 per month and in 49 of the 50 top TV markets in the country.
How to watch the World Series online for free
Luckily for baseball fans, each of the streaming services listed above offer free trials you can take advantage to watch the World Series.
PlayStation Vue has a five-day free trial for its $40 per month subscription package. Sling TV has a seven-day trial. Hulu Live has a seven-day free trial. YouTube TV has a 14-day free trial.
So, it seems that baseball fans who opt for this option for most of these platforms may want to wish for a short series.
The 2017 World Series schedule
When exactly should you be tuning in to watch the World Series? Below are tentative dates for the World Series:
Game One
Tuesday, Oct. 24 (Houston Astros at L.A. Dodgers)
Game Two
Wednesday, Oct. 25 (Houston Astros at L.A. Dodgers)
Game Three
Friday, Oct. 27 (L.A. Dodgers at Houston)
Game Four
Saturday, Oct. 28 (L.A. Dodgers at Houston)
Game Five
Sunday, Oct. 29 (L.A. Dodgers at Houston)*
Game Six
Tuesday, Oct. 31 (Houston Astros at L.A. Dodgers)*
Game Seven
Wednesday, Nov. 1 (Houston Astros at L.A. Dodgers)*
*If necessary