Tonight's World Series Final Is the Most Expensive Game 7 in Sports History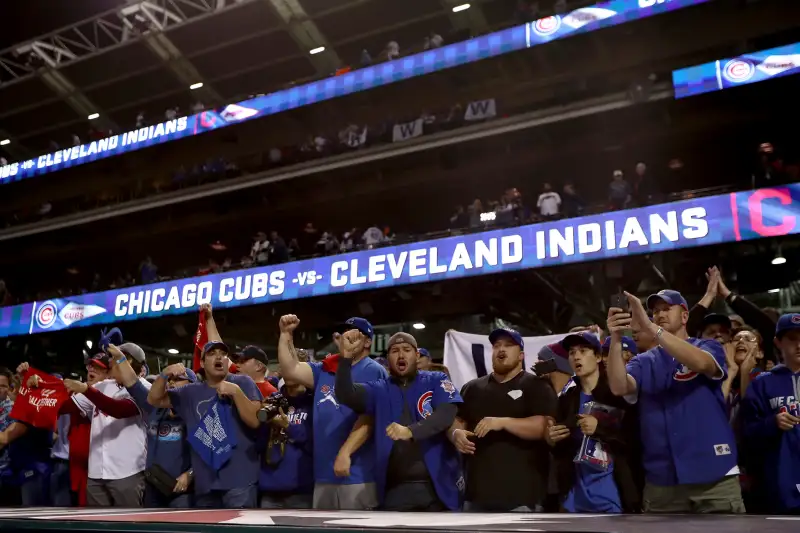 We knew going in that this year's World Series would be historic. The series features the Chicago Cubs and the Cleveland Indians, two championship-deprived franchises that haven't won Major League Baseball titles since 1908 and 1948, respectively.
Based on how long fans have waited for their teams to win it all, we also had a pretty good idea that World Series ticket prices would be insane. And sure enough, they've been insane on a historic level. Ticket prices on the secondary market for the games in Cubs-crazed Chicago have been listed at an average of over $6,000 in the lead up to the series.
As the first pitch of each game at Chicago's Wrigley Field drew nearer, prices declined, with average list prices dipping to a bit over $5,000 and average sales prices ranging from $2,300 to $3,000, according to TicketIQ. Even after last-minute price drops, however, both the asking and actual sales prices were by far the highest ever for World Series games.
For that matter, the baseball gods appear to be on the side of all kinds of the forces making money on the World Series, what with the Cubs winning the last two games to force a Game 7 tonight in Cleveland. At last check on ticket resale sites like StubHub and Vivid Seats, the cheapest individual tickets—for standing room only admission—for tonight's game at Progressive Field were starting at roughly $750 to $850.
Read Next: Chicago Cubs vs. Cleveland Indians: A Money-Focused Look at the World Series
If you want an actual seat during the game, expect to pay at least double that. "Tickets to get a seat in Progressive Field will start at $1,863.80 per person in the upper deck. To get two seats together, however, will start at $1,934," Cleveland.com reported early on Wednesday."Bleacher seats are starting at $2,107.16. But to get more than one together will require $2,548.25 per ticket."
TicketIQ, a ticket resale and research site that's been carefully tracking World Series prices, says that right after the Cubs won Game 6, the average asking price for a Game 7 ticket was $4,700, and the average sales price was $2,919. Both figures are more than twice as expensive as the next priciest World Series game played over the past seven years: Ticket prices for Game 2 in the 2010 World Series, pitting the San Francisco Giants versus the Texas Rangers, were listed at an average of $1,787 and sold at an average of $1,147.
Tonight's ticket prices are not merely the most expensive in World Series history—they're the most expensive Game 7 tickets in all sports history. The next most expensive appears to be last summer's NBA Finals Game 7, when the Cleveland Cavaliers faced the Golden State Warriors in a championship-deciding game that led sellers to push asking prices up to an average of $3,000, with average sales prices hitting roughly $2,000.
Meanwhile, ticket sellers are hardly the only business ventures cashing in on the World Series in a huge way. TV ratings on Fox, which is broadcasting the games, are up 23% with adults ages 18 to 49 compared to the previous 10 World Series. Tuesday night's Game 6 ratings were 66% better than the last World Series Game 6 played, in 2014.
Read Next: The Shady Story Behind Soaring Super Bowl Ticket Prices
The games have obviously been great for local businesses in the host cities as well. Cleveland bars may not be getting away with the $100 to $1,000 cover charges some Chicago establishments charged while the World Series was in town, but Cleveland hotels sure are raking in the cash. If they're not already sold out, some downtown hotels are charging $600 and up for rooms this week, which is about four times the usual rate for the area. Garages near the stadium have been charging up to $100 to park near the ballpark too.