Yeti Coolers Just Got Cheaper. Here Are the Best Deals You Can Get Right Now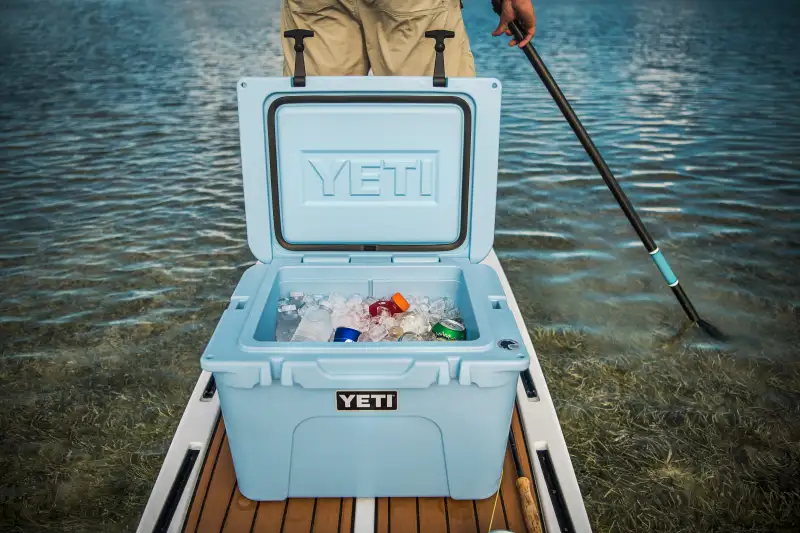 The most indispensable accessory for summertime just might be the perfect cooler—perhaps a huge hard-shell cooler that serves as portable refrigerator or handy soft-sided cooler bag you can throw over your shoulder. Or perhaps one of each. And no brand out there has developed a following as the like cult-favorite Yeti, which many say makes the best cooler on the planet.
Yeti coolers have attained cult status among outdoorsmen and -women for being ultra-durable and keeping food or whatever else you need on ice. Professional as well as customer reviewers rave about how well these coolers can keep ice frozen, thanks to insulating qualities like extra-thick walls and superior lid sealing to keep cold air contained.
The problem is that buying the world's best cooler doesn't come cheap: Many Yeti coolers routinely cost hundreds of dollars. Fortunately, we have spotted several Yeti cooler deals, in the form of lower pricing for some models and Yeti cooler sales on a few discontinued models.
Here are some great Yeti cooler deals just in time for summer.
The Yeti Hopper Two line of cooler bags have zippers that are sturdy and leakproof. So you can fill it with ice, zip it up and toss it in the backseat or trunk without worrying about having a puddle in your car by the time you reach your destination.
Recently, the brand cut the Yeti Hopper Two 30 cooler bag model by $50, bringing the price down to $299.99.
The company says that Yeti is lowering prices on several soft cooler Hopper models and hard-sided Tundra coolers "to allow for new, evolving products to enter the line." It's the equivalent of an instant Yeti cooler sale. The Tundra 35, which can hold 28 pounds of ice, has been marked down to $249.99, or $50 less than the old price. The Yeti Tundra 45, with a capacity of 34 pounds of ice (or 28 12-ounce cans), and the larger Tundra 65 — it has a capacity roughly twice as large as the Tundra 35 — are also $50 cheaper now, priced at $299.99 and $349.99, respectively.
The company is discontinuing the Tundra 50 hard cooler, along with the Hopper Two 20 and Hopper Two 40 cooler bag models in order to make way for new models like its Tundra Haul and Hopper Flip, the company says. This means you can snag these products before they disappear at a lower price, as well. Move quickly, though; Yeti deals on these discontinued models are only good as long as supplies last.
The Tundra 50 is already proving hard to track down, but you can find it at Dick's Sporting Goods and on Amazon for the sale price of $329.99, $50 off the usual price. (Hurry, though, because more popular colors are already unavailable.)
The Hopper Two 20, the smallest in the Yeti Hopper Two lineup with dimensions of 22" by 16.5", is $249.99, a discount of $50. The larger Hopper Two 40 (26" by 19.5") is also $50 off, for a new price of $349.99.
If you can't swallow spending a few hundred bucks to keep your macaroni salad cold, here are a few other options: The eBags Crew Cooler II has a nearly five-star rating on more than 4,500 reviews. Owners ranging from airline pilots to picnickers rave about its ability to keep food cold and ice from turning into slush for hours on end. It has plenty of pockets and compartments, and right now, you can get 20% off the regular $49.99 price with the promo code GETAWAY.
That eBags promo code also gets you 20% the smaller Crew Cooler Jr. bag, regularly priced at $29.99. And if you just need something to keep your sandwich cold on your commute, the promo code GETAWAY also gets you 20% off this handy rip-stop lunch bag, regularly priced at $28.99, which has two compartments and both a detachable shoulder strap as well as a top handle.
We've included affiliate links into this article. Click here to learn what those are.