Zion Williamson Is March Madness 2019's Most Electrifying Star. Here's How He Could Make $1 Billion as an NBA Pro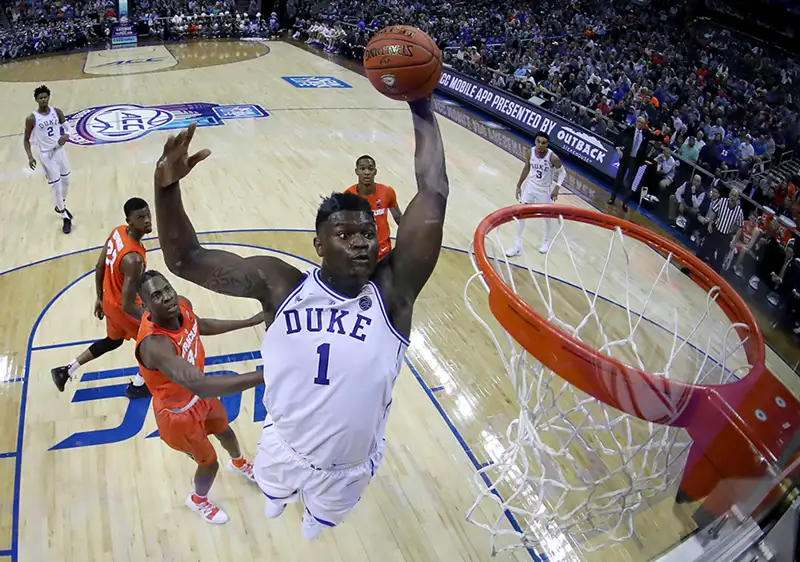 Streeter Lecka—Getty Images
Zion Williamson is 18 years old, and has appeared in a grand total of 29 college basketball games before the March Madness 2019 tournament. That's been more than enough playing time for the insanely powerful and freshman Duke phenom to throw down 62 dunks, excite basketball fans everywhere — and demonstrate that he's easily the best NBA prospect in years.
Led by Williamson, the Duke Blue Devils are big favorites to win the 2019 NCAA basketball tournament. In the first-round Duke vs. North Dakota State game on Friday night at 7 p.m. ET, Duke is a whopping 27-point favorite to win.
It would be shocking if Zion Williamson doesn't leave college for the NBA after March Madness is over, and it would be equally shocking if he's not the first pick in the 2019 NBA draft. As the top pick, Williamson should command a maximum rookie contract averaging more than $10 million per year. He's also likely to be offered sneaker deals in the neighborhood of $10 million a year, and non-sneaker brands will also surely be clamoring to sign him to other multi-million-dollar sponsorship deals.
But no one really knows just how rich Zion Williamson will be at this time next year, because there hasn't been any recent precedent for an athlete with his mix of talent, speed, size, and star power. Williamson already has 2.8 million followers on Instagram, and celebrity basketball fans like Barack Obama, Jay-Z, Floyd Mayweather, and LeBron James have attended Duke games to see him play.
Zion, who is already such a star that he's often referred to just by his first name like LeBron, Shaq, or Kobe, is unlike any player people have ever seen on a basketball court. Zion Williamson is listed as a 6'7" forward, but he weighs 285 pounds — which would make him the second-heaviest player in the NBA right now, after only Boban Marjanovic, who spreads his 290 pounds over a monstrous 7'3" frame.
What's more, Williamson has a vertical leap over 40 inches, one of the highest ever recorded by a Duke player. In other words, Zion Williamson's body type is roughly the equivalent of star NFL defensive lineman J.J. Watt, only he's a teenager who can jump almost as well as NBA legend Michael Jordan in his prime — who was one inch shorter and 70 pounds lighter than Williamson.
The NCAA seems to grasp his superstar status, and during March Madness week posted online a compilation of Zion Williamson's best dunks, including this crazy 360-degree jam against Clemson in January.
Want to see more Zion Williamson dunks? ESPN did a compilation of every Zion dunk from his freshman year at Duke.
The NCAA also published a comprehensive analysis of a single amazing Zion Williamson blocked shot from the Duke vs. Virginia game in February.
While Duke, the NCAA, sneaker companies, and TV networks like ESPN, CBS, and TNT are able to monetize the talents of Zion Williamson and college basketball players nationwide, the athletes themselves are still essentially paid nothing outside of scholarships.
Current NBA rules require that you are out of high school for one year before being eligible for the draft, and in all likelihood Williamson will be a "one and done" player who goes pro after a single year at the college level.
How much money Zion Williamson will make in the NBA is partially determined by the league's Collective Bargaining Agreement (CBA). Though the higher you're picked in the draft the more money you'll make, NBA salaries are restricted for rookies and younger players. Last year's No. 1 pick, Deandre Ayton of the Phoenix Suns, has a base salary of $8.1 million this year and is projected to make a maximum of $41 million over his first four years as a pro.
It's expected that Zion Williamson's NBA contract would be in the same ballpark. That means he would be earning far less than the NBA's highest-paid players like Stephen Curry, LeBron James, and Russell Westbrook, whose contracts pay them over $35 million annually.
Zion Williamson's future NBA contract only represents a small portion of what the Duke freshman might make once he goes pro, however. The sneaker deals and other sponsorships offered to Zion Williamson should be enormous, not only because he is such a megastar but also because he is being projected to be picked by the New York Knicks and would play home games in the media capital of the world.
NBA superstars like LeBron James and Kevin Durant actually make more money from endorsement deals than their NBA salaries, and Zion Williamson should as well. Insiders say that his first sneaker sponsorship should be worth around $10 million annually. Some basketball analysts have even said Zion Williamson might get a long-term sneaker deal worth $100 million.
Mind you, what sneaker brand will snag Zion Williamson to a sponsorship deal is undetermined. Nike, which outfits Duke, seemed to be the favorite, but the odds that Williamson would sign with Adidas increased significantly after he was injured in a game against North Carolina after ripping through his Nike high-tops.
In addition to a huge sneaker deal, many more sponsorships are bound to come Zion Williamson's way. And if he is as talented and dynamic as people expect, Zion will surely become one of the highest-paid NBA stars once his rookie contract is completed. It's easy to foresee Zion Williamson making an NBA salary of $40 million annually or more while still in his mid-20s, and earning many tens of millions more each year in endorsement deals.
And if Zion Williamson winds up playing up to his potential over the course of a long NBA career, experts forecast that his earnings will surpass the lofty $1 billion mark. Speaking with Forbes' Adam Zagoria this past fall, ESPN college basketball analyst Fran Fraschilla said, "Zion Williamson's going to make $1 billion playing basketball effortlessly."