World Series Ticket Prices Are Dropping, But You Still Can't Afford Them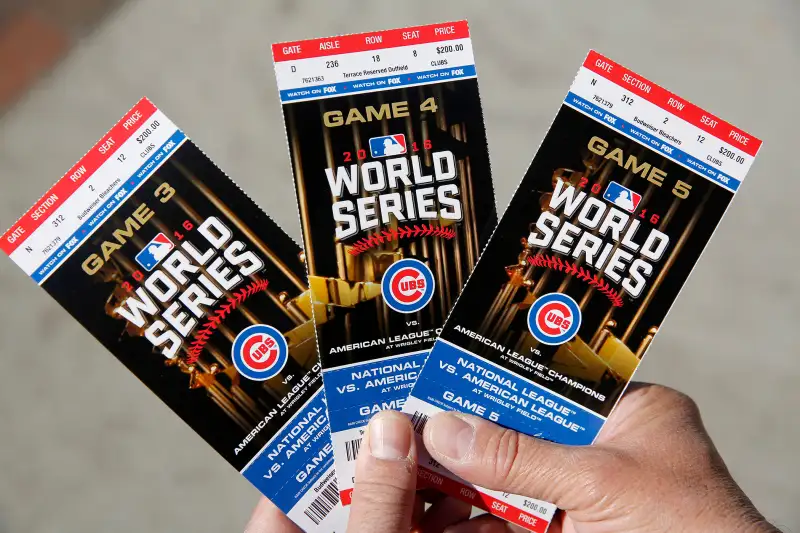 Michael Tercha/Chicago Tribune—TNS via Getty Images
With the Cubs and Indians tied 1-1 in the World Series and only a few hours to go before the first pitch in Chicago on Friday night, ticket prices to the game are starting at around $1,500 to $1,600 at resale sites like StubHub and Vivid Seats.
That's an extraordinary amount of money. For a little perspective, tonight's "cheap" seats are about 30 times more expensive than the average ticket price at Chicago's Wrigley Field during the regular season, and 60 times what the average seat costs for Cleveland Indians' home games.
Even so, the latest pricing for World Series tickets represents a decline compared to the asking prices of a few days ago. Just before the series kicked off, the lowest prices for Cubs' World Series home games was over $2,000, and the average list price for games at Wrigley was over $6,000. Games at Cleveland's Progressive Field, meanwhile, started at $700 and averaged roughly $3,300.
Read Next: Chicago Cubs vs. Cleveland Indians: A Money-Focused Look at the World Series
By Wednesday, however, with the Indians up 1-0 in the series and cold, rainy weather in the forecast for game #2 in Cleveland, fan interest (and therefore ticket prices) dampened significantly. The ticket resale and research site TicketIQ reported that prices for the cheapest seats dropped by $300 leading up to Wednesday night's game.
It appears as if weather won't play a factor in ticket pricing for Chicago's home games this weekend. While the forecast calls for strong winds, it should be quite warm (for Chicago) and dry on Friday and Saturday.
But ticket prices are decreasing anyway, and the root of the drop seems to be that not enough fans were biting at the previously sky-high prices set by scalpers. Data from Vivid Seats indicates that the asking prices for this year's World Series have been the highest ever, by far. The median list price on the secondary market for game #3 in Chicago has been over $4,000—about four times higher than game #3 in the World Series last year, hosted by the New York Mets.
Read Next: How to Watch the 2016 World Series Online
Even as prices for the 2016 World Series retreat by 25% or so at the last minute, they are still setting record highs in baseball. It's also worth noting that while ticket prices are dipping at the low end, there are still sellers asking for insane amounts of money for good seats. As of Friday, some seats were being listed for over $50,000 on Saturday, and over $90,000 on Sunday--when the Cubs could at long last become World Series champs again if they sweep at home.