10 Ways the New 365 by Whole Foods Store Is Different From Regular Whole Foods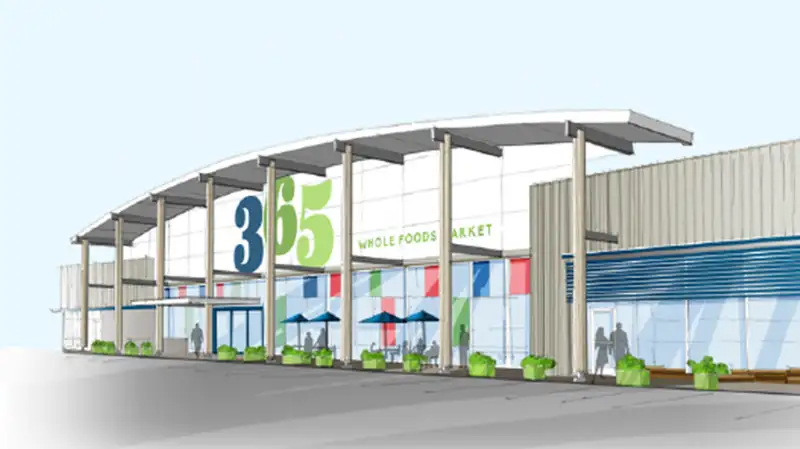 courtesy Whole Foods Market
Almost exactly one year after Whole Foods announced it would be launching a new, cheaper, and more millennial-friendly supermarket model, the first 365 by Whole Foods store will host a grand opening on May 25. In addition to the first location, in Silver Lake, Calif., two more 365 stores are scheduled to open in 2016 (in Oregon and Washington), and a total of 19 are officially in the works.
The country has thousands of grocery stores, of course. So why is there so much hype behind the arrival of this new Whole Foods model? Some think that 365 could save or at least bring fresh life to Whole Foods, which has been in a sales slump and has been struggling mightily to expand. The newer, cheaper version of Whole Foods could also possibly upend the grocery market in the same way that Whole Foods proved extremely influential to the industry throughout the '90s and '00s.
For now, though, Whole Foods is simply hoping that the 365 model allows the company to grow. "We want people who don't shop at Whole Foods" to shop at 365, Jeff Turnas, president overseeing the new initiative, explained to Los Angeles Times in a tour of the Silver Lake store.
Analysts say that Whole Foods needs 365 to be successful, perhaps desperately so. "The company has lowered prices, remodeled stores and launched a national advertising campaign all to no avail as sales continue to slip," wrote Scott Mushkin, an analyst at Wolfe Research, according to Bloomberg. The arrival of 365, then, is a "sign of the company's search for answers."
Here are some of the ways that 365 will differ from its pricier, more established sibling.
Cheaper. The whole point of 365 by Whole Foods is that prices will be cheaper than the typical upscale Whole Foods. How much cheaper? That's not totally clear. It would seem reasonable that the prices for Whole Foods' 365 Everyday Value line of products, from which the 365 store model got its name, would be a good indication of the kinds of prices customers can expect. Based on price comparisons like those done by Business Insider, 365 product prices are indeed less expensive than other items at Whole Foods stores (we'd hope so!), but with very few exceptions they cost more than comparable goods at Trader Joe's.
Smaller. Stores will generally measure 25,000 to 30,000 square feet, small compared with traditional Whole Foods locations, which average 38,000 and can go well beyond 50,000 square feet.
Less variety. Shoppers can expect roughly 7,000 items in a 365 store, compared with a selection of 20,000+ goods at a typical Whole Foods. Not surprisingly given 365's focus on low price, there will be more non-organic items in the produce section than in the normal Whole Foods.
Read Next: 7 Emerging Low-Cost Supermarkets That'll Save You Big Money on Groceries
Fewer employees. The 365 store in Silver Lake will have about 100 employees, less than half that of the average Whole Foods location.
Cookie-cutter design. Traditional Whole Foods stores are custom-designed based on the location, and builders add flourishes and accents to try to make them blend into the local culture. They're definitely not "cookie-cutter." But Turnas explained to Fast Company that they're embracing the "cookie-cutter" aesthetic with the new model: "At 365, we love it because it allows us to be efficient and meet our goal of getting healthier food to more people."
Lots of high-tech features. Stores will use digital pricing exclusively, enabling them to change prices in an instant, Business Insider noted. They will also be equipped with speedy checkout areas that only accept Apple Pay or credit cards. And instead of wine guides or employees standing by to take food orders, stores will have iPads that customers can use to look up info or place to-go orders, the Los Angeles Times reported.
Rewards program. Business Insider also reported that 365 stores will have a rewards program, with savings that pile up the more you shop. "You might get a reward of a free bag of lettuce for every 10 bags you buy," a Whole Foods executive explained.
No cut-to-order deli. One of the ways 365 locations are getting by with fewer employees is that meats and cheeses will be pre-sliced and pre-packaged.
Read Next: The Real Reason Whole Foods Is Launching Cheap, Millennial-Friendly Stores
No on-site bakery. Fresh bread, pastries, and such will come from a regional supplier, not the store itself.
Maybe a bike shop or music shop. Whole Foods has already nixed the idea that 365 stores might host tattoo parlors, but it is pursuing the possibility of opening on-site businesses via its "Friends" program. The vegan fast-casual restaurant by Chloe. will have a location inside the Silver Lake 365 store, as will an automated tea kiosk and a coffee and beer shop. Whole Foods says that in the future shoppers may find bike shops, music stores, barber shops, pet supply retailers, or knife-sharpening services inside 365 stores.