The Real Reason Whole Foods Is Launching Cheap, Millennial-Friendly Stores
Money is not a client of any investment adviser featured on this page. The information provided on this page is for educational purposes only and is not intended as investment advice. Money does not offer advisory services.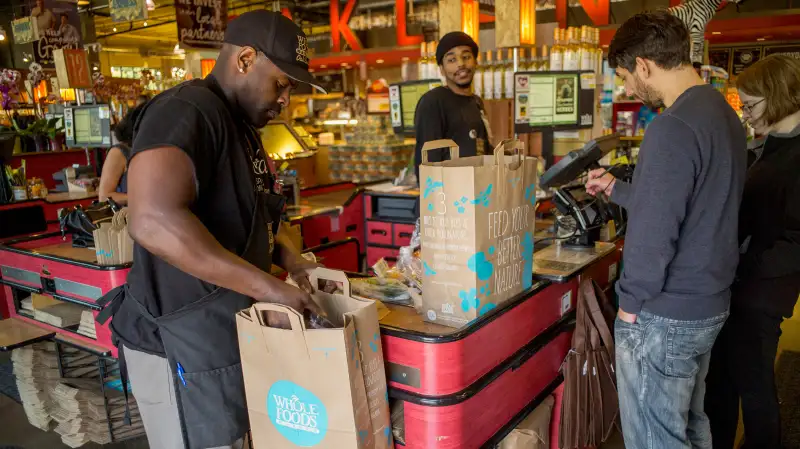 David Paul Morris—Bloomberg via Getty Images
A company saying it will cater to millennials these days is like businesses putting .com in their names back in the late 1990s. It's code for rapid expansion plans and endless potential.
Yet when Whole Foods Market announced the launch of a new chain of cheaper stores geared to the tastes of twentysomethings—who may not be able to afford to spend their "whole paycheck" on organic and naturally grown foods—Wall Street scoffed.
Whole Foods shares, in fact, sank by much as 13% (though they recovered slightly from Thursday's lows):
What gives?
Well, investors may be on to Whole Foods' marketing ploy to try to turn a lemon of an organic growth strategy into artisanal lemonade.
Long before this upscale company brought up the notion of a separate, cheaper chain, it raised eyebrows by announcing a major expansion of its flagship Whole Foods stores. The natural food giant, with a reputation for high prices, plans to open 1,200 stores throughout the U.S., up from 417 today.
When the company began talking up this plan a couple of years ago, investors questioned Whole Foods' bet on smaller markets in the Midwest and South with lower per-capita incomes than are found in current Whole Foods locations.
Those fears have become heightened lately as same-store sales growth at Whole Foods has already started to slip.
On Wednesday, the company revealed that revenues at stores open for at least one year grew just 3.6% in the quarter ended April 12, not the 5.3% that was expected. Yet the company maintained that it continues to see sufficient demand for its original strategy.
Not everyone agrees. "Personally, I question whether there can be 1,200 Whole Foods stores," says Brian Yarbrough, an analyst with the brokerage Edward Jones who follows the natural foods company.
But this new strategy could be a way for the company to hedge its bets.
"I wonder whether at some point, after starting to roll out these new cheaper stores in 2016, they come out and say, let's cut back on that original goal of 1,200 Whole Foods stores and instead open 500 of these smaller cheaper stores," Yarbrough says.
Morningstar equity analyst Ken Perkins notes that the cheaper millennial-friendly stores that Whole Foods has in the works serve a couple of purposes. For starters, they are probably meant to go head-to-head with rivals like Trader Joe's with smaller stores that have tremendous appeal to younger households.
Plus, Perkins says, "they are a way to take advantage of growth without being so tied to the higher-end demographic" catered to by the main Whole Foods stores.
But Yarbrough—who downgraded his recommendation on the stock yesterday from a "Buy" rating to a "Hold"—notes that because of the pricing strategy, these will be lower-profit-margin outlets. What's more, the new chain may end up cannibalizing sales at existing higher-margin Whole Foods stores.
And there's potentially an even bigger problem.
Even if the cheap stores are a hit, competitors such as Trader Joe's or Sprouts may be forced to lower their prices to keep this new chain at bay, Yarbrough says. While that's great for consumers, it would in turn force regular Whole Foods stores in those regions to lower their prices as well to stay relevant in the marketplace. That would have the effect of crimping profit growth for the entire company.
"For the last 15 years, Whole Foods had this natural foods space to itself," Yarbrough says. "But now, the whole landscape is changing."
And Whole Foods may be helping to hasten that change in a way that won't be good for the company in the long run.
Read next: Whole Foods is Losing Its "Whole Paycheck" Reputation