4 Tricks I Use to Book an Awesome (And Cheap) Last-Minute Getaway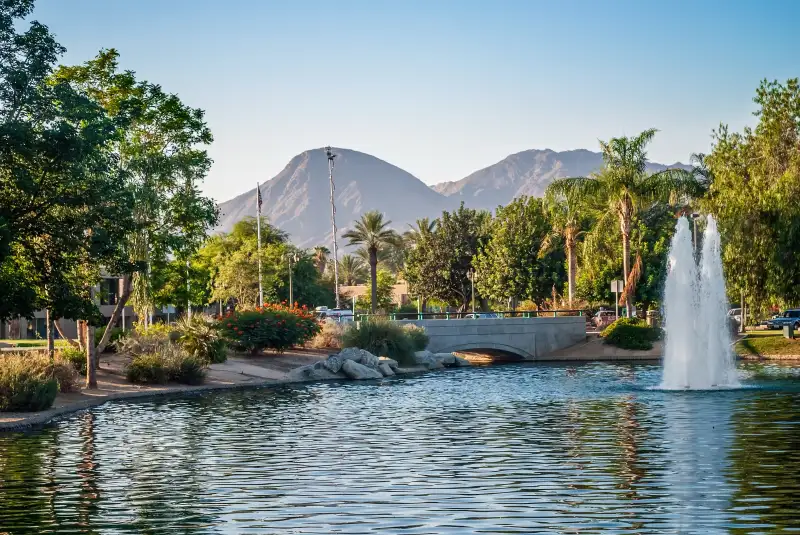 andykazie—Getty Images/iStockphoto
A hard and fast of rule of hotels is that, if you're willing to wait until the last minute, you'll get the best rate possible. That's because hotels facing vacancies and cancellations will significantly drop their prices. A booked room is better than an empty room, which means you score a luxe experience within budget.
So if you're flexible and just looking for a couple nights away from your home, perhaps not too far away, the last-minute getaway can be quite alluring. You'll spend less and get that mini-vacation you deserve.
There are several things to consider when embarking on a spontaneous getaway to ensure you stretch your dollar. Here's what I learned after a recent last-minute Palm Springs adventure.
Test the waters
Knowing that I would need to be flexible about which hotel I stayed in, I saw two in Palm Springs that looked attractive: the recently renovated V Palm Springs Hotel and the Saguaro Palm Springs, which was converted from an old Holiday Inn. The V is smaller, but both are moderately priced and offer nice amenities, including pools (two at V), actually good food (the Saguaro has a fantastic Mexican restaurant, El Jefe), and killer modern design.
I happened to have a car with me when I was in LA. If you're looking to rent a car for your trip, sift through the best options on sites like Kayak and Priceline.com. Rates, as with hotels, tend to go down the closer you get to renting. Avoid renting at an airport since it generally comes with added fees. In addition to major brands like Enterprise and Budget, look at more affordable names like Payless and Dollar—the difference often simply comes down to the fleet of vehicles. And squeeze into an economy car if you can.
If you're flying, think about off-season times for destinations, like, say, Miami in summer or Montreal in winter. (Yes, it will be very hot and very cold, respectively.) Browse options online ahead of time, but also check various airlines' own sites. You might be surprised by the low fees you can snag for quick trips to major cities on select days. I found a last-minute round-trip JetBlue flight from New York City to Chicago in November for $213. Just make sure to also figure out the public transportation or ride-sharing apps wherever you're going.
I planned to drive out to Palm Springs on a Saturday with a friend and stay there for two nights. On Wednesday, the best rate I could find through V's website was $200 per night for a room with one king bed. The Saguaro looked much better with a $133.60 sale.
Wait a day-before and you could get 40% off
But I felt like trying my luck, so I moved on. When Friday came, I looked at HotelTonight, a popular app that partners with thousands of hotels and specializes in last-minute discounts. I saw that V had dropped from $200 all the way down to $117—a 41.5% discount—and there was only one room left. So I booked it before anyone else could, knowing I couldn't back out (as with most of these kinds of bookings, it was nonrefundable).
Apps can get you better rates than websites
But I wanted to see what else was out there. Hotels.com also markets last-minute deals, and members get to see Secret Prices—listings that aren't publicly searchable and purport to offer a discount on rooms during slower times. I got a Secret Price at V of $234 a night, which was odd, since V's site offered better earlier. It also listed the Saguaro at $167. HotelTonight, meanwhile, offered the Saguaro at $143, and it showed a special Geo Rate (a rate based on the app's knowledge of your location) for V based on my where I was, which might've helped.
Priceline.com is another major player in hotel reservations. But its offers for my situation were lackluster: V didn't show up and the Saguaro was $175, which was higher than on both of the competing apps.
Always compare
HotelTonight ended up being the winner for me. It offered cheaper rates on the hotels I wanted. It also happens to have a beautifully designed app that focuses on what its users really want: that deal in the knick of time.
When I browsed more, however, I saw that different apps offered the cheapest rates on different hotels. The lesson is that, as with most purchases, you should always shop around. Though the deluge of possibilities may be a headache, there is no one way to get the best rate on a hotel room, so it pays to scrutinize. If I had booked the Saguaro three days before my trip, I could have gotten an unbeatable rate just through its site.
The weekend getaway itself was pure bliss. V had smartly appointed rooms with everything I needed (I even got two queen beds!) and pools that weren't overcrowded. I could even walk down to the Saguaro's El Jefe for delicious tacos. And when I paid for the trip, I almost felt like I was cheating.