'Truly Devastating.' Brides-to-Be Say They're Scrambling After Alfred Angelo's Abrupt Closing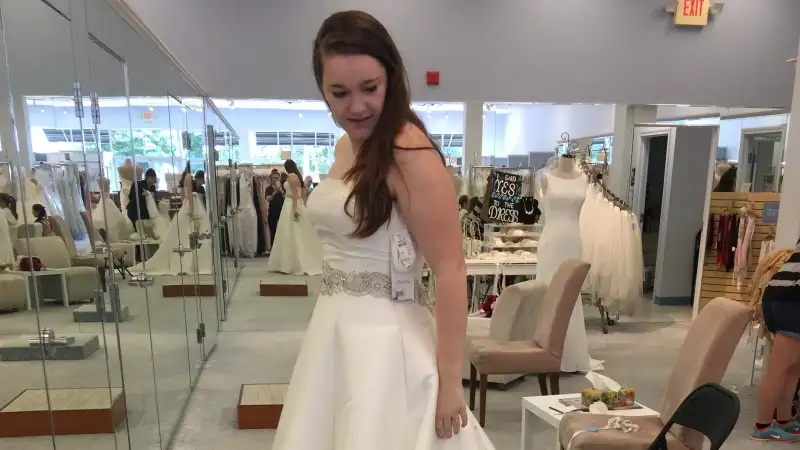 Photo courtesy of Mary-Catherine Donaghy
Brides-to-be shared their frustration and disappointment on Friday after the bridal store chain Alfred Angelo closed its locations without notice, leaving many brides' dresses and purchases in jeopardy.
Some brides said they learned about their dresses as news broke that the company filed for bankruptcy Friday and the more than 60 Alfred Angelo locations nationwide would close. As of Friday, some Alfred Angelo locations were already closed while others remained open to limited degrees, with some not allowing purchases and others accepting cash or check purchases of in-store items at a discounted rate, according to news reports and social media accounts. Money has reached out to Alfred Angelo, but has not received a response.
"I think the lack of communication is the worst thing," Mary-Catherine Donaghy says, who spent $1,100 on a strapless gown with a train from the chain's Dallas location. "Seeing it online or going up to the store and finding it closed. I think that's the worst part."
In addition to the dress, Donaghy has paid around another $800 in matching accessories for her March 2018 wedding, and says she expects to need to buy a new gown. Brides traditionally order their gowns about a year before the wedding allow time for alterations so the dress can fit properly, meaning many women who have purchased from Alfred Angelo will be crunched on time to find a new dress. For Donaghy, besides the timing and the money she isn't sure she'll get back, she's also disappointed she won't be able to wear the dress she fell in love with.
"I've had pictures on my phone for months," Donaghy says. "I've been showing people, and I've been so excited."
Another bride, Tina Braz, said she found out she wouldn't be able to purchase her dream dress as she was trying it on Wednesday, while employees told her she couldn't order it. Braz said she realized what happened after searching the company online and seeing the news.
"I'm relieved because who knows what would have happened if I put money down for the dress," Braz says. "But I'm also disappointed because I loved that dress. I had decided that was the dress."
Cyndi Whitten of Houston says she was "devastated" after she saw rumors online the stores would close and realized her daughter might not get the $1,500 wedding gown already purchased for her October wedding. Whitten went to her local store to see if she could pick up the dress — a lace-sleeved gown with a sweetheart neckline that fit her daughter's dream of a traditional dress.
"I know it's first world problems. There are people dying in the world and I'm concerned about my daughter's dress not coming in," Whitten says. "But it's a stressful enough life change for them. And this one easy part turned out to be not so easy. It's truly devastating. I know that's a strong word to use, but there's no other word to describe it. We were torn."
Photo courtesy of Cyndi Whitten
Whitten says she felt lucky after she ended up getting a call that her daughter's dress was available for pick-up Friday. "It was stressful, but we were left with a happy ending."
It appears that it wasn't just the customers who were left in the dark. Whitten and Donaghy said Alfred Angleo employees also seemed just as surprised, and were left worrying about their final paychecks and expiring insurance. Alfred Angelo has not commented on what will happen to the stores' workers.
"I just feel so bad for them," Whitten says. "Yes, weddings are ruined over this, but weddings can be fixed. But this is their lives."