Le Creuset Dutch Ovens Are $100 off at Amazon Right Now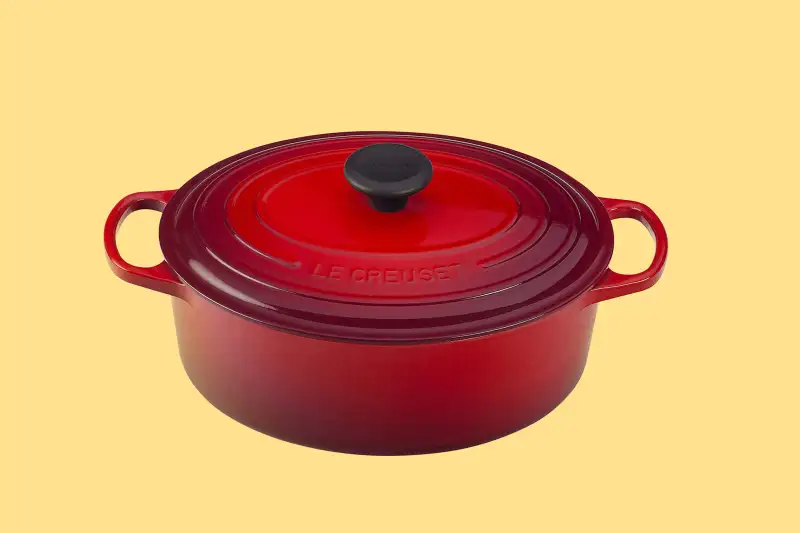 In the bizarre year that is 2020, Amazon Prime Day was delayed to mid-October. The holiday shopping season has unofficially begun, and you can expect Black Friday-quality deals to pop up regularly.
Here's the latest example: Highly desirable Le Creuset dutch ovens are $100 off at Amazon right now. Specifically, the 3.5-quart Le Creuset Enameled Cast Iron Signature Oval Dutch Oven is on sale for $159.95, or $100 off the $259.95 regular price.
Amazon is highlighting the Le Creuset sale as one of its Epic Daily Deals, and the price should remain in effect until 3 a.m. ET on Wednesday, October 21 — assuming it doesn't sell out sooner.
Amazon offers this Le Creuset dutch oven model for $159.95 in a choice of six colors (cactus, cherry, flame, indigo, Marseille, and oyster). Before you buy, take note that, depending on what you want cook, the 3.5-quart size may not be optimal. For making soups and stews and such, many home cooks prefer to use a dutch oven that's 5 quarts or larger. But this Le Creuset model could come in handy for preparing dishes for smaller dinner parties.
If you are in the market for a larger dutch oven, check out the 6.75-quart round cast iron model from Le Creuset, available at Amazon for $249.95 right now. Bear in mind that while the regular price for this model is sometimes listed as high as $380, it's routinely been on sale for around $250. As of Tuesday, the $250 sale price is also available from some Amazon competitors, such as Williams-Sonoma and Bed Bath & Beyond.
Amazon has a handful of other Le Creuset products on sale at the moment as well, including a 3.5-quart cast iron sauteuse oven for $179.95 and deals such as these:
More From Money:
Prime Day, Black Friday or Cyber Monday: When Will Savvy Internet Shoppers Find the Best Deals?
The Best Instant Pots and Pressure Cookers for Your Money, According to Food Bloggers
The Absolute Best Vacuum Cleaners for Your Money
Rates are subject to change. All information provided here is accurate as of the publish date.