Should Public College Be Free? Here's How Many Americans Say Yes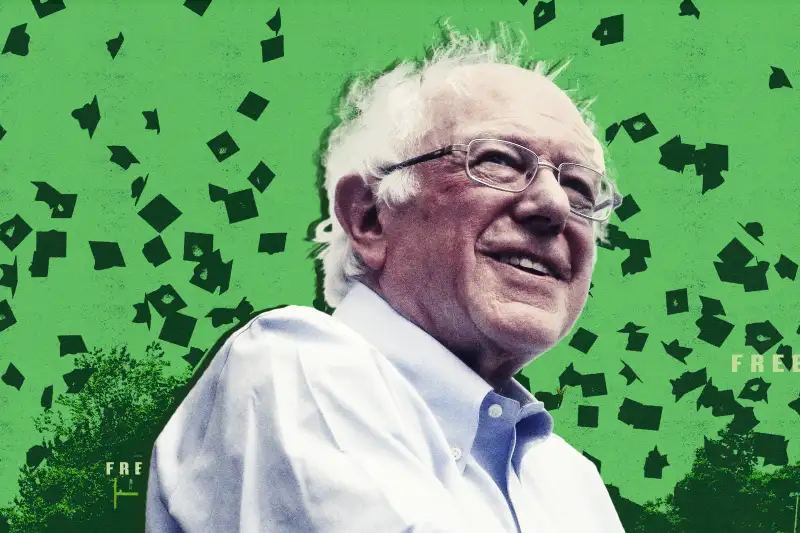 Illustration by Lixia Guo; Getty Images
When Vermont Senator Bernie Sanders proposed free tuition at all four-year public colleges and universities during the 2016 election, it was considered a radical idea. Just three years later, it's a mainstay on the Democratic campaign trail—and a majority of Americans are supportive of the idea, according to survey released Tuesday.
Sixty percent of Americans favor making public four-year college free, and 69% want to see free public two-year colleges, according to the survey from Education Next.
This is the 13th year Education Next has polled the public on how they feel about a variety of topics, from charter schools and school choice to school spending and teacher pay. Yet it's the first time the authors asked about free college—itself an indicator of just how rapidly the idea has become mainstream.
"It's really quite striking how quickly this idea has moved to the front of the policy discussion around higher education," says Martin R. West a professor of education at Harvard University's Graduate School of Education and editor-in-chief of Education Next.
Republicans were less supportive of the idea than Democrats—a majority of Republicans (65%) actually oppose free public four-year colleges, while about half support the idea for two-year colleges. Democrats were especially supportive of free college: 79% approved the idea for four-year colleges and 85% did so for two-year colleges.
That may help explain why the idea has gotten so much attention from presidential candidates in the Democratic primaries. Along with Sanders, Massachusetts Senator Elizabeth Warren and Former Housing Secretary Julian Castro have proposed eliminating tuition for all students at public colleges. And several candidates support more modest plans. New Jersey Senator Cory Booker, South Bend Mayor Pete Buttigieg, and California Senator Kamala Harris, for example, have all supported "debt-free" college, meaning there could still be tuition fees but at a rate low enough that students wouldn't need to borrow to pay them.
"To the extent that Democratic candidates are talking about (higher education), they're talking about free college more than anything else," West says.
Several states and cities already have some level of free tuition at public colleges, including Tennessee, which led the country by making its two-year colleges free back in 2014.
In the survey, in some cases the respondents were about the economic gains of going to college by sharing the average salary of two- and four-year degree holders before asking whether they supported free public college. The authors thought it was possible that information could increase support for free college, if respondents thought the economic benefits of a college degree should be more widespread, or could decrease support for the policy, if respondents thought that the greater earnings that come with a degree mean students should have to pay for it. In the end, the additional information had little effect on how many were in favor.
The survey also asked respondents to rate the country's colleges for the first time. And despite frustration after years of increasing costs, as well as criticism around issues such as administrative spending and free speech on campus, Americans think more favorably of colleges and universities than K-12 schools. More than twice as many respondents (58%) grade the nation's public colleges with an A or B than those who grade K-12 schools with those high marks (24%). Respondents were even more supportive of private colleges nationally—66% graded them an A or B—and public colleges in their home state—76% gave an A or B.