Andrew Luck Signed a Crazy Contract. Here's What He Needs to Know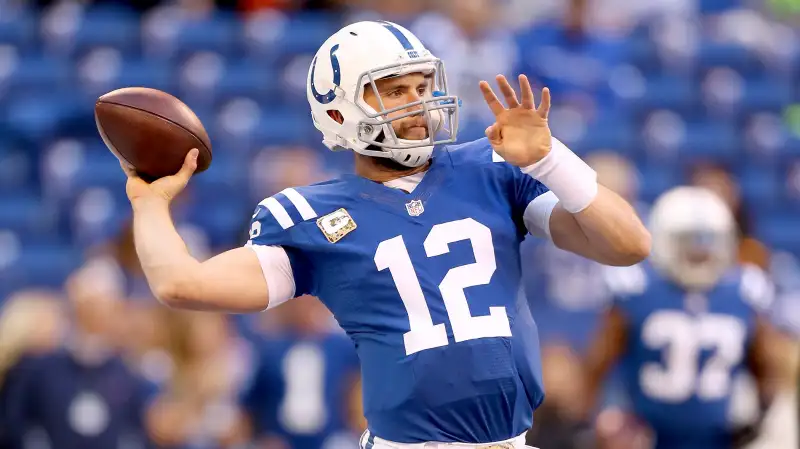 The next round of drinks is on Andrew Luck.
The first pick of the 2012 NFL draft, and All-Pro Quarterback for the Indianapolis Colts, just signed the most lucrative contract in NFL ever. Valued at $140 million for six years, with $87 million guaranteed, Luck's contract is now worth more than several MLS franchises, and he probably could have held out for more cash. The irony is that this extension comes despite Luck enduring the worst season of his career last year.
To be clear, Luck was already a rich man. He earned about $22 million from the rookie contract he signed four years ago, a sum that would take most people lifetimes to earn. Nevertheless, if he earns every penny from his new deal -- NFL contracts are the stuff of smoke and mirrors -- his annual salary will increase by four to five fold.
An immense accumulation of wealth can cause as many problems as it solves. There's a reason why so many athletes end up declaring bankruptcy. It's the same reason why a number of lottery winners end up terribly unhappy -- that much money delivered that quickly takes time to adjust to. In that vein, here's three pieces of unsolicited advice for Andrew Luck.
Create a Game Plan

While the number $140 million might be on the top of Luck's mind right now, he'd do well to remember another: 16%. That is: almost one in six NFL players declare bankruptcy during the first 12 years of their retirement, according to a recent study from the National Bureau of Economic Research, which looked at players drafted between 1996 and 2003. But rich players were better off, right? Actually, the study found that there was no correlation between bankruptcies and how much money a player earned, or how long he played in the league.
The problem is that NFL players don't live on the same "life-cycle model" that most other people do. Athletes earn most of their money early on, which needs to sustain them through the rest of their lives. But the appeal to spend the newfound wealth, either on fancy things or for your family, can harm your ability to sustain a nest egg that will last you for the rest of your life.
So what should Luck do? As a profession football player, he'll likely have to confront major health costs his entire life, which will be costly. He should also be fully financing his 401(k), to make sure he can replace his income later in life.
He'd do well to step back and think broadly about what he wants to accomplish with this money. Now is the time to consider what kind of mark he wants to leave on the world. How will he put the absurd amount of money he'll earn playing a kid's game to leave the world a better place than he found it? Whether that's establishing his own charity, or financing another.
Avoid Turnovers

Sports Illustrated (Money's sister brand) published an article in 2009 outlining why players have such a tough time establishing a successful financial and personal life after their playing careers are finished. According to writer Pablo Torre, there are four general areas that prove problematic.
The Lure of the Tangible - It's a lot cooler to own a bar than to invest your money in a low-cost well-diversified portfolio.
Misplaced Trust - As Tim Duncan can attest, good financial advice is hard to come by. Putting someone in charge of your money who can't be trusted is a real problem. There's no such thing as a "sure thing" investment.
Family Matters - Players tend to not secure prenuptial agreements, which can lead to problems later. Divorce usually follows retirement, when the player has a lot less money to spend. Creating clear lines about finances with your life partner is paramount.
Great Expectations - If your friends are spending a lot of money, so do you. Why not pick up the tab? Why not pay for everyone's meal?
Luck would do well to heed Torre's guidance. That means investing your money properly with a certified financial planner, and talking through your budget and finances with your spouse.
Enjoy the Touchdown
All of this financial advice can feel a bit acerbic. After all, the NFL is already known as the "No Fun League."
While Luck should eat his personal finance spinach, that doesn't mean he can't dedicate a little bit of money toward enjoying the finer things in life. Whether that's a yearly trip to Italy after the season, or some other trinket he's always had his eye on, Luck will have an easier time sticking to his budget if he gets at least a couple of fun things. The key is not to let those fun things take over his financial future.
While chances are you'll never come close to Luck's vast wealth, the same general rule applies to your finances. By maintaining a budget and funding the necessary components of your life -- from health to education -- you free yourself up to splurge on things your really want.