How the Apple HomePod Compares to the Amazon Echo and Google Home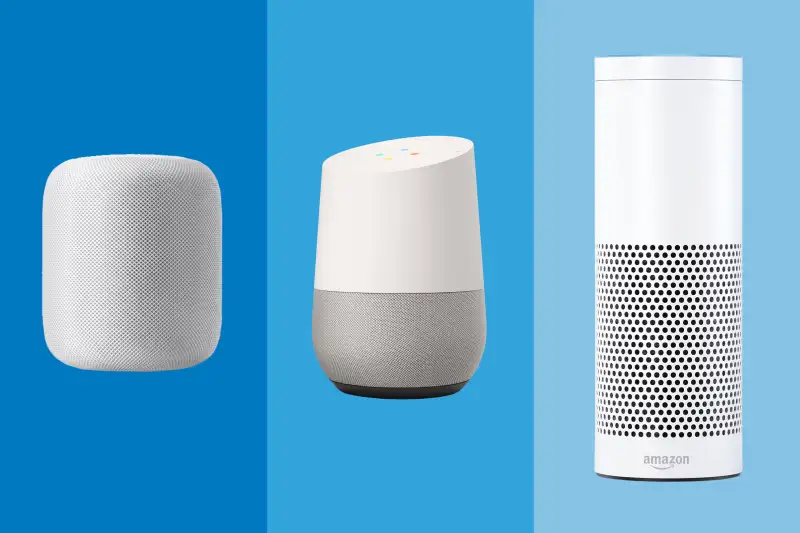 On Monday Apple introduced the world to the HomePod smart speaker, the long-awaited answer to the Amazon Echo and Google Home.
Amazon's smart speakers—which are equipped with the virtual assistant Alexa and can play music, deliver the news, and even order an Uber with voice commands—were huge hits with shoppers during the winter holidays of 2016. Different versions of Amazon's Echo and Tap smart speaker systems were sold out for weeks.
For the upcoming 2017 winter holiday period, shoppers should expect a frenzy of activity focused on the Apple HomePod. Here's what you should know if you want to get your hands on Apple's new smart speaker system.
When Does the HomePod Go on Sale?
Apple hasn't announced an exact date for the release of the HomePod. All we know right now is that it'll be available sometime in December 2017. In the past, Apple has begun accepting pre-orders on its website for new devices like the iPhone 7 one week before they arrive in stores.
Assuming Apple follows the same plan with the HomePod, pre-orders will probably start being accepted sometime around Black Friday, which is November 24 in 2017. This is always a chaotic period for shoppers, and many are likely to feel the added pressure of trying to buy HomePods as gifts in time to plant under the Christmas tree come December 25.
It's hard to say how much hype will accompany the physical arrival of the HomePod, but there's a long history of shoppers going to extreme lengths to buy new Apple devices the moment they're available. Shoppers have been known to wait in enormous lines outside Apple stores when a new gadget goes on sale. Some Apple fans also paid more than double the retail price on eBay for the iPhone 6 and 6 Plus a few seasons ago rather than wait a few weeks for them to be back in stock in stores.
How Much Does the HomePod Cost?
The HomePod will be priced at $349, and be available in white and space gray. The price point is considerably higher than the Amazon Echo ($180) and the Google Home ($129).
Shoppers should also take note that while Amazon and Google are known to regularly roll out discounted promotions on its devices—the Echo was going for $130 for Amazon Prime Day last summer—Apple introduces discounts rarely, and pretty much never for brand-new products.
How Does the HomePod Compare to Amazon Echo and Google Home?
All the early reviews highlight that the HomePod produces vastly superior sound quality compared to its smart speaker competitors. The HomePod, which stands less than 7 inches high, sounds "much deeper and richer than a Sonos Play 3 or an Amazon Echo, closer to what you might hear in a high-end home stereo system," the New York Times' Farhad Manjoo wrote.
As Apple explains it, the HomePod "uses spatial awareness to sense its location in a room and automatically adjust the audio" to enhance the quality. A Mashable reporter who was given an early listen is a fan: "The audio wasn't just loud — filling a room with sound, good or bad, is easy — it was rich. The highs were sharp, but not broken. The lows were deep, sonorous, but not chest-thumping."
The HomePod is equipped with the virtual assistant Siri and can answer basic questions ("Who is playing drums on this song?" or "What's the weather forecast?") and control other smart home devices. Yet Apple gadgets tend to function best within the Apple ecosystem, and Apple was quiet about whether or not the HomePod would work with third-party apps like the Echo does. The Echo is also looped into Amazon and is capable of accepting online product orders via voice command, which Siri can't handle.
Apple doesn't seem concerned that the HomePod's virtual assistant features may be lacking compared to the competition. Instead, Apple appears to be ignoring the consumers who are interested mainly in low-price smart speakers and playing up to the traditional Apple customer, who appreciates sleek design and high quality above all—and who will pay handsomely to get it.
"Most smart speakers you see today are really AI helpers first and foremost," an Engadget post explained. Yet speakers in general stand out from the pack because of sound quality, and that's where Apple chose to focus its efforts. As the Endadget story put it: "Why would you even look at a standard Echo if you're shopping in this price range and care about audio fidelity?"
We've included affiliate links into this article. Click here to learn what those are.