The Immigration Crackdown's Surprising Victim: Your Tuition Bill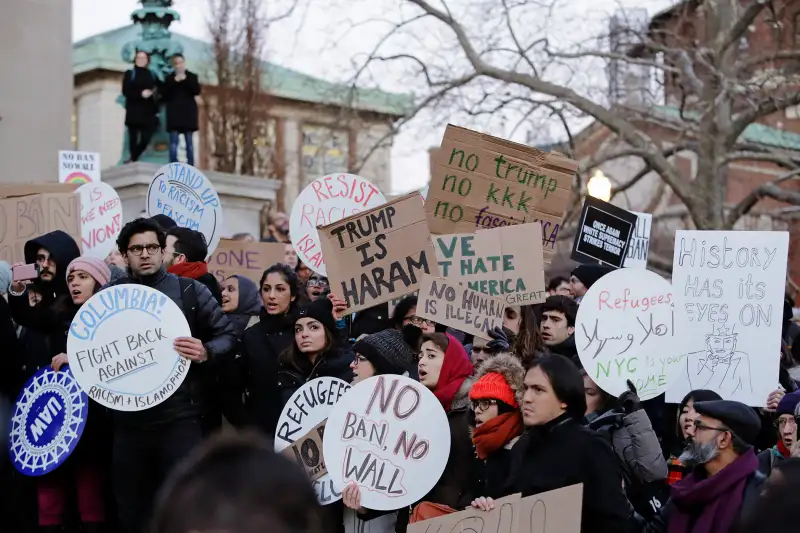 A rise in anti-immigrant sentiment in the U.S.—and a resulting shift in attitudes overseas—could signal trouble ahead for American universities, and higher tuition prices for their U.S. students.
Colleges won't know for sure where international enrollment stands until August, when students arrive on campus. But many in higher education fear that studying in America now is less appealing to international students. There's already news of higher numbers of applications to other countries, as well as concern over the Trump administration's travel ban, reports of violent attacks on Indian workers in the U.S., and an overall increase in anti-immigrant rhetoric.
A decrease in international students, however, could have ripple effects that destabilize college and university budgets. International students have grown into an important revenue source at some U.S. colleges, especially at public universities weathering limited state support.
At top research universities, for example, an increase in foreign students accounted for an average 22% of the increase in tuition revenue between 2007 and 2012, according to research out of the Population Studies Center at the University of Michigan. At three universities—Ohio State, Purdue and Indiana—more than half of increased revenue came from international students.
In other words, if there is a noticeable drop in international enrollments, university revenue is likely to fall—and American students could face tuition increases to make up the difference.
Surveys Suggest Trouble Ahead
New data on applications from international students hints at the coming problem. In a survey of college admissions offices released Monday, 39% of colleges reported a drop in international applications. Nearly as many reported an increase, and 26% reported flat international applications, but experts say it's important to read those results in the context of recent enrollment trends.
The number of international students in the U.S. has ballooned in the past decade, surpassing 1 million during the 2015-16 school year. While there have been ebbs and flows from specific countries, the overall number of international students coming to the U.S. has declined only two times since the the 1950s.
So the fact that almost four in 10 universities are reporting a drop is unusual, even if the majority of colleges are holding steady or increasing, says Rajika Bhandari, deputy vice president of research and evaluation at the Institute of International Education.
In a separate survey released Monday by Royall & Company, a higher education consulting firm, a third of international students say their interest in studying in the U.S. has declined. When asked why, the most common factors were the presidential administration (69%), travel restrictions (55%), personal safety (52%), and cost (50%).
Students from the Middle East and North Africa made up the highest percentage of students whose interest had declined. But half of the 50 students surveyed from Canada also said their interest had dropped.
"There's an overall perception that the climate in the U.S. is less welcoming for international students," says Melanie Gottlieb, deputy director of the American Association of Collegiate Registrars and Admissions Officers, which organized the survey of admission counselors. Students are also applying to other English-speaking countries such as Canada, Australia, and New Zealand, she said.
$36 Billion Impact
Foreign students contributed $36 billion to the U.S. economy in 2015, according to data from the U.S. Department of Commerce. Students from the six countries affected by Trump's travel ban—Iran, Libya, Sudan, Somalia, Yemen, and Syria—contributed almost $500 million.
Most of that money goes to universities in the form of tuition and room and board payments, but that figure also includes living expenses and money spent by students' families when they travel to the U.S., Bhandari says. Nearly three-quarters of international students pay out of pocket for an American education, without taking scholarship aid.
Individual campuses say it's too early to tell what will happen come fall.
Foreign applications at the University of Washington, which has the 10th-highest number of international students, are down slightly, about 300 applications. But that follows a few years of double-digit record growth, says Kim Loovas, associate director of international student enrollment. Plus, the application period closed in December, well before the Trump administration announced its travel ban or specific plans for increased deportations.
Likewise, the University of Illinois-Urbana Champaign, which now has one of the highest populations of Chinese students in the country, actually saw international applications tick up 2%. But students don't accept college offers until April, so it's too soon tell what effect federal policies may have on international enrollment, says Andy Borst, director of undergraduate admissions.
At Adelphi University, a small private university on Long Island, N.Y., uneasiness around immigration policy isn't restricted to students from the six countries affected by the travel ban, says Wendy Badala, director of international student services.
Current and prospective international students are also asking what will happen to Optional Practical Training—a program that gives a one-year work authorization to students with an F-1 student visa. Looking farther down the road, they're worried about the status of the H-1B visas for international workers. And even current students are scared that if they leave the U.S., they won't be able to get back, she says.
The hardest part, she says, is that answers are tough to come by. Adelphi is small enough that staff can work one on one with international students to address their concerns, Badala says. But ultimately, she points out, "none of us know what will happen tomorrow."