If Ariana Grande and Pete Davidson Are Splitting Up, Here's What Happens to the $93,000 Engagement Ring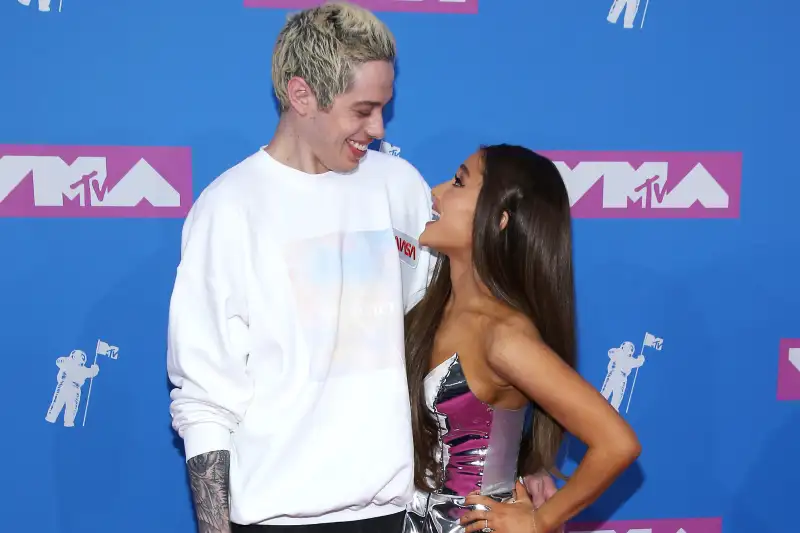 When comedian Pete Davidson proposed to Ariana Grande after dating for a few weeks, he gave her a ring worth $93,000. Several months later, the couple has reportedly split up, according to People and multiple other news outlets.
Celebrity or not, there are a number of logistics to manage in the wake of a heartbreak: canceling the wedding venue, figuring out what to do with your dress, or moving out of your shared apartment. But what do you do with the ring, and who gets to keep (or sell) it?
It's a bit of a complicated question — but it's an important one for your finances as Americans spent $6,351 on average on an engagement ring in 2017, according to research from The Knot.
Laws vary from state to state on who exactly gets the engagement ring when a couple breaks up before a wedding, so there's not one all-encompassing protocol here. The crux of these laws lies on the circumstances under which the engagement ring was given and whether it qualifies as a gift.
Generally, there are three ways to go about determining the fate of an engagement ring from state to state, says Emily S. Pollock, an attorney who specializes in matrimonial and family law at Kasowitz Benson Torres LLP in New York City. A ring could be considered a no-fault, conditional gift — the condition being that the recipient of the ring and the giver get married. Or, the fate of the engagement ring could be determined by an analysis of whose at fault for the breakup. And finally, the ring could simply be considered the recipient's after it was gifted.
New York, along with more than 20 other states, considers engagement rings conditional gifts. That means, using Grande and Davidson as an example, Grande would have to return her whopping $93,000, three-carat ring back to the Saturday Night Live comedian.
WP Diamonds, an online diamond purchaser, mapped out the differences in law between each state, detailing some of their complicated caveats. In Alabama, Alaska, and New Hampshire, for example, whoever breaks off the engagement doesn't get to keep the ring — but in divorce, the recipient of the ring keeps it regardless of who initiated the divorce.
In many states, the protocol differs from whether it's a broken-off engagement or a divorce. If Grande and Davidson were getting a divorce, Grande would keep the ring. Since they would have been married, the ring would then be excluded from any gift tax.
Before a wedding, though, "an engagement ring is given as a sign of a mutual agreement to wed," says David Desmarais, a member of the American Institute of CPAs Personal Finance Planning Executive Committee. "So, there is not a completed gift until the marriage occurs, and at that point, the unlimited marital exclusion would allow the gift to occur tax-free."
Still, the broken-up couple can decide what's best for them. "If the party agrees on what they want to do, then it's smooth sailing," Pollock, the attorney, says. "If there's some confusion or conflict, definitely talk to a lawyer about what law applies to you."
In the case of Grande and Davidson, for example, it's possible that Grande could have kept the ring based on a mutual agreement between the two of them. That would then qualify the engagement ring as a gift from Davidson, and therefore make it taxable. The hefty $93,000 ring far and away costs more than the $15,000 annual exclusion for gifts — therefore, in this scenario, Davidson would have to file a gift tax return. (In general, the donor is responsible for paying the tax. The Internal Revenue Service says that, under special circumstances, the recipient may agree to pay the tax instead.)
But that may not be an issue: TMZ, a tabloid news website, reports that Grande has already returned the 3-carat, pear-shaped engagement ring to Davidson. (Instead, she gets to keep their pet pig.)
Correction: In a previous version of this post, WP Diamonds was identified as a diamond seller. WP Diamonds is a diamond purchaser.