4 Attached Covered Patio Ideas That Increase Property Value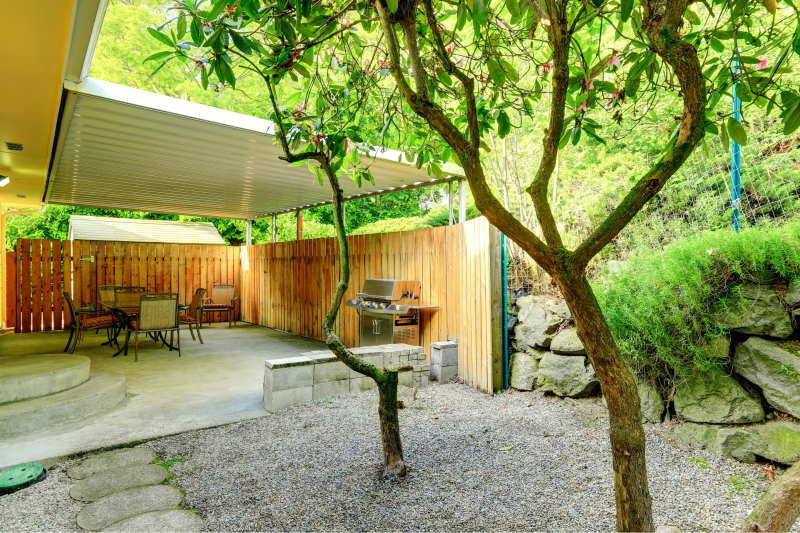 If you're looking for ways to increase the value of your property without taking on a huge renovation project, then an attached covered patio may be the perfect addition. Not only do patios increase curb appeal and make your home look more inviting, but they also provide a great space for entertaining and relaxing.
In this post, we'll share four covered patio ideas that will increase your property value and provide you with an oasis you'll love. We'll discuss the different types of covered patios and some benefits of adding a covered patio to your property. With these ideas, you can add appeal and value to your property without breaking the bank. So, let's get started.
1. Create an outdoor living room
An outdoor living room offers a comfortable space for socializing or relaxing outdoors. It typically includes seating areas, rugs, fire pits, barbeque grills and outdoor TVs. Well-designed outdoor living rooms can enhance your home and add significant value to its property.
Choosing the right materials for your outdoor living room is crucial for aesthetics and durability. Opt for weather-resistant fabrics, wicker furniture and water-resistant furniture like plastic chairs or poolside furniture. Cushions, lanterns and planters can create a cozy and inviting atmosphere.
When installing an outdoor living room, prioritize materials that withstand different weather conditions. Select flooring options like pavers, wood decking or concrete pavers designed for long-lasting performance. Ensure all furniture is securely fastened to prevent damage from strong winds or heavy rains. Lastly, install adequate lighting for safe and comfortable use of the outdoor living room during nighttime.
2. Build a covered pergola
A covered pergola provides a shaded outdoor space while maintaining a view of the surrounding environment. It can be used for dining, barbequing or simply relaxing with friends and family, shielding you from direct sunlight on hot days. In addition to the functional benefits, a covered pergola enhances property value by expanding usable outdoor space and enhancing the visual appeal of your home's exterior.
When constructing a pergola, selecting materials that can withstand year-round exposure to rain and sun without deteriorating or losing color is important. Durable and naturally rot- and insect-resistant options like redwood or cedar are recommended. Proper staining or sealing of these woods can enhance their attractive appearance. Additionally, consider adding lattice panels for added protection from the elements and to complement your home's exterior design.
During installation, ensure the pergola is securely anchored and constructed with outdoor-grade materials like pressure-treated lumber. Waterproof-coated screws should be used to prevent corrosion from moisture. If installing an outdoor TV, use heavy-duty mounting hardware for secure attachment. This will allow easy swiveling and adjustments and ensure it remains stable against strong winds or external forces.
3. Add a breezeway
A breezeway is a useful addition that connects separate areas of a property, such as an outdoor deck and landscaping area or different sections of a house. It provides a covered pathway that allows homeowners and visitors to move between these areas without tracking dirt or mud indoors. Walking through the breezeway, people can stay cleaner and keep the outside weather out, ensuring a tidier home.
When constructing a breezeway, it's important to use durable materials that withstand windy and rainy conditions. Pressure-treated wood is a reliable choice for structural integrity and longevity. Consider the breezeway's weight, style and design, considering the anticipated environmental conditions it will face. It's crucial to securely attach the breezeway on both sides to prevent it from becoming loose over time. Proper planning and adherence to safety guidelines are essential to avoid accidents or injury.
During installation, ensure the breezeway is constructed with flat and even surfaces for safe and comfortable walking. Use waterproof-coated fasteners and properly seal joints to prevent water absorption and damage. Applying a sealant to the entire area can protect against potential problems caused by temperature changes and water infiltration. Regular maintenance should be carried out to address any minor issues and avoid structural weaknesses or uneven surfaces.
4. Construct a sunroom
Adding a sunroom to your home allows for increased natural light, which has proven benefits for health, and provides additional functional space with beautiful views of the surrounding nature. Sunrooms can be versatile and serve various purposes, seamlessly connecting indoor and outdoor environments while keeping pests out.
When constructing a sunroom, consider the materials used, particularly for the glazed windows, walls and glass roof. Insulated glass options are available to regulate the temperature inside the sunroom, which is crucial for maintaining comfort. The construction of a sunroom can be integrated into existing buildings to create a seamless connection, or it can be a standalone structure based on personal preferences and budget constraints. Waterproof screws designed for outdoor use should be used for attaching components to ensure durability and longevity. Attention should also be given to cabinetry, shelving and other accessories for functionality and aesthetics.
When building a sunroom, the foundation and stability of the structure are vital to avoid settling and potential safety hazards in the future. Proper framing, wall construction, roofing, glazing and electronics installation should be done carefully to ensure everything aligns with the original plan and is done correctly from the start. Taking a methodical and thorough approach to the construction process will help create a sunroom that's aesthetically pleasing but also safe and functional.
Conclusion
Adding an attached covered patio to your property is an excellent way to improve your home without taking on a huge renovation project. They add curb appeal and provide a great space for entertaining. These four ideas can significantly increase the value and versatility of your home and outdoor area. With the right materials and careful planning, you can create a luxurious outdoor living space that will be the envy of your neighborhood and add significant value to your property.