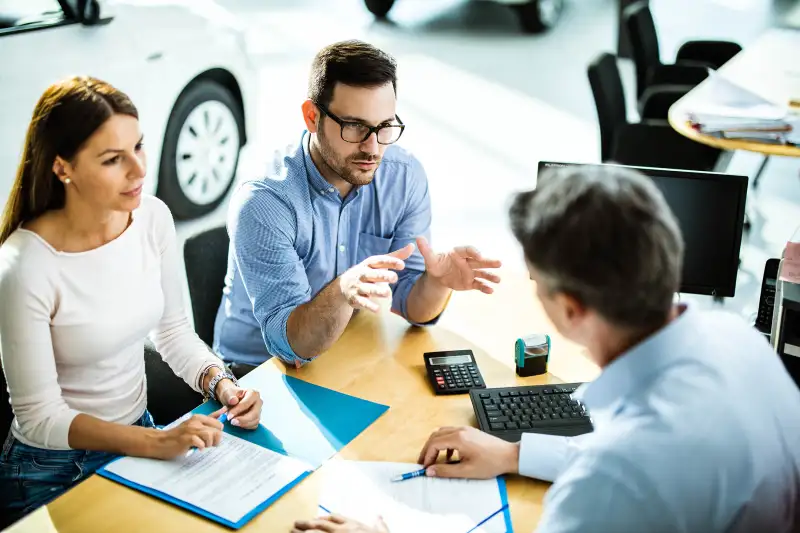 AUTOPAY is an online marketplace that helps customers find auto loans. AUTOPAY doesn't lend directly. Instead, it allows consumers to compare loan offers from its network of financial institutions. Its primary focus is refinancing loans, but there are also other purchase loan options to choose from.
This article covers the pros and cons of AUTOPAY and how its refinancing works so you can see how it stacks up in your search for the best auto refinance companies.
Best for extra refinancing options
We chose AUTOPAY as the best choice for extra refinancing options because, in addition to traditional refinancing, it offers auto purchase loans, lease buyout loans and cash-out refinance loans. Keep reading to learn how these refinancing options work.
AUTOPAY auto refinance pros and cons
Pros
Prequalify with a soft credit check
Co-applicants are allowed
Borrowers with challenged credit may qualify
Cons
May require a loan origination fee
Approval takes 24 to 48 hours
Minimum annual income requirement of $24,000
Pros explained
Prequalify with a soft credit check
While some lenders and marketplaces require a hard credit check when you apply for a loan, which affects your credit score, AUTOPAY can get you prequalified with a soft credit check. A soft pull of your credit lets you get loan rates without impacting your credit score — a hard credit pull won't happen until you choose a specific offer.
Interest rates vary because there are many different lenders that offer refinancing through AUTOPAY. When you get offers and interest rates, those loan terms are valid for 30 days as long as the information you entered is accurate.
Co-applicants are allowed
Another key benefit of AUTOPAY auto loans is that to strengthen your application, you can use a co-applicant, also known as a co-signer. Using a co-applicant may help you qualify for better AUTOPAY refinance auto loan rates.
Auto loans work by assessing your (and your co-signer's) financial information to determine interest rates — typically, the stronger your financial standing, the lower your interest rates. If you can, use a co-applicant with excellent credit, a strong credit profile and high monthly income. This increases the likelihood that you'll receive beneficial loan offers.
Borrowers with challenged credit may qualify
There is no minimum AUTOPAY refinance credit score listed on its website, but the company states that it has "solutions for all credit profiles." Borrowers with poor or fair credit scores may have a better chance of getting a loan with AUTOPAY than elsewhere. However, if you have poor or fair credit, you will likely have a higher interest rate.
If you're rebuilding your credit, you may want to know if AUTOPAY refinancing will hurt your credit score. Getting loan offers doesn't hurt your credit score, but once you choose a loan option and apply for approval from the lender, a hard credit check will take place. This could negatively impact your credit score.
AUTOPAY's website states that in order to have the lowest impact on your credit score, you should rate shop within a two-week time frame. This is because credit bureaus report inquiries for one type of financing within a two-week period as one inquiry, not multiple inquiries.
Cons explained
May require a loan origination fee
Depending on the state you live in, you may have to pay a loan origination fee, which is an upfront fee charged by a lender in exchange for processing the loan. The fee amount depends on the lender but typically ranges between 1% and 2% of the total loan amount.
Approval takes 24 to 48 hours
When you apply for your loan or refinancing, you may need to include documents like pay stubs, W-2s or bank statements. Because these items take longer to analyze than simpler things like credit scores, the AUTOPAY refinance approval process may take as long as 24 to 48 hours. This is longer than most other refinancing options, some of which can take just a few hours.
If one of the offers is a good fit, you'll have to apply directly to the lender for final approval, which adds some extra time as well. Getting funding with AUTOPAY typically takes around one to two weeks in total.
Minimum annual income requirement of $24,000
You'll need an annual income of at least $24,000 to apply with AUTOPAY. However, when you're trying to get preapproved for a car loan, it's important to know that income differs from employment. For example, some lenders might accept non-employment sources of income like side gigs and family support.
AUTOPAY auto refinance offerings
AUTOPAY's array of refinance options makes it stand out in the industry. We review those options below.
Auto refinance
With traditional auto refinancing, you can take out another loan to pay off an existing one to reduce your monthly payments, get lower interest rates and shorten the length of your loan. You benefit immediately when you start making payments to the new lender.
With AUTOPAY's refinancing loans, lenders typically offer around $2,000 to $10,000 with various ranges of interest rates.
Auto purchase
In addition to traditional refinancing, AUTOPAY has a network of lenders offering loans for purchasing a new or used car. As with its refinancing, AUTOPAY's auto purchase loans let you get pre-qualified with a soft credit check, allow co-applicants and may charge an origination fee.
Loan amounts and interest rates vary according to the lender. The minimum loan term is 24 months, and the maximum is 84 months, or seven years. Unlike some other online lenders, AUTOPAY requires specific vehicle details for full loan approval.
Lease buyout
An auto buyout lease provides financing for you to purchase your leased vehicle. This lets you keep your leased car if you want to keep or sell it yourself. Most car leases include annual mileage caps, and going over can cost you 10 to 25 cents per extra mile you've driven. However, buying out your lease can save you this fee.
Not all lenders offer lease buyout loans, so AUTOPAY is worth considering, especially if you have fair credit and want to compare offers quickly.
Cash-out refinance
If you have equity in your vehicle, meaning you've paid off some of your auto loan already, AUTOPAY's cash-out refinancing lets you receive up to $12,000 in cash with your refinance loan. This is also called ​cash-back refinancing.
Keep in mind that cash-out refinancing increases your debt load and may result in an upside-down auto loan, which occurs when the amount you owe is more than the vehicle's value.
AUTOPAY auto refinance pricing
AUTOPAY's refinancing costs vary depending on your credit score and overall financial standing. Annual percentage rates (APR) start at 2.99% and loan amounts range from around $2,500 to $100,000. To qualify for a loan, you must have a credit score of 560 or higher.
AUTOPAY auto refinance financial stability
AUTOPAY has been around for over a decade. Additionally, AUTOPAY has raised over $6.5 million in funding, indicating that investors see it as a financially promising company.
However, as AUTOPAY is a marketplace and not a direct lender, it's not rated for financial stability by institutions like A.M. Best. When you receive loan offers, check the financial standing of the individual lenders themselves to assess their stability and overall trustworthiness in handling your loan.
AUTOPAY auto refinance accessibility
Availability
AUTOPAY is available in all 50 states. It's only available for cars that are 10 years old or newer and cars with under 150,000 in mileage.
Contact information
AUTOPAY's phone number is (844) 276-3272. Its hours are as follows:
Monday to Friday: 7:00 a.m. to 7:00 p.m. MT
Saturday: 9:00 a.m. to 5:00 p.m. MT
Sunday: Closed
The company's email address is save@AUTOPAY.com, and its mailing address is 8055 E Tufts Ave, Denver, CO 80237.
User experience
Many customer reviews mention that the AUTOPAY application process is easy to follow and that its website is user-friendly. If you have questions, however, customers report that the support line will walk you through each step by phone or email, which is especially helpful for those new to auto refinancing.
AUTOPAY auto refinance customer satisfaction
The Better Business Bureau (BBB) hasn't accredited the company, but AUTOPAY's BBB score is A+. Additionally, AUTOPAY refinance reviews from customers are exceptionally high.
On the BBB website, AUTOPAY has a 4.52 rating out of five from customers. On Trustpilot, the company has a 4.8 rating out of five. Below are some points that reviewers frequently mentioned:
High level of availability of customer service agents to answer questions
Savings due to reduced interest rates, even for those rebuilding their credit (e.g., after a bankruptcy)
Ability to get offers from AUTOPAY after denial from multiple other companies
Low interest rates, as AUTOPAY reps are willing to keep searching and contacting lenders in support of borrowers
The most frequent complaint among negative reviews came from potential customers feeling like they'd been bait-and-switched after being pre-qualified at one rate but then offered a higher rate later on.
Note that the term "pre-qualified" can be somewhat misleading because it doesn't guarantee that you'll get those terms. Instead, a "pre-qualified" offer is more like a rough quote. That said, the "pre-qualified" terminology is widespread in the auto sales and financing industry, and AUTOPAY is not alone in using it.
AUTOPAY auto refinance FAQ
How does the AUTOPAY auto refinancing application work?
First, you apply for pre-qualification on AUTOPAY's website, which doesn't affect your credit. When you choose an offer to submit for lender approval, AUTOPAY runs a hard credit check, which can lower your credit score, though this effect is only temporary. AUTOPAY requires the following documentation to process an application for lender approval:
Driver's license
Insurance
Proof of residence (utility bill, lease agreement)
Proof of income (paystubs, tax returns)
Payoff letter, if refinancing
Lenders may ask for additional documentation depending on their requirements.
Which factors affect AUTOPAY auto refinance loan rates?
Several factors affect the rates you'll get when refinancing a car. These include:
Your credit score: The higher your credit score, the better the rates you're likely to qualify for.
Loan term: Usually the shorter the loan term, the lower the interest rate.
The market: The Federal Reserve's benchmark rates affect the rates financial institutions charge customers. If the Fed raises rates, banks pass that increase on to customers. However, rates still differ from lender to lender, so getting quotes from multiple lenders is a good idea.
Your vehicle: A vehicle's age and mileage affect the rates you'll get. The older the car and the higher the mileage, the higher the interest rates will tend to be.
Your equity in the vehicle: How much of your current loan you've paid off affects refinancing rates. And if you have negative equity (meaning you owe more than the car is worth), you may not be able to get a refinance loan.
Is AUTOPAY auto refinance safe?
Yes, AUTOPAY is a legitimate online marketplace that connects borrowers with loans. You can use it to compare options online without having to deal with hard credit pulls or phone calls with salespeople.
How we evaluated AUTOPAY auto refinance
When evaluating AUTOPAY, we looked at several criteria, including:
Loan options: We considered AUTOPAY's wide array of loan options and loan amounts.
Customer experience and reputation: We looked at AUTOPAY's customer reviews and third-party ratings.
Accessibility and offerings: We considered how easy it was for potential borrowers, including those with poor credit, to get quotes and get approved. We also took into account the quality of AUTOPAY's loans.
Summary of Money's AUTOPAY auto refinance review
AUTOPAY offers extra options for refinancing, lets borrowers with poor or fair credit apply and allows co-applicants. Additionally, you can prequalify for AUTOPAY refinancing without your credit taking a hit. These factors make the company worth considering when you're looking for the best car loan rates for your refinancing.
To keep saving money on your monthly car costs, consider looking for the best car insurance companies. Along with refinancing, getting a good deal on auto insurance is one of the biggest ways to cut your overall transportation costs.