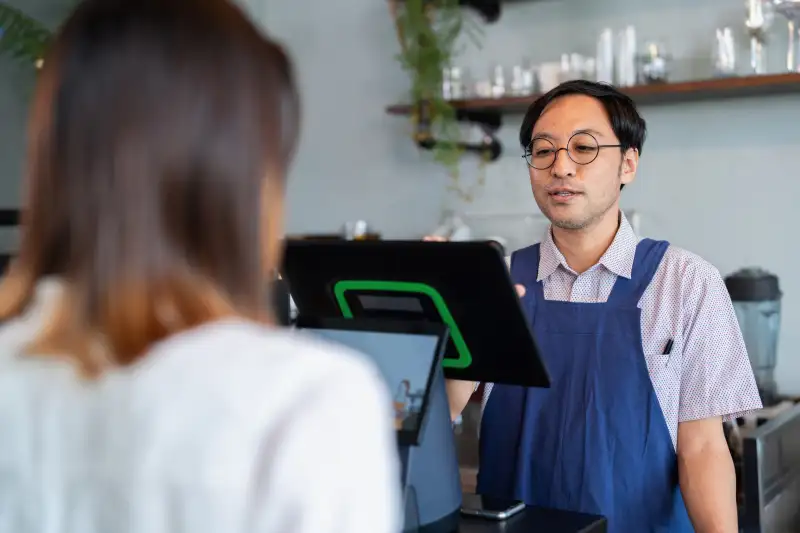 Revel Systems is a point-of-sale (POS) system and business management platform for iPads that was created in 2010. The company is a market pioneer and focuses its efforts on developing a wide range of POS features.
Revel POS offers advanced sales software and a variety of continually expanding capabilities. It is an attractive option for well-established businesses that need robust POS systems to cover multiple locations or channels. Smaller companies, however, may want to look elsewhere to find the best point-of-sale systems for their needs, particularly in terms of pricing, support and transparency.
Read on to learn more about Revel's POS system and whether it may be a good fit for your business.
Best for inventory management
Revel Systems earns our pick for the best POS provider for inventory management because the company's products allow for detailed inventory control. Revel's robust inventory management allows businesses to optimize product and order tracking while monitoring the profiles of customers. Revel's system can also make order fulfillment and house operations more efficient by automatically ending the sale of a product when it is running low or sold out.
Revel Systems pros and cons
Pros
Flexible options
Intuitive integrations
User-friendly
Cons
Expensive
Negative customer experiences
System crashes
Pros explained
Flexible options
Revel is highly customizable, with flexible options that let you build a system to suit your business needs. Revel allows you to customize your customer and staff experience with an employee scheduler and time clock. It also has a range of tools for online ordering, reservations, driver dispatch, customer rewards and inventory down to the level of ingredients.
Additionally, there is an application programming interface (API) that allows you to develop custom integrations. For example, if your restaurant offers customizable meals with multiple ingredient choices, Revel enables you to offer hundreds of combinations that customers can order online or at the counter.
Some other configuration options include:
Delivery: Order and driver tracking tools, updates for customers via text and email, analytics and efficiency tools.
Drive-thru: Order confirmation, digital outdoor display hardware, scheduling to change menu items and time tracking.
Online ordering: Order tracking, updates for customers and CRM integration to create and manage customer profiles.
Revel also has a number of flexible payment options. For instance, you can automatically or manually add taxes, discounts and other surcharges to orders. Customers can pay with a variety of payment types, including mobile wallets and contactless credit cards. In addition, Revel's gateway ensures payment security through point-to-point encryption (P2PE) as a customer's data travels between the POS and your credit card processor or a mobile payments app.
The POS system also has various features to help you retain customers, such as gift card management, online ordering, client discounts, loyalty programs and a self-service kiosk/module for customers.
Intuitive integrations
Revel has a variety of integrations that are intuitive to set up and use. In particular, several reviews praise the Quickbooks integration, which makes accounting and payroll seamless and less time-consuming. Particularly helpful for restaurants are the integrations with Grubhub, Lunchbox, LoyaltyPlant, Mobi, Pepper and Chowly.
However, we could not find integrations for some of the best accounting software options for small businesses, such as FreshBooks, Zoho, Xero and Wave.
User-friendly
Users on online review sites tend to find the Revel interface intuitive and report that the dashboard and back-office systems are both easy to understand. Even though it has an easy user interface (UI), Revel doesn't sacrifice functionality, facilitating essential business processes such as inventory tracking, delivery management and CRM.
Cons explained
Can be expensive
Revel's publicly available pricing starts at $99 per month with an onboarding fee that starts at $674. However, the company doesn't disclose the cost of payment processing or hardware.
Revel's monthly subscription cost isn't competitive compared to Square, which has a free plan, or Shopify, which has plans that start at one-third to half the price of Revel's. Additionally, many competitors include setup and training in their fees instead of adding them for an additional fee.
Negative customer experiences
Any app will have some negative reviews, but the Revel app fares significantly worse in user reviews than its competitors. Revel scores 3/5 on the Apple App Store and 1.4/5 on Trustpilot. By contrast, Square scores 4.8/5 on the Apple App Store and 4.1/5 on Trustpilot. The most common complaints about Revel include:
Poor customer service
Confusing pricing that locks users into high-priced contracts
Repeated system crashes
System crashes
Multiple reviews mention that Revel can be slow to sync with other iPads and will sometimes freeze and crash if there are too many restaurant servers on each iPad. Something as simple as a split ticket transaction can occasionally crash the program. Additionally, Apple's system updates sometimes cause the software to stop working for a while.
Revel Systems plans and offerings
Revel starts at $99 per month for each terminal. However, there's a minimum purchase of two terminals, and customers must sign a three-year service contract. Service fees are billed annually. This can snowball your costs over time. For example, three terminals would cost $297 per month — or $10,692 in total over the three-year contract period.
This is more expensive than virtually all other POS sales solutions out there. Additionally, some POS providers have pay-as-you-go plans with no subscription required.
It's also tough to figure out which services and features are included in the base subscription software and which are add-ons that Revel charges extra for. The price of Revel Systems hardware isn't publicly available, and you'll need to contact the company for a quote.
Standard package
Revel's standard POS system comes with features like a secure backup in the cloud, Revel Systems 24/7 support, unlimited users and customer data encryption.
Account and inventory management
Revel's helpful reports allow business owners to identify problems with their operating procedures and revenue streams, such as overstocking of inventory. This allows businesses to free up operating funds for other priorities and focus on business development.
The customer account management feature of the software receives mixed reviews. By some accounts, adding customers to the system is easy. However, finding existing customers by phone number is difficult because the system requires you to enter the number exactly as it was entered into the system initially. The good news is that once you successfully locate a customer's account, users tend to find the customer account information and purchase history very useful.
Revel advanced training and features
Revel offers advanced training options for enterprise businesses through Revel University. These include providing a deeper dive into POS best practices, ensuring the configuration of your platform for maximum efficiency and discovering opportunities to make Revel Systems software more efficient at handling your specific business needs. Additionally, Revel's software offers training for your company's in-house POS experts.
There are also a number of advanced features and add-ons so you can further optimize your operations. Notably, Revel Guard XT is a device that allows you to remotely monitor and align all of your POS devices, from your printers to your payment terminals.
Revel Navigators
Revel Navigators are the company's expert team of consultants. Revel Navigators can help you with tasks such as opening a new business location or providing enterprise project management. They can also help with remote implementation, console configuration and payments integration onboarding. They can even help you with staff training on POS registers and follow-up after the installation of hardware. Additionally, you can opt for full-service implementation that includes one eight-hour on-site session to help with all of the above.
Revel enterprise systems pricing
Revel's cloud-based platform lets enterprise-level businesses manage and standardize business processes across multiple locations. Though Revel doesn't offer a free trial of its software, you can get a free system demo and custom price quote directly from the company.
The company charges $99 per terminal, but you'll typically get a price break after purchasing two terminals. This is especially beneficial for Revel's larger customers, many of whom have over 1,000 franchise locations.
Revel's implementation fee starts at $674. This is more expensive than its competitors, perhaps because the company offers a hybrid POS system. While Revel uses a cloud-based POS, the POS hardware is networked together on location so that it also works offline. This hybrid functionality makes setup more complicated and, as a result, more expensive.
Revel Systems financial stability
Revel Systems has been around since 2010 and was an early provider of mobile POS systems and POS systems for retail. According to Crunchbase, it has received a total of $189.6 million in funding as of 2021. Its longevity in the industry and substantial funding attest to its financial health and stability.
Revel Systems accessibility
Availability
Revel has offices around the world and offers support in 15 countries and four continents, including North America, Europe, Asia and Australia. Its many locations, combined with the availability of 24/7 customer service, ensure that you'll be able to get support whenever you need it, no matter what time zone you're in.
Contact information
Revel Systems' sales number is +1 (833) 437-3835. You can find additional numbers for regions outside the U.S. on the Revel Systems contact page. The website also offers online chat, though you'll reach a bot and not a human if you use this feature.
User experience
In general, users on online review sites report finding Revel Systems to be easy to use with an intuitive interface. Its integrations, including those that interface with online food ordering systems, typically work well. The wide range of customization options allows you to adapt the system's functioning to your offerings and operations.
Revel Systems customer satisfaction
Revel Systems has a 4.2/5 rating on G2, a 1.4/5 on Trustpilot and a 3.7/5 on Capterra. Its Apple App Store rating is significantly lower than some of its competitors' ratings.
Revel Systems FAQ
Is Revel a CRM?
Revel is not a dedicated customer relationship management (CRM) system, but it has many CRM features. These include the ability to capture customers' information and engage with them regularly, add new customers, update customer details, upsell based on customer preferences, book client appointments, and more.
Is Revel a good POS System?
Revel is a good POS system for large businesses that need detailed inventory management and high-volume or multi-location restaurants and retailers. For business owners who want a free trial or low, upfront cost, you may want to look elsewhere.
How do you set up Revel POS?
Revel POS comes with onboarding documentation, but it may be difficult for non-technical users to set up. Revel offers installation and setup for an additional fee.
How we evaluated Revel Systems
We evaluated Revel Systems by looking at its feature set, pricing, customer support, reviews and user experience. We compared these factors to other leading POS systems, such as Square and Shopify.
Summary of Money's Revel Systems review
Revel Systems has been in the POS industry since 2010, and its experience is reflected in its enterprise-level offerings. It's suitable for businesses that need detailed, accurate inventory management. It has configurations and hardware for drive-thrus, CRM features and ways to manage loyalty programs. It also allows you to communicate with customers via text and email.
If you're a business owner just getting started, then you know that choosing the right POS is just one step of many you'll need to take. To continue your startup journey, take a look at the best business checking accounts and how to get a free business phone number.