Meghan Markle Dressed Baby Archie in $20 H&M Overalls, and They're Gonna Sell out Any Second Now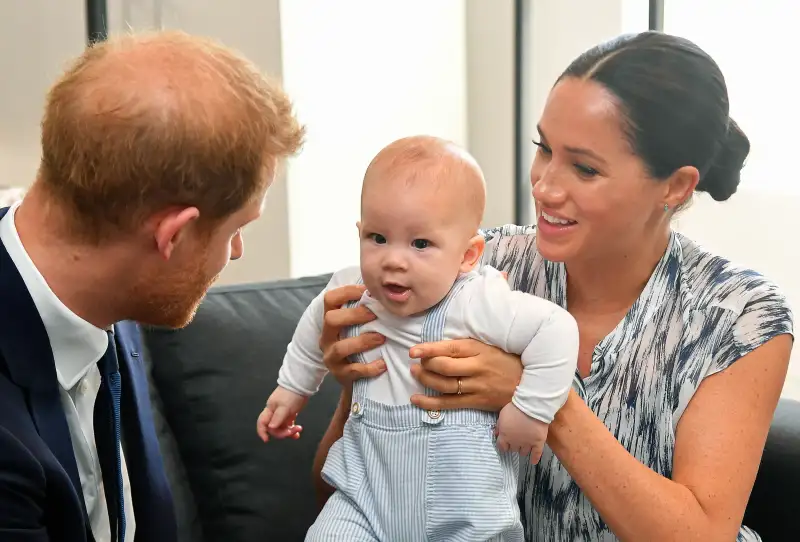 Pool/Samir Hussein—WireImage
At almost 5 months old, Archie Harrison Mountbatten-Windsor is already a king... of affordable style.
Archie had his first official royal visit this week in Cape Town, South Africa. He sat in mom Meghan Markle's lap, giggled with dad Prince Harry and even met Archbishop Desmond Tutu. And he did it all while wearing $20 H&M overalls.
MailOnline editor Caroline Parr identified Archie's outfit as soon as photos of the infant's engagement dropped on Wednesday. The Duke and Duchess of Sussex appear to have dressed Archie in H&M's Bib Overalls and Bodysuit, which are available online for $19.99 and come in five sizes. (On H&M's U.K. site, the £14.99 getup is called "Dungarees and bodysuit," but you get the idea.)
The Sussexes skipped the bodysuit in favor of a long-sleeve white T-shirt. Archie's socks were Bonpoint, which Footwear News reported sell for $162 for a seven-pack on the Saks Fifth Avenue website. He did not wear shoes, because he is a baby.
Despite being worth an estimated $88 billion, the royals are big fans of frugal fashion. Markle donned a $120 Everlane jumpsuit for another appearance on Wednesday, and Archie's cousin Prince George wore a $7 H&M polo shirt back in July. The Duchess of Cambridge, Kate Middleton, has a reputation for frequently rewearing her outfits, including a pair of Superga sneakers that go for about $50 on Amazon.
The royals are trendsetters, too: Anything any of them wears instantly sells out. In 2013, the $55 shawl George wore to his christening got so popular that customers had to join a 10-week waitlist just to buy a blanket. Last year, the manufacturers of a dress Princess Charlotte wore for her birthday said they were "desperately trying to get more stock" after sales spiked. It only took hours for Prince Louis' $64 puppy sweater to fly off shelves back in April.
Archie is no exception. Before he was born, the Center for Retail Research reportedly predicted that he'd increase spending on kids' products by more than $1 billion in the first two years.
If you want to dress your kid like a royal, you'd better move fast. As of Thursday morning, Archie's blue- and white-striped H&M overalls were not available in U.S. stores. Three sizes were sold out online.
We've included affiliate links into this article. Click here to learn what those are.