5 Stores Where Back to School Items Cost Under $1—or Even Just 1¢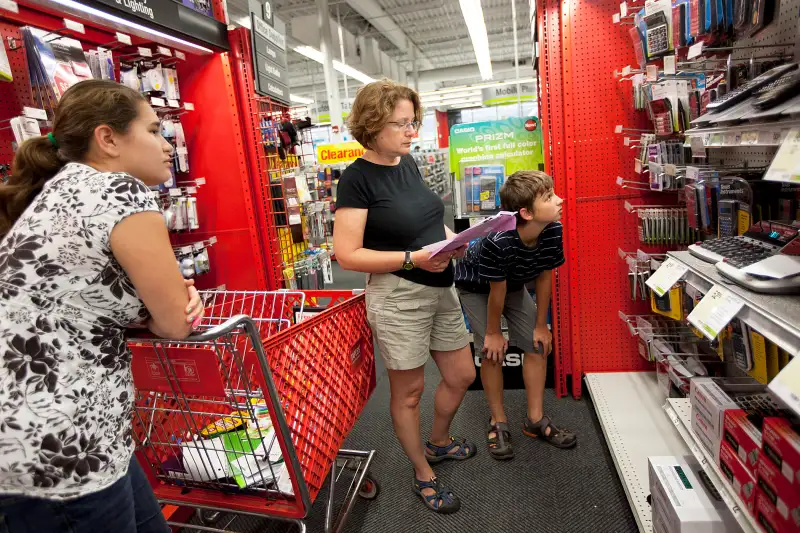 Yoon S. Byun—Boston Globe/Getty Images
Every year at about this time, drugstores and office supply retailers roll out phenomenal back-to-school promotional deals. The prices on many of these items are sometimes so cheap that the stores don't make any money on them. They're are known as "loss leaders," and even if they lose money as the phrase indicates, these special offers serve the purpose of drawing shoppers into stores.
Understandably, then, the very best deals—we're talking tons of back-to-school essentials for under $1, and sometimes for as little as a penny—are typically not available to online shoppers. Retailers reserve these promotions strictly for in-store shoppers, because when you're physically in the store you're more prone to making unplanned purchases. The trick for money-conscious consumers, then, is to stick to your shopping list and only buy items when they're discounted.
Granted, this strategy is time-consuming, and pretty darn annoying to shoppers who'd rather just make one big back-to-school shopping trip and be done with it. Your ability to take advantage of these deals partly comes down to how much you value your time. To get the best deals, it might also be required that you have a retailer loyalty card. Supplies are often limited, and there may be a limit on how many items shoppers can buy at the super cheap promotional prices.
For additional savings, take note that many states have tax-free shopping weekends during back-to-school season, and the last weekend of July and first weekend of August are when most tax-free events take place. Also, bear in mind that the simplest, no-effort way to save involves doing nothing: Many parents find that when they procrastinate, they can score widespread clearance deals around Labor Day. Either that or they stumble across the stash of all the unused school supplies still in their house from last year.
But if you are in the market for some super cheap back-to-school items, check out the following deals. In most cases, prices are valid until this Saturday. But don't worry too much if you miss out. I can almost guarantee you that a new round of loss leader deals will be announced the moment this week's promotional prices end.
Office Depot/OfficeMax: In many locations, when you make a purchase of at least $5, you can also buy a variety of school essentials like folders, pencil boxes, and packs of index cards for just 1¢ apiece. Other items like one-subject spiral notebooks, 2-packs of kids scissors, and 12-packs of Crayola colored pencils are only 50¢ each, and five-packs of Sharpies are $1 each, no other purchase required.
Rite Aid: Classic back-to-school items like Playskool glue, Playskool 24-packs of crayons, and Mead 100-sheet composition notebooks cost 59¢ each.
Staples: Take your pick of 6-packs of highlighters or 10-packs of Bic ballpoint pens for 75¢ apiece on sale this week; and items like one-subject spiral notebooks, 12-inch wooden rulers, and 24-packs of Crayola crayons are priced at 17¢, 25¢, and 50¢, respectively, throughout the entire back-to-school season.
Read Next: 2 Amazingly Simple Tips for Cheap and Lazy Back to School Shoppers
Target: Target isn't as well known as other retailers for ultra-cheap sales, but shoppers can find things like Sharpie singles in an abundance of styles and colors priced at $1 each.
Walgreens: This week, Walgreens is promoting a special deal with 24-packs of Crayola crayons priced at just 69¢; plus, if you can get your hands on a coupon in the local Sunday newspaper, a four-pack of Bic Atlantis pens that normally sells for $1.99 will run only 49¢. One-subject notebooks, meanwhile, are being priced at 2 for $1, and folders and mini-highlighters are selling at 7 for $1.