This Is the Best Bank for Seniors — with Fraud Protection, Great Rates, and Tons of Branches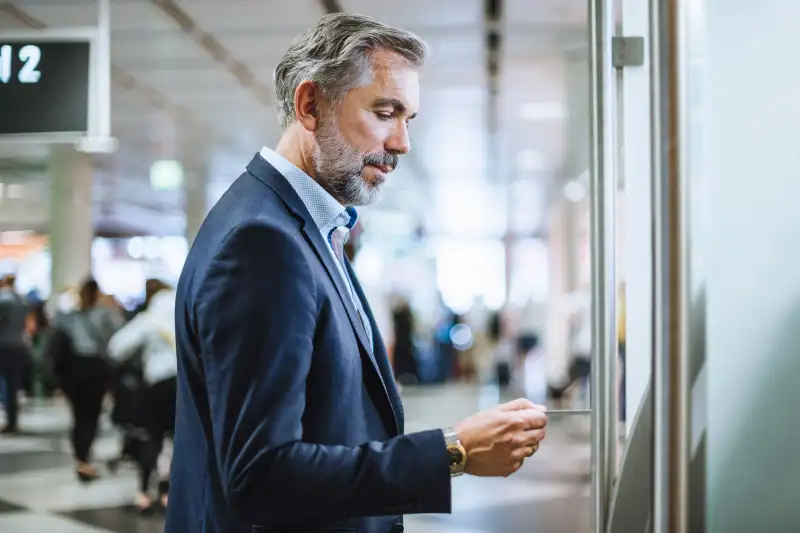 Daniel Ingold–Getty Images
As the number of seniors in the U.S. population continues to expand, so too does the number of people trying to take their money. Older adults – who tend to be wealthy after years of saving and often all too trusting of strangers – are some of the biggest targets.
"As seniors age, they become more susceptible," says Ken Tumin, founding editor of bank account comparison website DepositAccounts.com. "Families need to prepare them for the inevitable scam call or email."
One financial services firm, TrueLink, puts the costs of elder financial abuse at nearly $37 billion per year. That includes a loss of around $17 billion from "exploitation" like quack investment schemes, nearly $13 billion from identity theft and other frauds, and just under $7 billion from abuse by caregivers.
Tim Boelaars for Money Magazine
Meanwhile banks report vast numbers of older customers falling prey. A CFPB report, released in February, estimates that more than 3.5 million cases of elder financial abuse took place in 2017 alone. The number of reports of suspicious financial activity filed to the federal government by banks has quadrupled since 2013. (Such reports often but not always indicate a crime.)
"Financial exploitation in later life is devastating for seniors and their families," says Elizabeth Loewy, co-founder of EverSafe, a fintech solution that monitors and alerts for fraud – with a focus on aging issues. "I have seen scams ruin not just retirement, but family relationships - and ultimately affect victims' longevity."
When a financial fraud hits, the consequences can be devastating. The average dollar amount lost by Americans aged 70 to 79: More than $45,000. Seniors were more likely to fall prey, and faced greater losses, when the scammer was someone the victim knew – like a caregiver or family member, the CFPB found.
While family members are critical to protecting seniors, finding the right bank can make a difference too, according to research from the AARP and CFPB. "Financial institutions can play a huge role in identifying vulnerable customers – and erratic activity – early," says Loewy.
That's why when Money set out to pick a best bank for seniors, we looked at not just financial terms like fees and interest rates, but also which institutions offered the best level of fraud protection. Many banks have started offering a variety of different elder protections, from training staff to recognize financial abuse to using fraud detection software and reporting suspicious activity to authorities.
To gauge which institutions were most proactive in combating financial elder abuse, Money built a 13-point checklist using recommendations from the CFPB and AARP. Key considerations include whether banks offered age-friendly services, account alerts, withdrawal limits, software to monitor suspicious activity, and read-only access for a trusted third party to view and help monitor a senior's account.
We then examined each bank's checking and savings accounts, including those specifically geared towards seniors, using data from financial services consulting firm Novantas. Offerings with the lowest or most easily waived monthly fees were prioritized, while also paying special attention to metrics like customer service and branch presence. The winning banks had both the best accounts options and a wide range of elder protection services.
---
Winner: TD Bank
Why It Wins: For the second year in a row, we picked TD Bank – in large part because it scored the highest on our checklist of elder abuse protections. For instance, the bank lets customers give read-only access to a trusted family member or friend who has power of attorney, allowing a second pair of eyes to monitor the account, one of the most crucial safeguards against elder financial abuse, according to the AARP and CFPB. The bank also offers alerts for unusual activity or large withdrawals and educational materials to help older account holders learn about and protect against financial exploitation.
In addition to fraud protection, TD Bank also has an excellent reputation for being consumer-friendly, scoring an above-average customer service score from J.D. Power – a big plus for seniors, because they typically prefer banking in person at traditional brick-and-mortars, according to a 2019 survey by GOBankingRates.
Caveat: TD Bank is almost exclusively located on the East Coast, so if you live outside that branch network consider banking at PNC or Chase, both of which merited honorable mentions in our analysis of banking options for seniors. TD's $35 overdraft fee is also higher than average.
Branches: Just over 1,200 branches in 15 states (Conn., Del., Fla., Maine, Md., Mass., N.H., N.J., N.Y., N.C., Pa., R.I., S.C., Vt., Va.), plus Washington D.C.
Notable Accounts
TD 60 Plus Checking
Monthly Fee: $10, waived with $250 daily balance
Out-of-Network ATM Fee: $3
Overdraft Fee: $35
Interest: 0.05%
TD Simple Savings
Monthly Fee: $5, waived for customers 62 years of age and older
Interest: 0.05%
---
Honorable Mention: PNC
What's Good: PNC has twice as many branches as TD Bank, with a presence in 19 states and Washington D.C. So if you live in the Midwest, for instance, PNC is an excellent option. While not matching TD in terms of fraud protection, the bank does offer a number of important features. In addition to providing educational materials that help older account holders learn about financial exploitation, PNC's wealth management department will serve in a fiduciary capacity for older clients who need help managing their money. There are financial perks too: the bank's standard checking account waives its $7 monthly fee for seniors, and the $25 overdraft fee is well below average.
Caveat: The bank does not provide read-only access to an online account, although it will send paper statements to trusted contacts with power of attorney. PNC also doesn't flag a customer's specific needs (hearing, vision, or mobility issues, for example) in their information file or account, which TD does.
---
Honorable Mention: Chase
What's Good: With more of a national presence than TD or PNC (over 5,000 branches across 23 states), Chase is another bank which scored highly for its range of protections against elder financial abuse. The bank is noticeably one of the few who offer information on planning for 'incapacity' – when seniors can no longer manage their own accounts without assistance. Chase is also known for its good customer service, with above average J.D. Power scores.
Caveat: The bank's popular 'Total Checking' account has a $12 monthly fee; you'll need $500 in direct deposits or a $500 daily balance to waive it.
---
Methodology
Money evaluated the 18 largest brick-and-mortar banks in terms of reach – those with over 1,000 branches or a presence in at least 10 states (or 9 states and Washington D.C.), as identified by bank consultancy firm Novantas, which publishes FindABetterBank.com and was Money's partner for our 2018 Best Banks ranking. Money independently verified account terms in August and September, and fact-checked the information for each winner in March.
The banks surveyed were Bank of America, BB&T Bank, Chase, Citibank, Citizens Bank, HSBC, Fifth Third Bank, First Citizens, KeyBank, PNC, Regions Bank, SunTrust, TD Bank, U.S. Bank, and Wells Fargo. (Bank of the West, M&T Bank, and Woodforest National Bank did not respond to Money's fact-checking requests or questions about elder fraud protections.)
To determine which banks offered the best practices for protecting elder Americans, Money consulted the recommended guidelines previously released by the CFPB and AARP. Money then sent a checklist to each bank, asking if they require staff to undergo elder financial fraud training, allow customers to set up alerts for large withdrawals and suspicious activity, report potential fraud cases to the authorities, utilize software to monitor account activity—as well as offered ability to set up read-only access to accounts and advanced consent to alert trusted contacts when there is suspected fraud.
The winning banks scored highest regarding their elder protection policies, while also offering a checking account with easily waived or low fees.
Megan Leonhardt contributed reporting to this story.