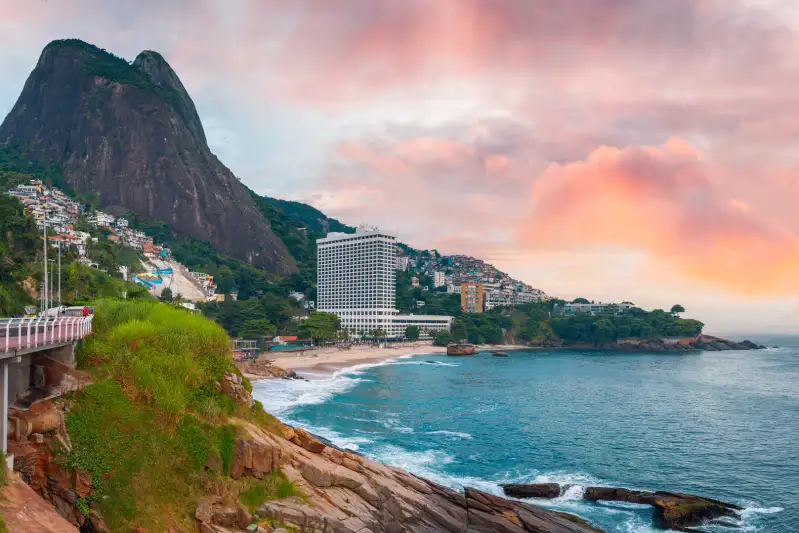 Taking time out of your hectic schedule to have fun at the beach is one of life's purest pleasures. But with the number of destinations you can visit and so many expenses to consider, it can seem daunting to choose. Don't worry — whether you dream of sunbathing on the beaches of the Greek islands or simply want to splash around in the U.S., you can enjoy your next beach vacation without spending a fortune.
Read on to learn more about the best beaches in the U.S. and abroad, as well as tips and suggestions for your next beach trip.
Our Top Picks for Best Beaches
Best Beaches Reviews
Best Black Sand Beach: Black Sands Beach, Shelter Cove, California
Pros
Nearby trails make it an attractive destination for hikers, backpackers and campers
Tours and backpacking trips are available through tour companies
Plenty of lodging options near the Shelter Cove airport
Cons
Swimming and surfing aren't allowed because of currents and winds
You'll need shoes to comfortably walk along the rocky coast
Getting there without a car is a challenge
Why we chose it: Black sand beaches are extremely rare. This unique destination holds an allure for California locals and visitors who want an untainted experience of nature — just be mindful of the elk and bears.
The appropriately named Black Sands Beach is one of the most well-known black sand beaches in California. Situated on the so-called "Lost Coast" of Northern California, its natural beauty and unspoiled surroundings attract sunbathers, hikers and explorers alike.
The surf is very strong, hitting the rocks that frame the black sand beach here with force. Signs warn against swimming and advise staying at least 100 feet away from the powerful ocean surf. However, with its nearby access to trails, it's a haven for backpacking and outdoor exploration as well as for contemplating the sea and surrounding landscape.
A long drive on a winding road leads to the small parking lot, where you'll have to hike down a path to get to the beach. There are no lifeguards here, nor are there any amenities on the beach. Shoes are recommended during your visit as it is a rocky beach, in spite of what its name implies. If you like remote, secluded beaches to while away an afternoon, Shelter Cove may be the ideal place.
Best Island Beach: Chania, Crete, Greece
Pros
Water temperature from July to September is perfect for swimming
Up-to-date amenities
Cons
A 30-minute drive and 1-hour boat ride are needed to get to three of the beaches
Crowded during the summer
Why we chose it: The stunning coasts of Chania, Crete boast some of the best island beaches around, with natural beauty, turquoise waters, golden sand and plenty of sunshine.
Crete has four distinct regions across the island: Lasithi (East Crete), Heraklion (Central Crete), Rethymnon and Chania (West Crete). Most of the best beaches are in Chania — Elafonisi, Balos, Falassarna, Seitan Limania, Preveli and Matala, just to name a few. In addition to its beautiful natural scenery, all of these beaches are equipped with modern amenities like changing facilities, toilets and showers.
On average, the island gets 300-plus days of sunshine and clear skies annually. But on a rare rainy day, you can skip the beach and visit the museums and shops in the nearby towns and villages as well as historical attractions such as the lighthouse and old Venetian harbor at Chania. With Crete's rich history, you'll likely find yourself gazing at relics from the past as you're enjoying modern-day activities and conveniences.
Best Lake Beach: Sand Point Beach, Upper Peninsula, Michigan
Pros
Abundance of aquatic activities for vistors
Less crowded compared to other beaches in the area
Sunsets and views of the bay and Grand Island
Cons
No lifeguarded beaches at Pictured Rocks National Lakeshore
Water temperatures in summer only range from the upper 50s to 60s and get even colder during the rest of the year
Strong currents and potentially hazardous conditions in Lake Superior
Why we chose it: In the Upper Peninsula, Sand Point Beach along Lake Superior's Pictured Rocks National Lakeshore has miles of shoreline, scenic views and windswept dunes for travelers who want to visit a beach but can't get to a seashore.
Beaches on the Upper Peninsula in Michigan have a cooler climate than those in lower latitudes, with temperatures ranging from the mid-60s to mid-70s in the summertime. But Sand Point Beach is a popular destination for both locals and tourists, especially during those high-season months.
With its sandstone cliffs and lush forest backdrop, Sand Point Beach is a desirable location for nature lovers and photographers. The waters of Lake Superior draw in hardy swimmers year-round as well, but rip currents are not uncommon and bathers should exercise caution when swimming off Sand Point Beach into Lake Superior.
Sand Point Beach is a budget-friendly option because it accessible to visitors and does not have an admission fee. In addition to the wide sandy beach, there are nearby amenities like public restrooms, a picnic area, a playground and a wheelchair-accessible boardwalk trail with views of the lake and surrounding area.
Best Private Beach: Sheraton Grand Rio Hotel & Resort in Rio de Janeiro, Brazil
Pros
Private beach just steps away from the luxury pool area
A short distance to other beaches like Leblon and Ipanema
Cons
The costs of staying at the hotel can add up
Why we chose it: The Sheraton Grand Rio Hotel & Resort is a five-star resort with everything discerning travelers can want, including access to a beautiful private beach.
Sheraton Grand Rio Hotel & Resort in Rio de Janeiro, Brazil is known for its exclusivity, privacy and high-end amenities, making it a popular destination for travelers looking for a luxurious escape.
For beach lovers especially, the Sheraton Grand Rio is a treat. It's unique in that it's the only hotel in the area that sits on the ocean side of the main avenue, which allows you to go to the beach without having to cross any road: Vidigal Beach is literally only steps away from the resort's pool.
There are a lot of activities to keep you busy. Aside from the private beach, guests can walk or use the hotel's shuttle to visit the area's world-famous beaches such as Leblon, Ipanema and Copacabana. Travelers can also enjoy the bustling nightlife of Rio or enjoy an afternoon of shopping.
Best Beach Resort: Jekyll Island Club Resort Beach
Pros
Pool, spa and fitness center complement the outdoor serenity of the resort beach
Guests can also enjoy golfing, biking, kayaking, fishing and horseback riding
Cons
Pricey for some family budgets
Hot, humid summer months are punctuated more frequently by occasional rain and thunderstorms
Why we chose it: This island resort combines southern charm and seaside luxury, offering ocean views, elegant accommodations and luxurious amenities.
Jekyll Island Club Resort is a popular destination for couples, families and groups. Situated on a barrier island off the coast of Georgia, the resort boasts picturesque landscapes, sandy beaches and serene marshes, creating a soothing and tranquil environment.
During the late 1800s and early 1900s, the Jekyll Island Club Resort was a popular winter getaway for the wealthiest families in America, including the Vanderbilts, Rockefellers and Morgans. These families formed the Jekyll Island Club, which owned and had exclusive use of the majority of the island and its amenities, including the Jekyll Island Club Resort, the main hotel on the island.
During World War II, the club shut down and the state of Georgia acquired the land to try to keep the resort going, but eventually closed it again in 1971. The property was restored and reopened as a luxury resort hotel in 1985. Since then, many travelers have been enthralled by the majesty of this resort and its nearby beach setting.
The resort has a pool, spa and fitness center, as well as restaurants and bars for dining and entertainment. Jekyll Island has agreeable weather, with daytime temperatures averaging in the mid-60s in January and February, and rising upward to the high 80s by July.
Other beaches we considered
Cape Charles, Virginia, USA
Pros
Lively, active beach town
The area is dotted with ice cream shops, taffy outlets, coffee shops and plenty of restaurants
Abundant variety of sea life, including sea snails, tiny crabs and hermit crabs
Cons
Its shallow water and lack of waves makes it less ideal for surfers or adventure seekers
Minimal nightlife
Cape Charles beaches are considered to be among the best-kept secrets on the Chesapeake Bay and Eastern shore of Virginia. The soft sand is great for making sandcastles, and the calm waters are appropriate for bathers of any age. In addition, the beaches have access to a public boardwalk, as well as restrooms and picnic areas.
A Pacific Coast Road Trip: California's Highway 1 from San Francisco to San Diego
Pros
Pleasant California weather features partly to mostly sunny skies for most of the year
Variety of beaches for all tastes
Cons
Pacific Coast Highway is very busy during the summer, leading to delays and accidents
Gas costs can add up for such a long trip
From the rocky and scenic Big Sur and Monterey beaches to the white sand delights of SoCal's Laguna Beach and down to San Diego's Mission Beach, a Pacific Coast road trip simply has too many wonderful beaches to include on a list. There are plenty of outdoor activities to enjoy, as well as local museums, art galleries and shops in the coastal towns.
Punalu'u, Hawaii
Pros
Sea turtles and other wildlife can be spotted regularly
No large resorts in town, giving a more relaxed atmosphere
Cons
Rip currents can make it dangerous for swimmers
Can be overrun with tourist buses and other vehicles during the height of the summer travel season
Punalu'u is a must-see destination whose fantastic lava rock scenery contrasts beautifully against the ocean water and the black sand's texture and color is a wonder to behold. There is a large parking lot and a small shop nearby offering souvenirs, clothes and jewelry. A lifeguard is also on the beach during daylight hours. Unfortunately, it can get overcrowded during the summer.
Beaches Guide
The best time to visit the beach
The best time to visit the beach all boils down to how you want to spend your time, your patience towards crowds and how much sun you can tolerate.
You should plan your beach visits around times that best accommodate the activities you have planned. If you're looking for warm and sunny outdoor weather, you may want to reconsider a beach vacation in the spring or winter months. However, those may be the best seasons for you if you want to avoid the summer crowds. Taking the local weather into account is also important, as excessively hot or cold temperatures and the chances of precipitation could make your beach visit a bust.
Depending on your schedule and activities of your trip, figure out when it makes sense to visit. You might want to spend an entire day enjoying th beach or you might just want to catch a quick sunset. It's all up to you.
Types of beach activities
Whether it's lazing around or getting physically active, beaches offer the perfect conditions for all sorts of recreation. Some activities include:
Walking on the shore
Beach combing
Sunbathing
Picnicking
Building sandcastles
Building bonfires (on beaches that allow them)
Swimming
Tossing frisbees
Playing sports like football or volleyball
Kayaking
Surfing
Skimboarding
Parasailing
Always check the beach's conditions and restrictions before deciding on any specific activity. Some beaches might have rip currents or strong head winds that cancel any aquatic activities while others might have limits on the types of activities that can be carried out.
What to bring to the beach
Not everyone gets to enjoy the convenience of living within direct access to a beach. If you're planning for a first-time trip, know in advance that there are a few things you should bring with you.
A swimsuit and beach towels are a must if you plan on getting in the water. Beach chairs and umbrellas are especially useful if you want to relax and shield yourself from the sun. Of course, always bring sunscreen (with an SPF of at least 30) to protect yourself from the sun's harmful UV rays. You may find that a hat and sunglasses are also useful for protection.
It's always a good idea to bring snacks and foods that are easy to eat, such as sandwiches or fruit, since you may not be near a place that sells food. On that note, a cooler packed with ice and cold drinks is highly advisable to beat the heat. Just make sure that you carry out everything you carry in, including your trash, to keep beaches clean.
Depending on the beach conditions, you can also pack inflatable rafts and floats to lounge around on the water. And for the kids, sand-digging tools could result in hours of fun for them and distraction-free relaxation for you. Magazines, books and weather-resistant speakers for music are great ways to occupy your time.
Best Beaches FAQ
What makes a great beach destination?
More often than not, people can agree on what makes a great beach: sun, sand, surf — the usual. Whether it's to enjoy the beach itself or to have it in the background for a family-friendly or romantic outing, that's what makes them the best beaches to visit.
Some people may seek more natural beauty and scenery than just an ocean view. Being able to access fun activities can also make beaches stand out, such as the gymnastics equipment at the Original Muscle Beach in California's Santa Monica Beach. Amenities play an important role, too, since those traveling long distances typically want more than just a restroom nearby. Affordability, location and time of season naturally figure into the mix as well.
What are lake and river beaches?
Lake and river beaches are exactly as their names imply: sandy or rocky shores that surround lakes or rivers. You may be able to do most of the same types of activities that you could do on coastal beaches like swim, wade, sunbathe or fish, just to name a few.
Are beach resorts worth the money?
Beach resorts definitely can be worth the money if you're looking to spend a lot of time on the beach and want direct access to it. It's more convenient than having to drive to the destination and back. The other side of the coin is that you have to pay for that convenience. Determine if you prefer to spend more for the luxury of being close to the beach or if you're willing to travel a bit to save some money.
How We Chose the Best Beaches
In our search for the best beaches, we looked at:
Popular opinion: We read visitor's reviews on third-party websites to get a sense of their beach going experience.
Amenities and accessibility: We researched the amenities a beach has or lacks (such as restrooms and lifeguards) and determined how easy it is to access the beach.
Surrounding area: We looked at the beach location and its surrounding area and considered whether there was lodging, dining or other attractions to fill the time not spent at the beach.
Summary of Money's Best Beaches