From Ludacris' Chicken+Beer to Channing Tatum's Saints and Sinners, These Are the Best Celebrity-Owned Restaurants Right Now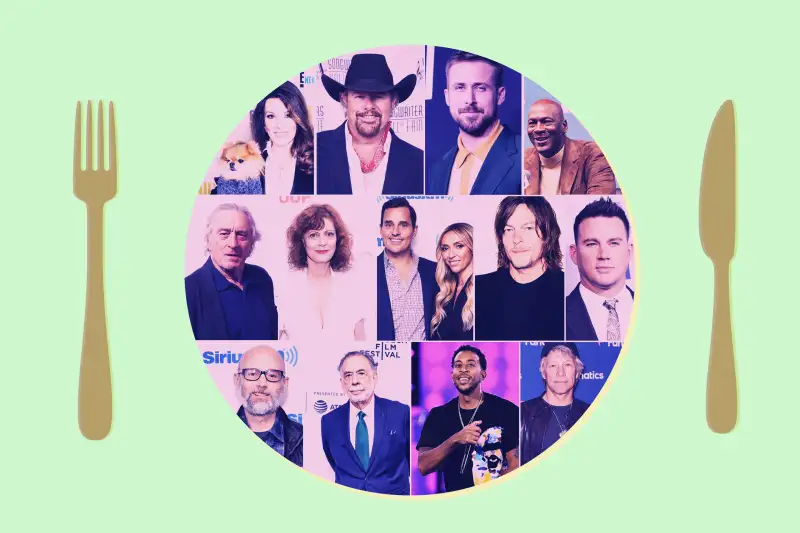 For celebrities, owning a restaurant is a prime investment opportunity: Name recognition and capital go a long way in an otherwise unforgiving industry, giving them a leg up on competitors.
But there's one more thing you need in order to run a successful food establishment, and all the branding in the world won't change the answer to the question: "Is the food good?" For these 20 celebrity-owned restaurants, the answer is a starry "Yes" — at least according to an analysis of data from customer review website Yelp, which showed that these spots were the best in terms of ratings and reviews.
To give a fighting chance to basketball legends, TV personalities, and Moby, we excluded celebrity owners whose initial claim to fame was being a chef or a restauranteur (sorry, Bobby Flay). The result was a wide range of cuisines and dining experiences, scattered across the country.
Here are the top (non-chef) celebrity-owned restaurants in the U.S., according to Yelp.
Stars: 4
No. of Reviews: 2915
Price: $$$
As part of the RPM Restaurants group, a business partially owned by the Rancics, RPM Italian in Chicago does what all of its sister restaurants do: it oozes sophistication. The aesthetic is modern, the meals are perfectly plated, and the cocktails are pure art. RPM Italian's menu features pasta made in-house, meats, and "Italian classics with an elevated twist," according to the restaurant's website.
They opened a second RPM Italian in Washington D.C. that came in at no. 8 on this list.
Stars: 4.5
No. of Reviews: 800
Price: $$
Next up is Moby's Little Pine, which looks less like a restaurant and more like the best version of your living room.
The non-profit vegan restaurant is located on a sunny corner in Los Angeles. It's filled with booths that look like couches, his own photography hanging on the walls, and bookshelves decked out with mugs and household paraphernalia.
Not only was it named Restaurant of the Year by VegNews a few years ago, but you can leave knowing that 100% of your money goes towards animal rights organizations. And if it's hard for you to forego cheese, don't be thrown: Yelpers agree that the vegan Macaroni & Cheese ($13) really hits the spot.
Stars: 4
No. of Reviews: 515
Price: $$
Ludacris' Chicken+Beer is located by Gate D15 in Hartsfield-Jackson Airport, because no one says "Welcome to Atlanta" like Luda. He had been hinting at the restaurant since he released his 2003 album Chicken-n-Beer, and 13 years later it saw the light of day ...in a curious location.
"It was bidding time for the airport and, in my opinion, that's the epitome of success," he told Atlanta Magazine. But there's hope for less avid travelers, according to a rep for Chicken+Beer. "We are always eyeing opportunities to expand," she told Money. "And our guests are always asking for Chicken+Beer(s) located outside of the airport so that they can enjoy our food and local beers outside of their travels!"
Until then, head to Hartsfield–Jackson airport to enjoy local beer and soul-pleasing southern favorites like pimento cheese, collard greens, or shrimp and grits. The rapper's favorites? Short-rib mac n cheese ($19) and the fried chicken and waffles with bourbon-maple syrup ($17) — a recipe he helped develop himself.
Stars: 4
No. of Reviews: 856
Price: $$$
The beloved Moroccan food joint in Beverly Hills has gotten the sign off from Yelpers, foodies, and Moroccan food aficionados, so you can add 'owning a restaurant' to the list of things Ryan Gosling is better at than you are. He opened it with two friends: sommelier Chris Angulo, and Chef Abdessamad "Ben" Benameur, who's a Moroccan himself and got his inspiration from his grandmother's cooking.
Hey girl, you're doing great — let's get you a bowl of chocolate soup.
5. Nic & Norman's, Greg Nicotero & Norman Reedus
Stars: 4
No. of Reviews: 317
Price: $$
The Walking Dead duo — special effects creator and director Nicotero and actor Reedus — chose Senoia, GA, the city where their show films, as the location for their restaurant. The intimate brick-wall setting and Walking Dead memorabilia will make for a great dinner experience, and the large selection of gourmet burgers and pickle fries ($10) will keep you coming back ...dead or alive.
Stars: 4
No. of Reviews: 671
Price: $$
Out in wine country, just north of Santa Rosa, Calif., there sits a gated vineyard with gobs of country charm. And in that vineyard there's a restaurant where the godfather of Godfather, Francis Ford Coppola, shares Italian food and wood-grilled meats in a fancy barn. It'll be worth the trip up to Geyersville to enjoy an Italian feast with a view — just don't discuss business at the table.
And if you're down in San Francisco, don't worry: he serves the same food and wine at Cafe Zoetrope, which landed at no. 11 on this list.
Stars: 4
No. of Reviews: 445
Price: $$$
Jordan has three steakhouses in the U.S., two of which made this list (the other one is at #10). You can choose from the raw bar, or different cuts of steak ranging from $47 to $99. Or, for the indecisive, you can get a flight of steak (strip, ribeye and filet mignon) for $145. And it's all in an upscale ambience fit for a king — and for "His Airness."
Stars: 4
No. of Reviews: 983
Price: $$$
The Rancic's RPM Restaurant Group opened the second RPM Italian location in Washington D.C. in 2016. The menu is nearly identical to the Chicago outpost, giving The Hill and other D.C.-area locals a chance to taste the home-made pasta that the Windy City residents love. Be sure to try anything featuring the pomodoro sauce, which is based on Giuliana's mom's own recipe.
9. RPM Steak, Giuliana and Bill Rancic
Stars: 4
No. of Reviews: 1304
Price: $$$$
At RPM Steak — the sister restaurant of RPM Italian — you better show up dressed to impress or you'll risk being outdone by the bartender or by the 14-karat gold chocolate cake. Thick cut bacon and black truffles sprinkled in various dishes are just a few of the reasons it's a bucket list item for anyone living in or stopping by Chicago.
Stars: 4
No. of Reviews: 446
Price: $$$
The second steakhouse by basketball legend Michael Jordan is located in the Casino of the Sky at Mohegan Sun Casino in Uncasville, Conn. It has high ceilings, dim lighting — and the same butter knife-friendly steaks that 23 promises at any steakhouse with his name on it.
Stars: 3.5
No. of Reviews: 398
Price: $$
If you're in the Bay Area and can't make the trek up to Geyserville for Rustic, head to San Francisco-based Cafe Zoetrope to enjoy the same hearty food and delicious wine. Located in the iconic Sentinel Building just outside the Italian-inspired neighborhood of North Beach, it'll give you the all the Corleone family meal feels.
Stars: 4
No. of Reviews: 540
Price: $$
Ping-pong tables, a fully stocked bar, and delicious food? There's no denying Susan Sarandon aced it with SPIN. She's an investor with filmmakers Franck Raharinosy and Jonathan Bricklin and investment banker Andrew Gordon. It's perfect for an activity date night or a group social, with menu items that are more elevated than the snacks you'd usually find at a bar with games.
SPIN is doing well enough for Sarandon and team to have opened eight more locations all over the U.S., another one of which made this list just a few spots down: SPIN San Francisco at no. 16.
Stars: 4.5
No. of Reviews: 76
Price: $
Jon Bon Jovi and his wife Dorothea Hurley Bongiovi show us what it means to give back with their non-profit "Community Restaurant," JBJ Soul Kitchen in Red Bank, New Jersey. Run by the Jon Bon Jovi Soul Foundation, the JBJ staff asks that you only pay what you can afford. And they don't just do good — the food is "OUT OF THIS WORLD good," according to Yelper Melissa I. Customers are served three-course American cuisine meals: soup or salad, choice of entrée (fish, meat, vegetarian), topped off with "a freshly made dessert."
14. Tom Tom, Lisa Vanderpump
Stars: 3.5
No. of Reviews: 470
Price: $$$
If you watch Vanderpump Rules, you know about Tom Tom. Not the two men named Tom, but the new bar and restaurant Lisa helped them open in Los Angeles, expanding her Santa Monica Blvd empire. The patrons are trendy, the food is shared plates only, the decor is breathtaking, and the Toms are still killing it.
Stars: 4
No. of Reviews: 124
Price: $$$
MJ co-owns this enormous venue with golfing legend Ernie Els and publisher Marvin Shanken (Wine Spectator, Cigar Aficionado, Whisky Advocate). It sits across a lighthouse on a tiny peninsula in Jupiter, Florida with four dining areas that each offer a different experience: a full-service sit-down restaurant, a swanky lounge with couches and shared tables, a casual bar, and a terrace complete with lighthouse views.
Stars: 4
No. of Reviews: 255
Price: $$
Seven years after debuting SPIN in New York City, Susan Sarandon and team opened a location in San Francisco — a place where startup founders put ping-pong tables in headquarters to let employees blow off some steam.
It's very on-brand, given the entire concept stemmed from the bi-weekly ping-pong parties that investors Franck Raharinosy and Jonathan Bricklin used to throw in their Tribeca apartment-slash-office. It turns out ping-pong is a pretty popular past-time and the parties started attracting some big names ...including Susan Sarandon.
Like the tables, the food is shareable, and the menu puts a *spin* on bar food classics: Mexican street style popcorn to snack on, duck leg sliders and flatbreads with toppings like smoked apple aioli or prosciutto to share. And for dessert? Cookies, a sundae, or CEREAL S'MORE BALLS — which are exactly what you'd hope they'd be.
Stars: 4
No. of Reviews: 2093
Price: $$$$
DeNiro was already in the restaurant business when he struck gold with Nobu, the chain he co-founded with celebrity chef Nobuyuki "Nobu" Matsuhisa and producer Meir Teper. The trio now owns numerous Nobu locations worldwide, 16 of which are in the U.S. alone — but go to Malibu if you really want to see seafood by the sea.
Stars: 4
No. of Reviews: 1559
Price: $$$
DeNiro opened this restaurant in lower Manhattan with a team of others, including chef Andrew Carmellini, who serves up seasonal family-sized portions of pasta, meats, cheeses, and everything in between. The floor-to-ceiling windows and courtyard show you what it would be like to own a European home in Tribeca.
Stars: 3.5
No. of Reviews: 709
Price: $$
Channing Tatum captures New Orleans' colorful personality, history, and Louisiana Creole cuisine with Saints and Sinners — the Bourbon St. restaurant he opened with his friend and business partner, Keith Kurtz. Located in the heart of the French Quarter, you know it's going to be a good time ...and that the kitchen won't skimp on the crawfish.
Stars: 3.5
No. of Reviews: 80
Price: $$
Named after the musician's 2003 single "I Love This Bar" and run by Hal Smith Restaurant Group, the chain serves up steaks, sandwiches, salads, seafood, and a whole lot of country music. There are three locations, all in Keith's home state of Oklahoma. But the one making our list is located in the Hard Rock Hotel & Casino Tulsa, in the suburb of Catoosa — just a couple of hours northeast from Oklahoma City, where Keith grew up.
Methodology: This is a list of the best celebrity-owned restaurants in the United States, according to Yelp. All the businesses on this list are on the platform's restaurant or food categories. "Best" is measured using an algorithm that looks at the number of reviews and star rating for a business. Only businesses that are owned by celebrities whose primary career is not in the food industry were considered.