This Restaurant Has the Most Yelp Reviews by Far — 16,000 and Counting. Why Are People So Obsessed?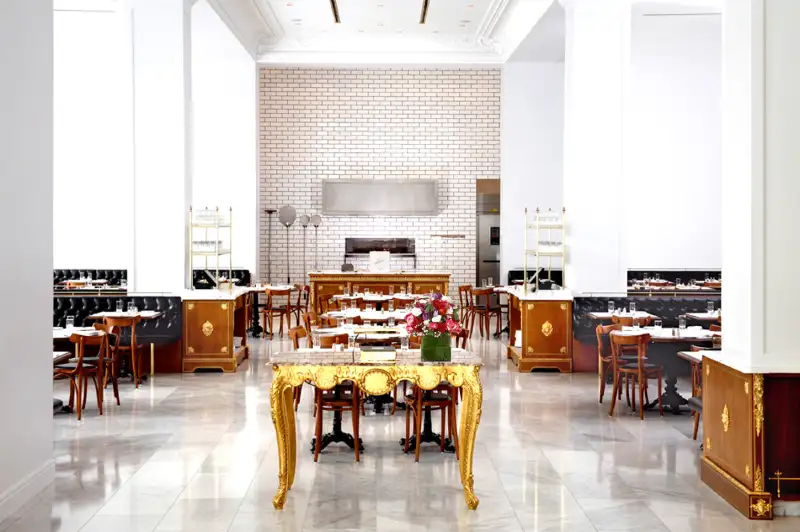 Courtesy of Bottega Louie
If you have an opinion about Los-Angeles based Bottega Louie, you're not alone.
In the 10 years since the restaurant opened in downtown L.A., it's racked up almost 16,300 Yelp reviews — more than any other business on the platform by about 3,000. It's been the most-reviewed business for at least three years now, but — as every avid Yelp user knows — its just as much (if not more) about the quality of reviews as it is about quantity. And Bottega Louie delivers on that front too: About 76% of all reviewers gave it a 4-star or a perfect 5-star rating, and fewer than 1,500 reviewers gave it one or two.
The 4 stars, the modest two dollar signs, the 30,000 pictures posted by Yelpers... it's enough to pique the interest of both established locals and tourists, helping to bring in about 15,000 patrons every week.
But those numbers don't come over night. The restaurant's initial (and continued) success can be attributed to a number of things, according to Director of Sales and Marketing Ryan Shapiro, including the restaurant's role in revitalizing what used to be an all-work-and-no-play downtown area and a "unique" atmosphere that offers a wide range of products.
Courtesy of Bottega Louie
"You can come five times and have five completely different experiences," she said.
The front half of the venue is a fully stocked pâtisserie (a bakery specializing in pastries), while the back has kind of a 'chic-diner' vibe. The open kitchen and a mix of booths and tables are reminiscent of a place you'd go for a milkshake and fries, and yet it's clean and minimalistic, with stark white dishes, marble floors, high ceilings, and gold detail, all centered around a hostess clad in black. The tagline on the Yelp page describes it as "Italian, Bakeries, Breakfast & Brunch," but the quick facts say it's "Good For Dinner" and the cuisine is hardly limited to Italian: The menu also offers fried chicken ($30), a hamburger ($18), shakshuka ($16), and beignets ($14 for four or $3 to $3.50 for one).
"Our restaurant menu is Italian," explains Shapiro. "It does have a California influence to it, and then we have our French Patisserie, but we are in L.A., [which] is also a big influence on it."
The key to being the most highly reviewed restaurant on Yelp, then, might be to do a bit of everything — and apparently do it all really really well.
Bottega Louie still manages to maintain an overall 4.0 rating as the only business with more than 16,000 reviews on Yelp. Sure, consumers and business owners have long speculated about the reliability of Yelp as a user-generated review system, but Shapiro says at Bottega Louie, they focus on how the platform can be helpful.
"There are things that people say that we take to heart and we look at, [like] 'Okay multiple people have made this comment — let's review it. Let's sit down and see if there's merit to it and make sure we're constantly evolving and making changes,'" she said.
And outside of Yelp, the reviews are more of the same: Google gives it a 4.5 out of 5 (note: it has three dollar signs on there), TripAdvisor gives it a 4.5/5.0 and a Certificate of Excellence, and Zagat gives it a 4.3 for decor, a 4.0 for service, and a 4.1 for food.
Courtesy of Bottega Louie
So where would you even begin if you got to make that epic trip to Bottega Louie? According to Shapiro, it's got to be with the lobster hash at brunch. On Yelp, the most popular dishes are the Smoked Salmon Benedict and the Chocolate Souffle. But perhaps the most iconic thing they serve are the macarons — $3 for one, $5 for two, all the way up to $112.50 for a box of 45. There's a new flavor every month, and this month it's exotic Passion Fruit. Some people even come in just to grab one from the front of the restaurant, where they greet you, in all their multi-color glory.
"There's something really dichotomous about those iconically bright macarons in the middle of a historically gritty downtown L.A.," said Yelp's Los Angeles community manager Megan Ranegar. "Visiting Bottega Louie feels like a little luxury."