This Is the Best Meal-Kit Service on the Market Right Now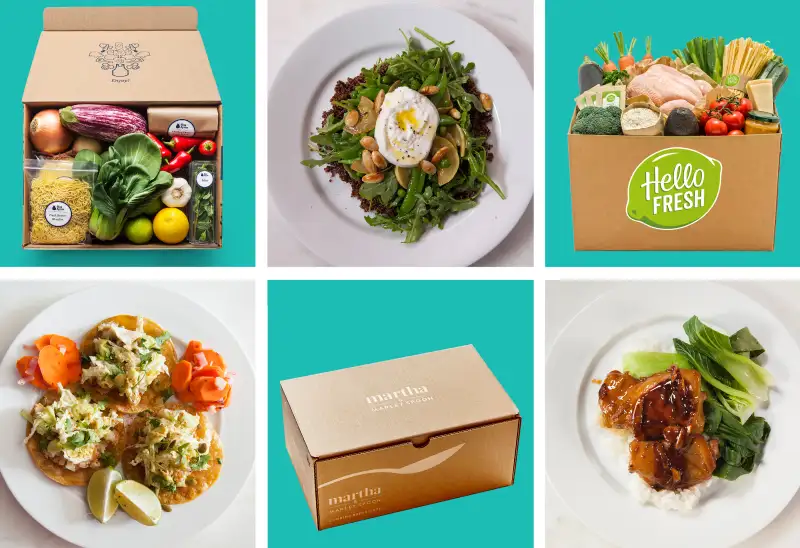 Dinnertime is being disrupted.
Upstart companies are challenging your weekly treks to the grocery store, enticing you with gourmet recipes and superior ingredients delivered right to your doorstep. So we started wondering: Can the home chef really achieve cooking nirvana from food in a box? And more importantly, is it worth it?
To find out, Money got cooking this summer. Staffers spent days chopping, sautéing, baking, boiling, and, of course, tasting, in order to evaluate the six most popular home delivery meal kit services on the market today.
Launched in the U.S. in 2012 with the arrival of Blue Apron, these services bill themselves as an alternative to making your busy life less busy, designed to reduce the time and stress around preparing a home-cooked meal. For roughly $60 a week, you can order meals online and all of the essential ingredients for several dinners, along with easy-to-follow recipes—and it will all arrive at your doorstep a week later.
The market has since blossomed into a full-on industry that is threatening grocery stores and Seamless orders daily. According to research firm Packaged Facts, there are now more than 100 meal kit delivery services available in one form or another, from those that will deliver pre-done, microwavable meals to companies that specialize in home-delivered juice cleanses or gourmet burgers in a box. Even disruptor du-jour Amazon are reportedly getting into the meal box craze - they just filed paperwork for a service that promises "we do the prep. You be the chef."
And consumers are starting to gobble up the offerings. While experts predict that the industry will be a multi-billion market by 2022, today about 19% of people say they've already tried a meal kit service, according to a recent survey from Morning Consult. The research found meal kit services seem to resonate best with millennials, men, and wealthier Americans—although the companies are making a big push to also capture the interest of young couples, families with young children, and empty-nesters.
To help determine which services are worth the investment, Money first narrowed the set to include only those meal kit services that were available nationally and delivered a weekly cook-at-home experience. From there, with the help of investment research firm Zirra, Money selected the top six companies (Blue Apron, Green Chef, HelloFresh, Martha & Marley Spoon, Plated, and Sun Basket) in terms of their long-term sustainability and their overall market popularity.
Money then independently ordered and purchased meals from the companies, evaluating 7 dishes that contained meat and 5 vegetarian recipes for a total of 12. Overall, there were 30 different components Money tested these meal kit services on to determine which offered the best value.
Staffers looked at everything from the ease of the ordering process, to how long it took to cook each meal from start to finish (time is money, after all). For each of the six services, we compared the price per portion for a two-person box that contained meat dishes, along with any additional shipping costs. Then we went grocery shopping to determine how expensive it would be to make the same meal at home.
Money consistently tested all the meal kit recipes with meat three days after delivery and the vegetarian dishes six days after delivery. Before cooking, each ingredient included in the boxes was evaluated for its quality and freshness, and the recipe instructions graded on their ease of use.
The staff also spent a lot of time with a timer—and not just the one attached to the oven. Money timed how long each meal took to prep, cook, and even clean up (144 minutes of washing dishes and wiping down countertops in total, to be exact). We also counted the number of utensils, bowls, and cookware each recipe called for. On average, each recipe used about 15.
When the meal was complete, a panel of five staff members tasted each dish and rated the completed meal. All of the individual component scores were totaled and the services were graded on a 100-point scale.
Read on to see which services came out ahead and why.
1. Plated
Photo by: Thomas Vollkommer
Total Score: 90 (out of 100)
WINNER: Launched in 2012, Plated offers the best value for your money. Money found people can save, conservatively, about 12% by purchasing a meal from Plated, as opposed to buying the same high-quality supplies from their local grocery store. While it's not the cheapest meal kit around (about $11.95 per person), Plated delivers superior ingredients you can easily transform into a delicious meal.
Those first-rate ingredients and gourmet recipes are part of what pushed Plated to the top. For example, Plated sources (when possible) antibiotic-free poultry, which cooked up beautifully in the Buffalo Chicken Pizza recipe Money tested. The recipe also called for mayonnaise, so Plated supplied Sir Kensington's brand, which retailed for about $10 for a 10-ounce bottle. Meanwhile, Plated's locally sourced, seasonal produce included in the Summer Quinoa Bowl held up well, even after sitting in the refrigerator for six days. For example, the baby arugula, which tends to spoil quickly, was in great condition and the entire bag was usable.
Easily the most customizable meal kit service on the market, Plated offers two-, three- and four-serving recipe options delivered to your door up to four times a week. Plated has over 14 dinner recipes options to choose from each week—far and away the most offered by the companies evaluated by Money.
Downsides: Plated isn't cheap and home chefs can certainly make the same dinners at home for less if they skip the higher-quality proteins and produce. Shipping is almost $8 more unless you spend at least $60 (that means ordering at least three meals a week).
Box Details:
Price for two-person box with three meals a week: $11.95
Shipping: No additional charge on boxes over $60
Weekly dinner recipe options: 14
---
Photo by: Thomas Vollkommer
Total Score: 86
Pros: It turns out there's a reason Blue Apron is basically the Netflix of meal kit delivery services. It has really smoothed out the pain points of a delivery service, creating an incredibly easy process to reduce time and stress. All that and an attractive price point. It's less than $10 per person, which is one of the lowest costs among the brands Money tested.
Ordering a Blue Apron box is really simple—you can open an account and set up your order in less than 15 minutes. And the company offers a wide of range of recipe options, with a couple vegetarian and healthy meal choices available each week.
Once in the kitchen, Money's test of Blue Apron's Persian-style chicken was a tasty crowd pleaser. The meal proved easy to make and Blue Apron's recipe card provided very detailed instructions for first-time chefs. The cooking techniques were straightforward, but at least one of the meals offered a learning opportunity in the form of a multistep process to create "crunchy rice."
The meals also contained very fresh, high-quality ingredients. For example, in Money's test of the Creamy Lumaca Rigata pasta recipe, the spinach sent for the dish had only a few wilted leaves, despite having been in the refrigerator for almost a week.
Try it here: Blue Apron
Downsides: Unlike its competitors, the ingredients for Blue Apron meals come jumbled together and must be sorted before storing or using. Timing was also a factor, with the meals taking longer to prepare than any other tested by Money.
Box Details:
Price for two-person box with 3 meals a week: $9.99
Shipping: No additional charge
Weekly dinner recipe options: 6
---
3. Sun Basket
Photo by: Thomas Vollkommer
Total Score: 85
Pros: If you're constantly shopping in the organic section of your local grocery store, Sun Basket's $70 weekly "classic menu" service is a good value for your money. The company, which touts its organic produce, performed well in Money's testing, especially when it came to time. In general, Money completed the meals sent in about 10 to 15 minutes less than the recipe estimated.
Part of the reason Sun Basket's recipes performed well was the amount of prep work the company does for you. While most meal kits Money tested required you to make sauces and chop all the ingredients, Sun Basket did some of that work for you. In the Tex-Mex tostada recipe Money tested, the avocado crema sauce came pre-done, as did the green romesco sauce contained in the roast chicken breast recipe we ordered.
Sun Basket also offers a wide range of recipes for specific diets, including vegetarian, paleo, gluten-free and a recently introduced "Lean & Clean" meal plan. Billed as a healthier option, these meals have about 550 calories per serving, and are high in protein and fiber without any added sugars or dairy, according to Sun Basket.
Along with meals customized for various diets, Sun Basket also offers more options when it comes to the number of meals sent each week. You can choose to receive two, three, or four meals per week on the classic menu—whereas previously you had to order a minimum of three recipes per week.
Downsides: Sun Basket makes it difficult to recreate your favorite recipes again. The avocado crema and romesco sauces really made the meals, but home chefs looking to learn how to create these delicious components are out of luck.
Box Details:
Price for two-person box with three meals a week: $11.49
Shipping: $5.99
Weekly dinner recipe options: 10
---
4. Green Chef
Photo by: Thomas Vollkommer
Total Score: 83
Pros: In addition to delivering organic, sustainably sourced ingredients, Green Chef promises its customers restaurant-quality meals. And the company really hits the mark. But at $81 a week for a mix of vegetarian and traditional meals, it better taste great, since it was the most expensive service Money tested.
Money tested the Spring Roll Chicken Salad and Portobello Mushroom Gyros and found that Green Chef actually tied with Plated for the highest taste scores—and the high scores were awarded for recipes the team initially thought unappealing.
Impressively, the great-tasting dishes were accomplished in a short amount of time and effort. The spring roll salad called for a five-minute marinade for the chicken. And while other meal kit recipes also employed a marinade, Green Chef's combination really packed a ton of flavor, despite sitting for such a short time. The ingredients also come premeasured and the recipes included several pre-made sauces, further saving you time.
Green Chef was actually the first USDA-certified organic meal kit company on the market and really promotes its responsible sourcing. Money's testing found the freshness of the produce was better than some services, but wasn't perfect. The fresh herbs provided for the Spring Roll Chicken Salad were incredibly fresh and crisp, while the Roma tomato included for the gyro was not ripe and the spinach had started to wilt by the time Money cooked it.
Like Blue Apron, Green Chef mails of all of the ingredients together in one bag, so you have to do the work to separate them out. However, everything had color-coded labels, which made it more efficient.
Downsides: Despite its high price tag, Green Chef actually provided less variety in the meal options than its cheaper competitors. The company sent three, pre-selected meals each week with a subscription.
Box Details:
Price for two-person box with three meals a week with meat options: $11.99
Shipping: $9.00
Weekly dinner recipe options: 3
---
Photo by: Thomas Vollkommer
Total Score: 80
Pros: Billed as Martha Stewart's meal kit delivery service, Marley Spoon delivers generously portioned, $11-per-person gourmet meals with easy-to-follow recipe instructions.
In Money's tests, the team cooked up two of the company's recipes designed for two people: the Caramel Chicken and the Creamy Wagon Wheel Pasta dishes. Once prepared, both meals offered huge portions that could easily feed two people and then provide leftovers for lunch the next day. And the company delivers an experience that allows you to try out new ingredients and hard-to-find products. For example, in the pasta meal, Marley Spoon sent artisanal goat cheese from the New York-based Coach Farms.
Marley Spoon also offers one of the largest selections of recipe options among the services tested. You are able to choose among seven new recipes each week, plus three customer favorites that rotate monthly. And choosing which recipes work best for you is easy, as Marley Spoon tags each recipe with labels such as "kid-friendly," "one-pot meal," and "under 30 minutes."
While not the cheapest option, Marley Spoon recently rolled out a new cost-conscious option called Dinnerly for customers on the West Coast (expansion into other parts of the country is slated for the end of 2017). For less than $40 a week, you get three meals for two people that are designed to be quick, crowd pleasers.
Try it here: Martha & Marley Spoon
Downsides: Quality control varied. In the box Money received, the scallions required for the Caramel Chicken were missing. Timing was also an issue, with Marley Spoon routinely running longer than the estimated 20 to 30 minutes. The recipes called for a lot of utensils, bowls, and cookware—making the meal cleanup one of the longest among the meals tested by Money.
Box Details:
Price for two-person box with 3 meals a week: $10.25
Shipping: No additional charge
Weekly dinner recipe options: 10
---
Photo by: Thomas Vollkommer
Total Score: 68
Pros: The HelloFresh experience overall may have left the Money team unimpressed, but the company successfully brought a sense of fun into the kitchen.
The recipe cards included empowering, easy-to-understand instructions, living up to HelloFresh's mission to help people take those first steps toward cooking well-balanced meals at home. With that in mind (and it's lower price point of $9.99 a serving), the majority of HelloFresh's ingredients are not organic, instead the company says it concentrates on sourcing produce that looks and tastes best.
The HelloFresh box arrived intact and the company pre-organizes your meals into mini boxes that can be easily stored in the refrigerator. And all of the ingredients shipped are packaged under the HelloFresh brand, with a fun, almost irreverent sense of humor. For example, the grated cheese included in the Mario Batali's Spaghetti recipe was in a package labeled "it's on like parmesan," and the soy sauce sent with the Vietnamese Marinated Steak meal was stored in a plastic fish.
Try it here: HelloFresh
Downsides: The box arrived late—two days after its scheduled delivery. The HelloFresh representative Money reached out to was not helpful in resolving the issue, and did not seem knowledgeable about whether the food would be okay to eat after arriving so late. HelloFresh's ingredients were also lower quality than its competitors, including the cut of steaks and messy herbs —Money had to throw away about two-thirds of the basil package.
Box Details:
Price for two-person box with three meals a week: $9.99
Shipping: No additional charge
Weekly dinner recipe options: 8
Note: Based on Money's testing conducted June 2017. Price score is based on price per portion, generosity of portion sizes, and comparison to purchasing meal from grocery store. Time score based on total cooking time compared to company's estimate and compared to average time Americans spend cooking. Quality score based on freshness and quality of ingredients, as well as meal taste. Ease-of-use score based on weekly recipe options, ease of meal preparation, clarity of recipe instructions, amount of kitchen equipment used, online ordering process, delivery, and whether all ingredients were delivered.
We've included affiliate links into this article. Click here to learn what those are.