The Best Place to Adopt a Pet in Every State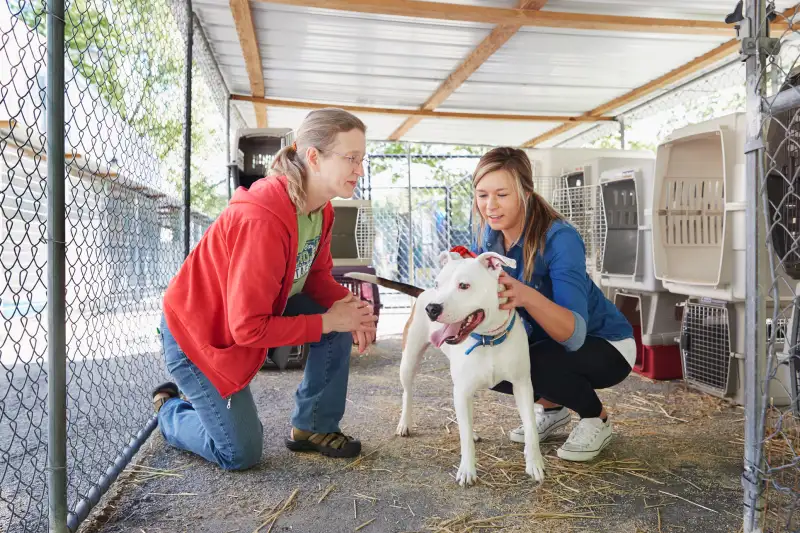 From cuddles to walks to that hilarious moment when you randomly catch your animal doing something weird, being a pet owner is ridiculously rewarding. But reaching that point can take a lot of work — and cash. In a recent survey from Money and Morning Consult, four in 10 Americans said they spent more than $300 purchasing their furry friend.
"Adopt, don't shop" is a common refrain among animal lovers and our respondents. Some 37% of people got their pet from a shelter or rescue group, including nearly half of the mixed-breed dog and cat owners reached as part of the March survey.
If you're looking for a pet but trying to be fur-ugal, consider checking out local shelters and adoption center. You can find hundreds of options online, but to vet them (get it?) you'll need customer reviews.
To that end, we asked Yelp to help us find the best place in every state to adopt a pet. Yelp identified businesses in its animal shelter and pet adoption categories, then ranked those spots using a number of factors, including the enthusiasm and total volume of reviews for them. Some are cat cafés, some are stores, and one is even a rodent rescue organization, but they all share the same mission. Even if the spot is focused more on business than adoption, its staff may be able to refer you to a nearby place where you can adopt.
Here are the top adoption sites in the country, according to Yelp.
Alabama
Name: Greater Huntsville Humane Society
Location: Huntsville, Alabama
Key Yelp review: "They let me see every animal I wanted, told me about each one, their personality, and any medical issues."
Alaska
Name: Matanuska-Susitna Borough Animal Shelter
Location: Palmer, Alaska
Key Yelp review: "All the dogs we visited were wagging tails and looking at us expectedly! Certainly worth adopting! Their faces were so cute. I wanted to take them all home."
Arizona
Name: Home Fur Good
Location: Phoenix
Key Yelp review: "Everything is easily communicated to you, they provide you with a free veterinarian visit and a complimentary training session. They even give you a little gift bag that came with food, a bandana, coupons, and treats."
Arkansas
Name: Humane Society of Clark
Location: Arkadelphia, Arkansas
Key Yelp review: "Great friendly and knowledgeable staff, including the volunteers. They take the time getting to know their animals, which helps when placing them."
California
Name: Ken-Mar Rescue
Location: Los Angeles
Key Yelp review: "They are incredibly helpful and send all their pets off with a care package including a dog food, dog bed, toys and a hand-knit blanket! They really know their business and are able to assess the animals so that adopters can feel peace of mind knowing that their pets have been fully screened."
Colorado
Name: Denver Cat Company
Location: Denver
Key Yelp review: "Push-overs beware!"
Connecticut
Name: Mew Haven Cat Cafe
Location: New Haven, Connecticut
Key Yelp review: "The place is SO clean and vibrant. There are air purifiers everywhere. The atmosphere is so welcoming and chill."
Delaware
Name: Delaware Humane Association
Location: Wilmington, Delaware
Key Yelp review: "You can tell that the animals here are very well taken care of. Lots of cats to choose from, including some special breeds most of the time. Normally about 15 or so dogs to choose from. Staff is exceptional."
Florida
Name: Good Luck Cat Cafe
Location: Fort Lauderdale, Florida
Key Yelp review: "I was just overwhelmed with this cat shelter. They are the kindest and most loving people."
Georgia
Name: Noah's Ark Animal Sanctuary
Location: Locust Grove, Georgia
Key Yelp review: "They rescue all kinds of animals, and I sure wish more people knew about this place so they could get more support."
Hawaii
Name: Lanai Cat Sanctuary
Location: Lanai City, Hawaii
Key Yelp review: "Even if you're not a cat lover, it's hard to imagine not being enamored with so many beautiful creatures living together in peaceful harmony. Within seconds of parking myself in a shaded chair, I was surrounded by a dozen cats who just wanted to say 'Hello!'"
Idaho
Name: Mountain Humane
Location: Hailey, Idaho
Key Yelp review: "This is the best animal shelter that I have visited. The whole facility is very eco-friendly and self-sufficient."
Illinois
Name: One Tail at a Time
Location: Chicago
Key Yelp review: "Not only do they do right by the dogs in their care, they do right by their community. It's not enough for them to just rescue dogs, they are always looking at what's next, or what else can be done to support animal rescue more broadly. And our dog is the best."
Indiana
Name: IndyHumane
Location: Indianapolis
Key Yelp review: "I have been blessed with two happy dogs from this shelter. Both my pups have received great medical care and love from this place."
Iowa
Name: Animal Rescue League of Iowa
Location: Des Moines
Key Yelp review: "We have been so blessed to find such perfect matches for our family. The staff is always so helpful and really seems like they have a true passion for helping the animals, while the animals always seem well taken care of."
Kansas
Name: All Paws Pet Center
Location: Wichita, Kansas
Key Yelp review: "Clean and friendly staff! Has a great variety of dog food, dog chew treats, and other items!"
Kentucky
Name: Kentucky Humane Society
Location: Louisville, Kentucky
Key Yelp review: "What a fantastic, professional, and kind environment and staff!"
Louisiana
Name: Villalobos Rescue Center
Location: New Orleans
Key Yelp review: "Truly the place for second chances! I love what this group does for animals as well as for humans!"
Maine
Name: Ann-imals Pet Supply Store
Location: York, Maine
Key Yelp review: "Great service and selection. Support local business! Also Anne does a great job with car rescue and transporting of dogs for rescues and shelters."
Maryland
Name: Squeals On Wheels Petting Zoo
Location: Potomac, Maryland
Key Yelp review: "Amazing people. Adopted my little piggy from there. He's a brilliant little guy and they had him prepared for his forever home."
Massachusetts
Name: Ellen M Gifford Cat Shelter
Location: Brighton, Massachusetts
Key Yelp review: "Like heaven on earth for homeless kitties."
Michigan
Name: New Beginnings Animal Rescue
Location: Royal Oak, Michigan
Key Yelp review: "They made the process painless and gave me all the information I need to make sure I am able to take care of my cats responsibly."
Minnesota
Name: Feline Rescue
Location: Saint Paul, Minnesota
Key Yelp review: "What a comforting place to go and search for your next domestic kitty companion. Clean facilities, helpful volunteer staff and plenty-o-kitties for the looking."
Mississippi
Name: Southern Pines Animal Shelter
Location: Hattiesburg, Mississippi
Key Yelp review: "Adoption fees are extremely reasonable. Your pet comes up to date on shots, microchipped, and spay/neutered. Bonus: They regularly have specials where adoption fees are waived."
Missouri
Name: Healing Paws Veterinary Clinic
Location: Springfield, Missouri
Key Yelp review: "Everyone is caring, soothing and professional."
Montana
Name: Humane Society of Western Montana
Location: Missoula, Montana
Key Yelp review: "The staff are friendly, helpful and knowledgeable. They work really hard to find good matches between owner and pets. The shelter is clean and smells good, it is definitely not a sad place, it's a place filled with hope. The setting on the river is gorgeous and tranquil, every dog gets outside time, and all the pets get personal enrichment."
Nebraska
Name: Felius
Location: Omaha, Nebraska
Key Yelp review: "I love this because the cats get love and attention while in the process of getting adopted! How cool?"
Nevada
Name: Spoiled Pup
Location: Las Vegas
Key Yelp review: "Let's just say: after Mochi's new 'do, If I was single, I could pick up a lot of women with this dog at dog park."
New Hampshire
Name: Mary's Dogs Rescue & Adoption
Location: Northwood, New Hampshire
Key Yelp review: "We got the best dog we've ever had from Mary's Dogs."
New Jersey
Name: Howling Woods Farm
Location: Jackson, New Jersey
Key Yelp review: "Who doesn't want to spend their morning chilling with wolf-dogs?"
New Mexico
Name: Boofy's Best for Pets
Location: Albuquerque, New Mexico
Key Yelp review: "Every employee we've worked with, including the ever-idiosyncratic owners, has carefully listened to our needs and offered great advice; the dog has better food, toys, chewers, leads and leashes, not to mention techniques and, well, I've enjoyed my share of Frustrated Owner Therapy."
New York
Name: AMA Animal Rescue
Location: Brooklyn, New York
Key Yelp review: "This was an incredible adopting experience. They truly care so much about their rescues and want to make sure they end up in a fantastic home with owners who will provide them with the best life."
North Carolina
Name: Humane Society of Charlotte
Location: Charlotte, North Carolina
Key Yelp review: "The humane society of Charlotte is like no other. I have never witnessed such an amazing group of hard working people that love animals and want to see them go to (and stay) in good homes!"
North Dakota
Name: Natural Pet Center
Location: Fargo, North Dakota
Key Yelp review: "We take our pug there and she is always upset she has to leave."
Ohio
Name: Gem City Catfé
Location: Dayton, Ohio
Key Yelp review: "I'm allergic to cats... and I love this place!"
Oklahoma
Name: A1 Pet Emporium
Location: Oklahoma City
Key Yelp review: "We're wild about the wide selection of pet toys available here, and have never EVER asked a question of the staff that they were unable to answer with speed, precision and the utmost courtesy."
Oregon
Name: Fido's Tap House
Location: Tigard, Oregon
Key Yelp review: "At Fido's they have a separate space just for the dogs. You can see them through the plethora of windows via the taproom and go in and visit them. They have space for the dog during the day and kennels for them at night. You can literally drink beer, eat and adopt a dog!"
Pennsylvania
Name: Kawaii Kitty Cafe
Location: Philadelphia
Key Yelp review: "We were all there, united by the love of cats and the accompanying feels. I can't think of a much better way to spend a free hour."
Rhode Island
Name: Potter League For Animals
Location: Middletown, Rhode Island
Key Yelp review: "Adoption process is very quick and donation to adopt is extremely reasonable. They try their hardest to find you the best match for you."
South Carolina
Name: Pounce Cat Cafe
Location: Charleston, South Carolina
Key Yelp review: "Cats and alcohol, what a great mix. They do warn to keep your drinks away from the cats, since they are meowcoholics."
South Dakota
Name: Western Hills Humane Society
Location: Spearfish, South Dakota
Key Yelp review: "They clearly care about the animals and they run a very caring and professional facility."
Tennessee
Name: Crossroads Pets- Shop & Adopt
Location: Nashville, Tennessee
Key Yelp review: "Non-profit organization with a mission to help humans and animals. Offer jobs to young adults that lack experience and income. They help in the store and also help with the dogs Crossroads fosters (saves) until they find their forever home."
Texas
Name: Austin Pets Alive! Thrift - Burnet
Location: Austin, Texas
Key Yelp review: "I love the concept behind the business (sell thrift items to support their animal shelters) as well as all the good deals there as well. They constantly get new items in all the time and you can even donate a little extra to help the animals!"
Utah
Name: Best Friends Animal Society
Location: Kanab, Utah
Key Yelp review: "The best way that I can describe this wonderful place is that it's Disneyland for people who like to volunteer with animals."
Vermont
Name: Windham County Humane Society
Location: Brattleboro, Vermont
Key Yelp review: "Windham caters to everyone, cats, dogs, bunnies and even barn cats."
Virginia
Name: Chico's Natural Pet Market
Location: Falls Church, Virginia
Key Yelp review: "Out of all of the places I visited to view cats, this one was the most relaxing experience and the location where I got the most focus and attention."
Washington
Name: Best Friend Rodent Rescue
Location: Everett, Washington
Key Yelp review: "Joanne does the bulk of the work at her rescue. It's chaotic and fun and, MAN, what a knack for rats she has! She's very good at matching up personalities and finding the right fit (even if it doesn't seem like it'll work at first)! She's quick to drop what she's doing and help rats in need while providing excellent care for those currently residing at the rescue."
Washington, D.C.
Name: Crumbs & Whiskers | A Cat Cafe Experience.
Location: Washington, D.C.
Key Yelp review: "What better place for feline lovers to commune with these furry bundles of joy! We made our reservations and were litter-ally tickled with delight when we met all the adoptable frisky kitties at this unique cafe!"
West Virginia
Name: Give Purrs a Chance
Location: Berkeley Springs, West Virginia
Key Yelp review: "The house is filled with loving, playful, adorable cats that are in a warm and welcoming environment run by the kindest staff until they find this forever homes."
Wisconsin
Name: Wisconsin Humane Society
Location: Milwaukee
Key Yelp review: "I literally cannot say enough positive things about this location. Adopting my dog from the Milwaukee campus literally saved my life."
Wyoming
Name: Herding Rescue Dogs of Wyoming
Location: Sheridan, Wyoming
Key Yelp review: "They truly care about their dogs and where they get adopted to. It may be a strict process, but that's because they want to make sure they find the best fit for both the dogs and the adopters. It's a unique shelter in that way, which is why I think it's such a great organization."
More from Money:
The 10 Best Pet Insurance Companies of 2021
From Barking to Bullying, When Pet Insurance Covers Behavioral Therapy