The Best Place to Adopt a Pet in Every State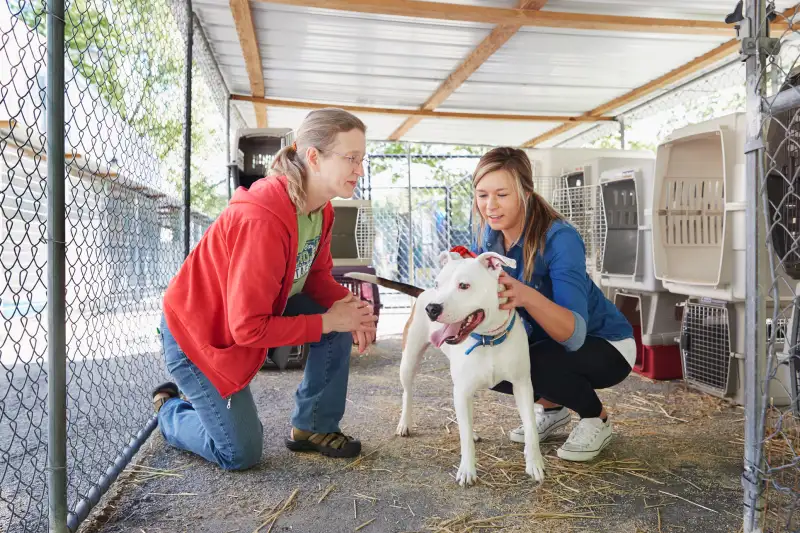 From cuddles to walks to that hilarious moment when you randomly catch your animal doing something weird, being a pet owner is ridiculously rewarding. But reaching that point can take a lot of work — and cash. In a 2021 survey from Money and Morning Consult, 4 in 10 Americans said they spent more than $300 purchasing their furry friend.
"Adopt, don't shop" is a common refrain among animal lovers and our respondents. Some 37% of people got their pet from a shelter or rescue group, including nearly half of the mixed-breed dog and cat owners reached as part of the Money survey.
If you're looking for a pet but trying to be fur-ugal (sorry), consider checking out local shelters and adoption centers. You can find hundreds of options online, but to vet them (get it?) you'll need customer reviews.
To that end, we asked Yelp to help us find the best place in every state to adopt a pet. Yelp identified businesses in its animal shelter and pet adoption categories, then ranked those spots using a number of factors, including the total volume and ratings of reviews for them. They should all be open as of March 2023.
Not in the market for a new pet? You can stop by anyway — many of these places are simply fun spots where you can visit, volunteer and play with the animals.
Best places to adopt a dog or cat
Here are the top adoption sites in the country, according to Yelp.
Alabama
Name: Shelby Humane Society
Location: Columbiana
Key Yelp review: "​​They work very hard to make sure that the animals go to the best homes possible and that it is a good match."
Alaska
Name: Alaska Humane Society
Location: Anchorage
Key Yelp review: "This is a great setup for people looking to adopt because the cats can find you, come out on their own terms."
Arizona
Name: Home Fur Good
Location: Phoenix
Key Yelp review: "Everything is easily communicated to you, they provide you with a free veterinarian visit and a complimentary training session. They even give you a little gift bag that came with food, a bandana, coupons, and treats."
Arkansas
Name: Humane Society for Animals
Location: Rogers
Key Yelp review: "The animals are loved, the volunteers are knowledgeable, and the adoption process is expedient."
California
Name: Muttville Senior Dog Rescue
Location: San Francisco
Key Yelp review: "The volunteers are very professional. Their adoption process is very organized and user-friendly. I love their senior-to-senior program, matching senior dogs with senior citizens."
Colorado
Name: Animal Friends Alliance
Location: Fort Collins
Key Yelp review: "It always takes me hours to break away from the pet area. They really let you spend time with the cats, educate you on what it's like to be a pet owner, and are available for questions after adoption."
Connecticut
Name: Mew Haven Cat Cafe
Location: New Haven
Key Yelp review: "The place is SO clean and vibrant. There are air purifiers everywhere. The atmosphere is so welcoming and chill."
Delaware
Name: Humane Animal Partners
Location: Wilmington
Key Yelp review: "Fantastic! You can tell that the animals here are very well taken care of. Lots of cats to choose from, including some special breeds most of the time."
Florida
Name: Orlando Cat Cafe
Location: Clermont
Key Yelp review: "I definitely recommend going and seeing all the cute kitties! I visited with a group and it was great. They have a bunch of activities like coloring and name pairing pictures for the cats [that] made it fun to try and see all of them."
Georgia
Name: PAWS Atlanta
Location: Decatur
Key Yelp review: "No-kill shelter, they pay for heartworm treatments and other ailments a dog may have coming into the shelter. This place takes all animals, even when people abandon their pets loose in their parking lot. They also have a foster care program for certain animals."
Hawaii
Name: Kauai Humane Society
Location: Lihue
Key Yelp review: "This is an amazing place to stop by for 10 minutes or a few hours. The kennels are clean and the dogs look well-cared-for. I love their field trip program — you can take a dog out with you for the day and do hikes or chill at the beach. If you have a bit of [time], you can also take dogs out to the yard and play or hang out."
Idaho
Name: Mountain Humane
Location: Hailey
Key Yelp review: "This is the best animal shelter that I have visited. The whole facility is very eco-friendly and self-sufficient."
Illinois
Name: One Tail at a Time
Location: Chicago
Key Yelp review: "Not only do they do right by the dogs in their care, they do right by their community. It's not enough for them to just rescue dogs, they are always looking at what's next, or what else can be done to support animal rescue more broadly. And our dog is the best."
Indiana
Name: IndyHumane
Location: Indianapolis
Key Yelp review: "I have been blessed with two happy dogs from this shelter. Both my pups have received great medical care and love from this place."
Iowa
Name: Iowa City Animal Care and Adoption Center
Location: Iowa City
Key Yelp review: "I adopted my dog from here. His name is Tommy. He is now the light of my life. I am so appreciative and grateful for their services."
Kansas
Name: Prairie Paws Animal Shelter
Location: Ottawa
Key Yelp review: "Great place with great people. Best adoption experience ever. Great dogs and options for nearly any breed and or age you're looking for."
Kentucky
Name: Kentucky Humane Society
Location: Louisville
Key Yelp review: "What a fantastic, professional, and kind environment and staff!"
Louisiana
Name: Villalobos Rescue Center
Location: New Orleans
Key Yelp review: "Truly the place for second chances! I love what this group does for animals as well as for humans!"
Maine
Name: Animal Refuge League
Location: Westbrook
Key Yelp review: "I just went to the Animal Refuge League two weeks ago to get my dog, and it was an amazing experience. The trained staff is knowledgeable and willing to kindly answer any questions from an anxious new pet owner. They have training materials, wonderful kits to go when you take a dog home, and amazing adoption prices."
Maryland
Name: Maryland SPCA
Location: Baltimore
Key Yelp review: "Clean, spacious, well organized and very professional. The animals seem to be taken care of meticulously. Each dog has a personality profile and detailed information."
Massachusetts
Name: Ellen M. Gifford Cat Shelter
Location: Brighton
Key Yelp review: "Like heaven on earth for homeless kitties."
Michigan
Name: Tiny Lions Lounge and Adoption Center
Location: Ann Arbor
Key Yelp review: "There is a small donation fee collected at the door, and you are free to play with the cats as much as you would like. There's tons of toys available along with plenty of seating. Cats are everywhere, and they are all so cute."
Minnesota
Name: Feline Rescue
Location: Saint Paul
Key Yelp review: "What a comforting place to go and search for your next domestic kitty companion. Clean facilities, helpful volunteer staff and plenty-o-kitties for the looking."
Mississippi
Name: Southern Pines Animal Shelter
Location: Hattiesburg
Key Yelp review: "Adoption fees are extremely reasonable. Your pet comes up to date on shots, microchipped, and spay/neutered. Bonus: They regularly have specials where adoption fees are waived."
Missouri
Name: Animal House Cat Rescue and Adoption Center
Location: St. Louis
Key Yelp review: "Wonderful place that truly cares. As an animal lover I was so happy to see all the good work they do."
Montana
Name: Humane Society of Western Montana
Location: Missoula
Key Yelp review: "The staff are friendly, helpful and knowledgeable. They work really hard to find good matches between owner and pets. The shelter is clean and smells good, it is definitely not a sad place, it's a place filled with hope. The setting on the river is gorgeous and tranquil, every dog gets outside time, and all the pets get personal enrichment."
Nebraska
Name: York Adopt-A-Pet
Location: York
Key Yelp review: "This [is] a fantastic organization that saves so many lives and brings people together with great animal companions."
Nevada
Name: Rescued Treasures Cat Cafe
Location: Las Vegas
Key Yelp review: "One of the best adoption organization[s] we've come across. Future families are given the chance to spend time with the cats before adoption. The place is well organized, friendly, calm, and clean. For a small donation, anyone can spend fun and happy hour with the kitties even if they don't have the intention to take home one."
New Hampshire
Name: New Hampshire SPCA
Location: Stratham
Key Yelp review: "In my opinion this is the best animal shelter in the area. The staff are great and truly care about the animals. The area that the dogs stay in [is] spacious and clean. I adopted a loving dog this past Saturday from here and would recommend this shelter to everyone."
New Jersey
Name: Next Chance Rescue
Location: Jersey City
Key Yelp review: "Next Chance Rescue not only brought us our amazing and beautiful cat Nala, but they did so with the help of the amazing and kind Erin and Keri. These women are rockstars in everything they are doing for our furry friends in need. We are lucky to have found people who care about their rescues from the moment they find them, to way after they adopt them out."
New Mexico
Name: Bernalillo County Animal Care and Resource Center
Location: Albuquerque
Key Yelp review: "You can tell everyone here cares about the animals. We left here with our new best friend."
New York
Name: AMA Animal Rescue
Location: Brooklyn
Key Yelp review: "This was an incredible adopting experience. They truly care so much about their rescues and want to make sure they end up in a fantastic home with owners who will provide them with the best life."
North Carolina
Name: Humane Society of Charlotte
Location: Charlotte
Key Yelp review: "The humane society of Charlotte is like no other. I have never witnessed such an amazing group of hard working people that love animals and want to see them go to (and stay) in good homes!"
North Dakota
Name: James River Humane Society
Location: Jamestown
Key Yelp review: "I believe the care the animals receive is wonderful. The building is clean and the animals are fed well."
Ohio
Name: ​​Cozy Cat Cottage Adoption Center
Location: Powell
Key Yelp review: "​​I love kitties and the Cozy Cat Cottage goes above and beyond to rescue as many unwanted, abandoned and abused cats as possible and to keep them happy, healthy and alive for as long as it takes to find them a home."
Oklahoma
Name: StreetCats
Location: Tulsa
Key Yelp review: "I went unsure of what to expect and of course fell in love. Even if you aren't sure about adopting but still want to help, I know they are looking to sign on some foster parents for some cute furbabies."
Oregon
Name: Salem Friends of Felines
Location: Keizer
Key Yelp review: "I love this place and their thrift shop! The thrift shop is super cheap and I've found some really cool vintage clothes and books. Don't go to Goodwill, go here! The business does a lot of good to help kitties. If you're a cat lover, support this wonderful place."
Pennsylvania
Name: PAWS Downtown Adoption Center
Location: Philadelphia
Key Yelp review: "I went in one weekend knowing I wanted a kitty. I ended up finding the perfect little guy for me! Their staff was extremely friendly and helpful. I felt more than comfortable adopting a kitty from them. They have so many resources and an organized adoption system."
Rhode Island
Name: Potter League For Animals
Location: Middletown
Key Yelp review: "Adoption process is very quick and donation to adopt is extremely reasonable. They try their hardest to find you the best match for you."
South Carolina
Name: Charleston Animal Society
Location: North Charleston
Key Yelp review: "Yesterday I went home with my new best friend, Marshmallow. She's an albino bunny. They gave me the whole rundown about her before adopting. They are very knowledgeable and it is apparent they care deeply for all animals. It is always immaculate every time we visit."
South Dakota
Name: Aberdeen Area Humane Society
Location: Aberdeen
Key Yelp review: "This is a place where you can heal and be healed."
Tennessee
Name: Nashville Humane Association
Location: Nashville
Key Yelp review: "The place is pretty clean, and the staff is friendly and helpful. There were so many great dog and puppy options here. We saw a Boston Terrier, dash hound, and a Blue Heeler mix. You can take any of them for a walk and they have rooms for you to have a meet and greet with them. I totally wanted to take a few home!"
Texas
Name: Purr-fecto Cat Lounge
Location: Austin
Key Yelp review: "I love this place so much! I can enjoy a latte while I am playing with cats, they're such amazing creatures and to know a place like this exists is awesome, giving every cat an opportunity to get adopted."
Utah
Name: Best Friends Animal Society
Location: Kanab
Key Yelp review: "The best way that I can describe this wonderful place is that it's Disneyland for people who like to volunteer with animals."
Vermont
Name: Windham County Humane Society
Location: Brattleboro
Key Yelp review: "Windham caters to everyone, cats, dogs, bunnies and even barn cats."
Virginia
Name: Animal Welfare League of Arlington
Location: Arlington
Key Yelp review: "The facilities are clean and spacious for both the human employees and the cats. I saw about 10 cats ranging from kittens to adults, and they were all generally playful and approachable with healthy fur. After selecting my kitten, the adoption counselor was very thorough in guiding me through tips to care for my new kitten."
Washington
Name: NEKO: A Cat Café
Location: Bellingham
Key Yelp review: "The place is very clean and kitties definitely feel safe and at home. No bad smells here either. It's a great place to socialize with your future kitty, help one get socialized, or just spend some quality time with a kitty purrrrrrr."
Washington, D.C.
Name: Humane Rescue Alliance
Location: Washington, D.C.
Key Yelp review: "Stopped by last week and had a truly rewarding experience with staff and figuring out what was the perfect fit for me."
West Virginia
Name: Little Victories Animal Rescue Group
Location: Ona
Key Yelp review: "Our dog has obviously been bathed and vetted, and was in good overall health. The staff was gracious and friendly, and told us everything they could about our pet, even giving us a room and a couch to sit on and bond with him. I cannot recommend this shelter highly enough. Devoted folks. Patient and generous."
Wisconsin
Name: Dane County Humane Society
Location: Madison
Key Yelp review: "If you go here just to "check it out" -- be warned. You will leave with some adorable creature that will become your new obsession. I went here three years ago and now I have two cats from DCHS and I spend all my money on spoiling them."
Wyoming
Name: Humane Society of Park County
Location: Cody
Key Yelp review: "Clean, well cared for space for the cats. Not cramped or on top of each other due to [the] increasing number of shelter animals. I've adopted twice and the staff are pleasant and knowledgeable of each cat."
More from Money:
The 10 Best Pet Insurance Companies
From Barking to Bullying, When Pet Insurance Covers Behavioral Therapy