Bill Cosby Was Once Worth $400 Million. Now He's Facing Financial Ruin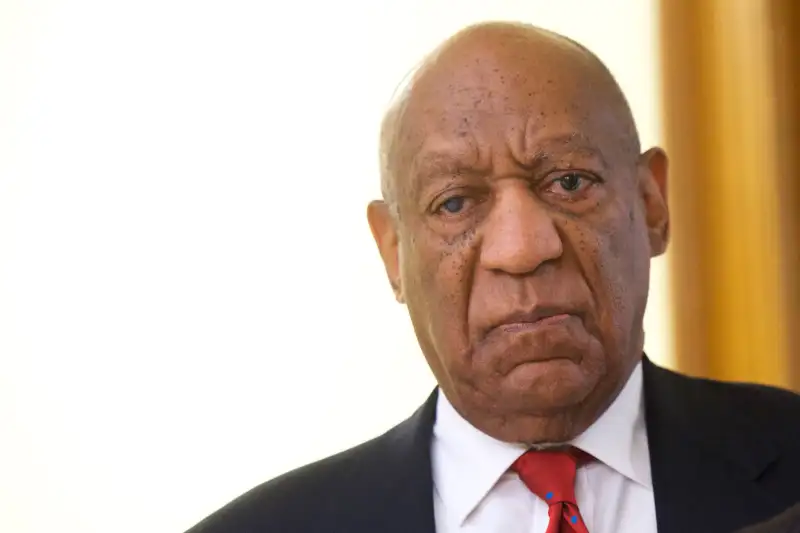 Bill Cosby's storied career has slowly been whittling away after dozens of women came forward with allegations of sexual assault against him. But now that Cosby was found guilty of drugging and molesting former Temple University staffer Andrea Constand in his home in 2004, and subsequently was sentenced to prison for three to ten years, it's likely that his legal problems and potential financial ruin have only just begun.
During his '80s heyday, Cosby was the world's highest-paid entertainer and known as "America's Dad" for his role on The Cosby Show. Decades later, Cosby's net worth was still estimated to be $400 million. Cosby, now 80, could see his fortune reduced to next to nothing following the April verdict, where he was found guilty of three counts of aggravated indecent assault. He left court after posting $1 million bond, but faced a maximum of 30 years in state prison along with an additional $75,000 in fines — and that's just for this case.
Cosby currently faces at least three civil lawsuits, including two that accuse him of sexual assault. In one lawsuit, a woman named Judy Huth says that in 1974, when she was only 14, Cosby gave her alcohol and molested her at the Playboy Mansion. A model named Chloe Goins made similar claims in another lawsuit—alleging Cosby drugged and assaulted her at the Playboy Mansion in 2008. Both of those lawsuits are tentatively scheduled to go to trial starting this summer, USA Today reported.
Another ongoing civil case against Cosby accuses him of defamation. It was filed on the behalf of model and reality TV star Janice Dickinson, who testified in the just-completed criminal trial that Cosby drugged and assaulted her in 1982. Her attorney, Lisa Bloom, tweeted on Thursday that Dickinson will continue pursuing her own civil lawsuit seeking damages against Cosby because he allegedly defamed her as a liar.
In the wake of his criminal conviction, Cosby faced fallout as universities like Temple University revoked his honorary degree and businesses looked to distanced themselves from the disgraced comedian. "The Cosby Show" reruns were also taken off the air, cutting a key source of royalty income for Cosby. And there are already signs that despite his massive fortune, Cosby's legal battles are catching up with him — last fall, he reportedly tried to get a loan to cover his mounting legal bills.
Bill Cosby was once the highest-paid entertainer on the planet
Cosby's conviction on three felony counts of aggravated indecent assault marks the latest low point for one of the biggest and richest stars of the 1980s.
In 1985, People reported Cosby was earning $1.1 million per year for his hit TV show, The Cosby Show, plus millions more for stand-up performances in Las Vegas and serving as a spokesman for brands like Coca-Cola and Jell-O. Thirty years ago, Forbes crowned Cosby as the world's highest-paid entertainer after he earned a total of $84 million in 1986 and 1987 — beating out other '80s performers like Sylvester Stallone ($74 million) and Bruce Springsteen ($56 million). Cosby even made more than America's highest-paid corporate executive, General Motors' Lee Iacocca, who earned $21 million over that time span.
In 1988, syndication rights for reruns of The Cosby Show sold for a record-high $4 million per half-hour episode, which was nearly three times as high as any other show at the time. Of the $500 million sale, $166 million (over $350 million in today's dollars) went directly to Cosby.
Forbes estimated in 2017 that The Cosby Show reruns had generated $1.5 billion over the prior two decades. Now, the TV show has been dropped by all networks, and a planned Netflix special and concert tour featuring Cosby have both been canceled, virtually cutting off all of Cosby's income streams.
How much money could Bill Cosby have to pay?
Because there are still so many unknowns, it's impossible to say how much Bill Cosby might have to pay to the alleged victims. At this stage, there are no specific dollar figures attached to the civil suits. Still, if and when the civil cases are settled, or the plaintiffs win at trial, Cosby could easily be forced to pay tens of millions of dollars in compensatory and punitive damages—or perhaps even far more.
Lawyers say juries often determine punitive damages not just based on the actions themselves—which are horrible on their own in Cosby's case—but also factor in the wealth of the accused.
"Any jury assessing this starts with, what amount of money punishes him given his net worth?" Brad Edwards, a Florida lawyer who represents sex abuse plaintiffs, explained to Reuters. "Even if you said $20 million, you're talking about a fraction of [Cosby's] net worth."
We know that Cosby has already made at least one multi-million-dollar payment to settle a civil lawsuit. During Cosby's criminal trial, the prosecutor revealed that Cosby had paid a previously undisclosed sum of $3.4 million to Andrea Constand in 2006 to settle a civil suit alleging he sexually assaulted her.