Bitcoin Is a Bubble, Says Nobel-Winning Economist Who Predicted the Housing Collapse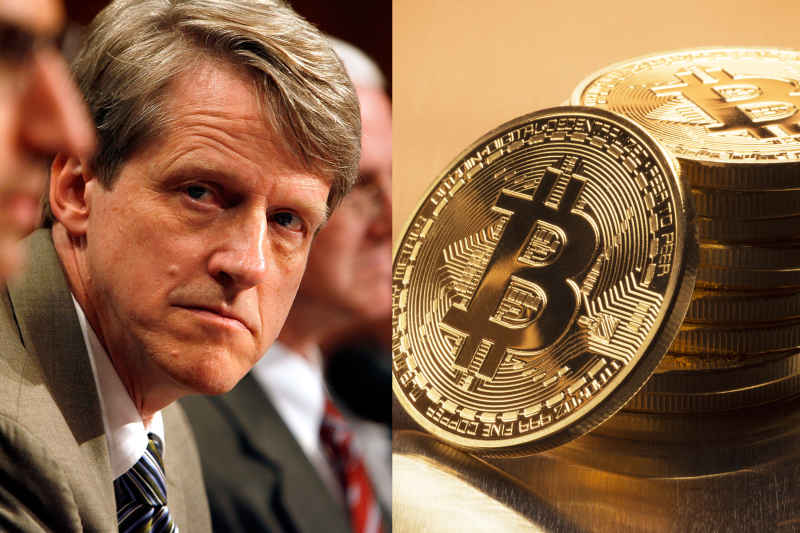 When it comes to bubbles, Nobel Prize-winning Yale economist Robert Shiller knows of what he speaks.
Shiller famously spotted a possible housing bubble in 2003, years before it actually blew up. He is also the author of the best-selling book about the subject, Irrational Exuberance.
So we should probably be paying attention when he says that Bitcoin is fitting the same type of bubble pattern
In a new interview with Quartz, Shiller was asked to name the best example of irrational exuberance or speculative bubble he can think of right now.
He did not hesitate in his response.
"The best example right now is bitcoin," he said. "And I think that has to do with the motivating quality of the bitcoin story. And I've seen it in my students at Yale. You start talking about bitcoin and they're excited! And I think, what's so exciting? You have to think like humanities people. What is this bitcoin story?"
Bitcoin is up 718% just in the past year, and on Friday nearly hit $5,000, according to Coindesk. If you purchased $100 worth of bitcoin a year ago, it would be worth over $800 today.
Shiller says the bubble has been fueled in part by the narrative surrounding its unusual creation, as well as this particular moment of anxiety in society.
"It starts with Satoshi Nakamoto—remember him? The mysterious figure who may or may not be real. He's never been found," Shiller said. "That has a nice mystery quality to it. And then he has this clever idea about encryption and blockchain and public ledgers, and somehow the idea is so powerful that governments can't even stop it. You can't regulate this. It kind of fits in with the angst of this time in history."
Shiller said that in the third edition of Irrational Exuberance, he argues "that there's a fundamental deep angst of our digitization and computers, that people wonder what their place is in this new world. What's it going to be like in 10, 20, or 30 years, and will I have a job? Will I have anything?"
By giving people a tangible asset whose prices seems to only go up, bitcoin has served as a salve for that anxiety, Shiller explained. Bitcoin "gives a sense of empowerment" in such an atmosphere, Shiller said. It allows people to feel like "I understand what's happening! I can speculate and I can be rich from understanding this!"
The problem, of course, is that speculative bubbles generally burst, and no one knows exactly when they'll pop.