Why a Blizzard Forecast Turns Us Into Cavemen at the Supermarket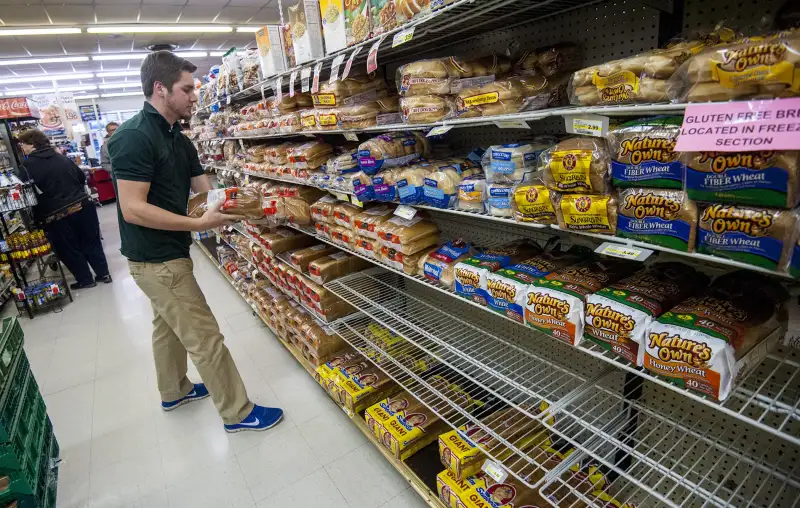 Daniel Lin—Daily News-Record/AP
One thing that's far more predictable than the weather is that the forecast for a big winter storm will send shoppers streaming into supermarkets to clear out all the milk, bread, eggs, beer, and other "essentials" they can find.
Almost exactly one year ago, the threat of a blizzard in New England and the mid-Atlantic region turned shoppers into panicking hoarders, scooping up every last loaf of bread from supermarkets and causing a much-mocked shortage of kale in New York City grocery stores.
And almost exactly a year before that, supermarkets cashed in thanks to the terrifying-sounding polar vortex, which brought snow and frigid temperatures to a big chunk of the country, and which naturally coincided with epic crowds hitting grocery stores in preparation for the apocalypse.
Now, with a storm described as "potentially paralyzing" and "perhaps crippling" by the National Weather Service primed to hit the mid-Atlantic region this weekend, shoppers are staying true to form. Stores in Arlington, Va., reported long lines and high demand for bread, milk, beer, and toilet paper. In Cherry Hill, N.J., outside of Philadelphia, supermarkets struggled to replenish shelves with bread, bagels, milk, and eggs before the latest round of shoppers grabbed them.
This all took place on Wednesday, mind you, and the snow isn't supposed to start falling in Washington, D.C., until Friday afternoon. In other words, supermarkets from the Southeast to southern New England will benefit from at least another full day of jittery shoppers stocking up on supplies in anticipation of the weather. Understandably, rock salt, shovels, and snowblowers are hot sellers alongside groceries.
There's nothing wrong with being prepared, of course. But what is it about a blizzard forecast that causes shoppers to go overboard? Especially in light of the many previous times when we battled supermarket crowds and filled up shopping carts only to see storms fizzle out and fall far short of their predicted impact?
Consumer psychologist and frequent TIME and Money.com contributor Kit Yarrow offered some insights to the roots of blizzard panic-shopping last year. It all starts reasonably enough, "with a normal impulse to stock up on things that might not be available for a few days," Yarrow explained. Before you know it, however, rational consumers find themselves in the middle of a chaotic scramble at the grocery store and essentially turn into cavemen battling for survival. As Yarrow said:
Presumably, such scenes even influence our behavior months and years down the line, expanding the potential for irrational hoarding at the supermarket. After all, it's completely logical to faintly recall the insane lines and agitated crowds when the last blizzard was forecast—and to want to get out ahead of the pack in terms of shopping before the storm. As more shoppers use this strategy to avoid the last-minute chaos and sellouts right before the snow arrives, stores that used to be mobbed for perhaps a day before a storm are now seeing crowds two or three days ahead of snowfall.
In other words, it snowballs, if you'll excuse the pun.