It's Now Nearly Impossible to Find Donald Trump Products at Full Price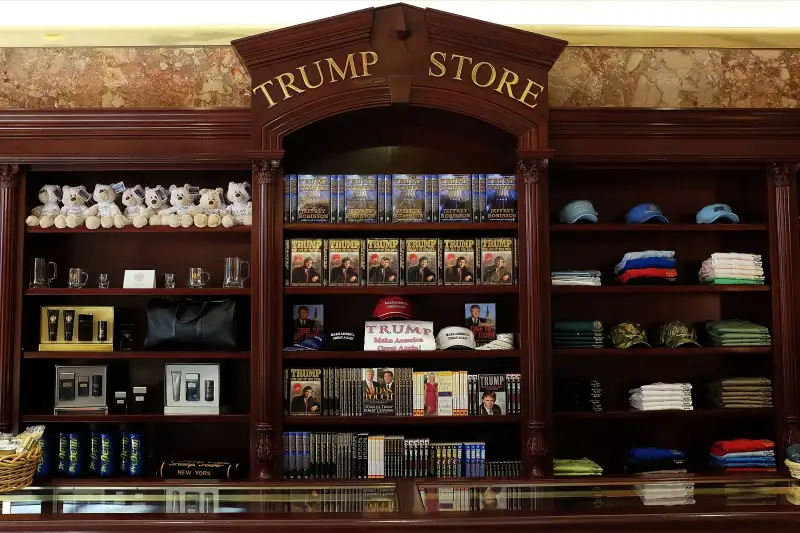 Spencer Platt—Getty Images
Retailers like Nordstrom and Burlington Coat Factory have been dropping the consumer brand sold by President Donald Trump's daughter, Ivanka Trump, due to poor sales. But the truth is that merchandise sold under the Donald Trump brand is even harder to come by.
The Trump Store, inside Trump Tower in New York City, sells a wide range of Trump-branded goods. Tourists might be tempted to buy a stick of "Empire by Trump" deodorant, for example, for $15.
But outside of Trump Tower, it's extremely rare to find items sold in stores under the Donald Trump brand. It's rarer still to see such goods offered at anything approaching their full original list prices. Online shoppers can buy that same "Empire by Trump" deodorant at Perfumania for $5.24. Another deodorant, "Success by Trump," is going for as little as $6.22 for a four-pack—that's $1.55 per stick—via a third-party seller at Sears.com.
The web page for the Donald J. Trump Signature Collection features six subcategories—neckwear, suits, shirts, accessories, wallets, eyewear—but it's unclear where would-be customers might actually buy most of this stuff. Only one of these categories has a live link leading to a site where items are sold: It's Eyeglasses.com, which lists 17 styles of Donald J. Trump glasses starting at $93 a pair.
In terms of Trump-branded goods in general, "There's only a smattering of items left for sale, often leftover inventory offered at reduced prices through discount shopping sites," Bloomberg reported this week.
In its largely frustrated search for Trump items currently available for sale, Bloomberg found some at Overstock.com, but the discount site said the listings were actually mistakes, and they've since disappeared.
Macy's stopped selling Trump's menswear line in the summer of 2015, after Trump made derogatory comments about Mexican immigrants. Among the very few retailers that still do have some random Trump items for sale (often via small third-party sellers) is Amazon.com, which currently has suit jackets for $105 (originally $310) and Trump Home pendant lights for $193 (originally $272).
Despite Donald Trump's reputation as a brilliant entrepreneur and genius with merchandising, there is a long history of business failures with his name on them, including the Trump Shuttle, Trump magazine, Trump Mortgage, and, most recently, Trump University. Long before the #GrabYourWallet movement called for boycotts of retailers selling Trump products, it was more or less impossible to buy items like Trump Steaks, Trump Water, and Trump Vodka. Last March, one reporter for the Providence Journal found tons of online listings for such products, but ultimately could not find anything legitimately available for sale. An in-depth investigation for meat sold under the Trump Steak brand by the Washington Post was just as fruitless.
During a press conference last March, Trump pitched the public on meats he referred to as "Trump Steaks." But the product he showed off clearly featured a different brand (Bush Brothers), and as far as anyone can tell, the last time a random shopper could buy a "true" Trump Steak outside of a Trump restaurant was 2007, via a Sharper Image promotion. The Trump website says that Trump Natural Spring Water is "Proudly served at Trump Hotels, Restaurants and Golf Clubs worldwide," but good luck trying to find it for sale anywhere else. A decade ago, Trump said he expected "the most called-for cocktail in America to be the 'T&T' or the 'Trump and tonic," featuring Trump Vodka, Bloomberg reported. Yet the brand was discontinued in 2011, and can only be found today in a sprinkling of listings on eBay, mostly featuring empty bottles sold for the sake of novelty.
Trump Wine, made at the Trump Winery in Virginia and overseen by the president's son Eric, remains readily available for sale today, starting at a price of around $24 a bottle. But this brand could be in trouble as well: This week, consumers have called for a boycott of Wegmans to urge the 92-store supermarket chain to stop selling Trump Wine.