You Don't Need a Credit Card to Have Good Credit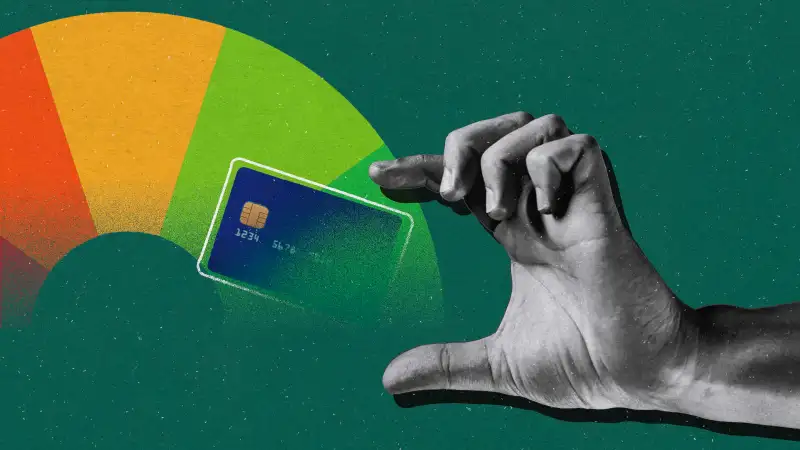 Here's something ironic: Despite being a reporter for Money, I don't have a credit card. And if I have it my way, I probably never will.
Though I understand that credit cards are one of the most popular financial tools out there, I have concerns about using them. However, I know having good credit is important for milestones like buying a house, securing favorable rates and even getting a cell phone contract, which is why I've made it a goal to build credit in other ways.
Here's why I'm avoiding credit cards — and what I'm doing instead.
The cons of credit cards
First, the facts: Research shows Americans collectively owe nearly $1 trillion in credit card debt. The average cardholder carries over $5,700 in credit card debt alone — debt they often have trouble paying off, thanks to high interest rates.
I'm not alone in my feelings. Millennials set a precedent of credit-card wariness after the Great Recession; as they've come of age, Gen Zers have picked up the aversion to taking on new debt, opening fewer credit cards than previous generations and turning to "new age" fintech tools like buy now, pay later services.
Younger folks who do have cards are accumulating debt at an alarming rate compared to other age groups, too. The average Gen Z credit card holder (under age 25) owes over $2,800 in credit card debt already, according to an April report by Experian. The growth in Gen Z debt has been faster than any previous generation's.
All of this gives me pause. At age 25, I'm not inclined to voluntarily take on more debt.
Rewards and (data) risks
There are lots of reasons people tell me I should join the ranks of Gen Z cardholders — most commonly, the prospect of credit card rewards.
But I feel that many folks don't understand the trade-off rewards systems offer. They continue to draw scrutiny for rewarding high spenders and penalizing poorer cardholders, meaning those with lower credit scores often lose out on the bonuses advertised by creditors.
And ultimately, rewards are designed to maximize credit card spending: something that I can't risk as a person who has a tendency to spend his hard-earned cash on some really dumb stuff (like the stack of vinyl records I just bought despite mostly listening to Spotify).
"Once you start to rack up debt, it's hard to get out of," says Mike Litt, consumer campaign director at the Public Interest Research Group.
There's also a massive data privacy issue that's linked to the credit card industry. RJ Cross, director of PIRG's "Don't Sell My Data" campaign, says credit cards perpetuate much of the backdoor transactions that see your data sold.
"[Credit card companies] will take the fact that you spent money at that gas station, and then they will pull it with other people's data, and they'll see everyone else who's bought something at that gas station that day," Cross says. "And they'll try and triangulate people's relative income levels based on other data that they've scraped and put these insights up for sale on these big data broker marketplaces, where hundreds of companies can lease those insights about you."
Basically, I'm not wealthy enough to afford the high APRs nor disciplined enough to resist leaning on credit cards as a crutch or rewards machine. Add that to the fact that I'm deeply unsettled by the opaque and largely unregulated data industry, and I've decided it's best I try to avoid a tool that I could easily trap myself with.
That said, I do recognize that my financial situation is unique to me.
Credit cards have plenty of perks. They have much better fraud protections than debit cards, and they're a great tool in emergency situations where I need to pay a large sum quickly (see: car repairs). Remember to weigh your options and consult an expert before making any major financial decision.
Tips for building credit without a credit card
Living credit-card-free while having a good credit report is not impossible, though it may seem like a Herculean task. Most people opt for a credit card first when trying to build credit, since it's often the fastest option. But if you're like me, there are plenty of alternate routes to building up your credit score. Most of them involve simply staying on top of your monthly minimum payments and being sure that this data is reported to credit bureaus.
1. Pay your bills on time
One key to building my credit has been in staying on top of my student loan repayments. These payments are reported to credit bureaus, so making them on time and in full can be a good way to build credit.
Both private and federal loans appear on your credit report, so this works for either.
Auto loan payments function similarly. Simply getting a car loan doesn't increase your credit score — in fact, you'll probably see a dip immediately after securing an auto loan. But as you make your payments (on time and in full) over time, that dip will disappear, and you'll slowly start making gains on your score.
2. Ask for help
Other payments can appear on your credit report, too. For instance, phone bill payments can be a simple thing to get reported, but they might require you to enlist the help of a consumer reporting service like Experian Boost to be sure they're included in your report.
(Experian Boost is a free service that helps users get bills for everything from Netflix to utilities factored into their FICO Score 8.)
The same goes for rent payments. Ask your landlord if they're willing to use a rent reporting service like ClearNow or PayYourRent, which can settle your monthly rent payments online and report them to major credit bureaus, therefore establishing your history of on-time payments.
3. Become an authorized user
Parents who are on top of their payments can help their kids to build their credit even before they're old enough to get their own credit card. Cross, from PIRG, credits her mother putting her on her credit card and auto loan with helping to build her credit from a young age.
Anybody with a credit card can add an authorized user, so if you have a responsible (and willing) friend or partner, they can add you to their account and help you build credit without you ever needing a card, as well.
4. Try secured credit cards (or credit-building loans)
Alternatively, you could consider a secured credit card, where you deposit cash when you open your account and use it as collateral with your lender. This way, you're not borrowing money you didn't already put up first. You can effectively use a secured credit card like you would a debit card, but with the added bonus of your transactions being reported.
There are also credit-builder loans, which allow you to take out small amounts of debt that they repay to show their reliability. These loans are a low-stakes way for those without an established credit history or low credit to improve their scores by proving their trustworthiness.
Ultimately, building credit without a credit card is a test of patience. It takes time — and a lot of discipline in making sure you stay atop existing payments. But to me, it's worth it.
More from Money:
Health Care Providers Are Pushing Medical Credit Cards — Here's Why You Should Avoid Them
How the Restart of Student Loan Payments Could Hurt (or Help!) Your Credit Score
How to Remove CBE Group from Your Credit Report