Burger King Is Selling 3 Pancakes for Only 89¢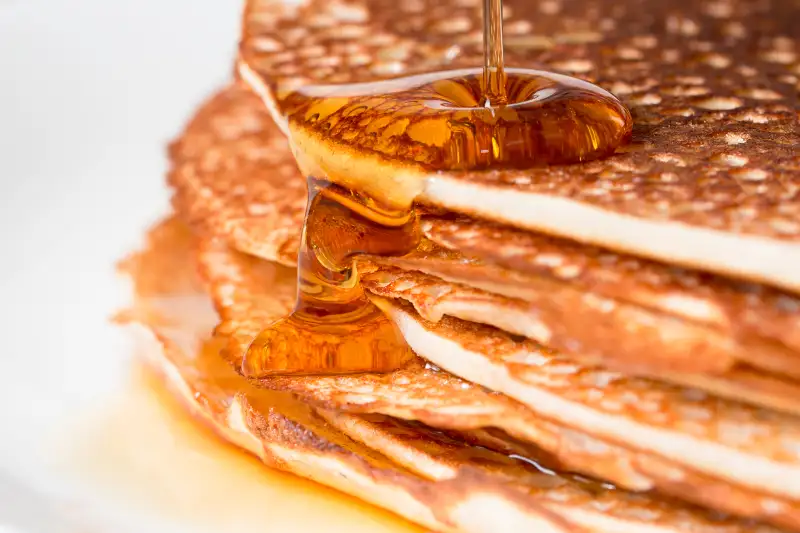 laurileesmaa—Getty Images/RooM RF
The Dollar Menu may have mostly disappeared from the nation's biggest fast food operators, but that hasn't stopped the occasional sub-$1 deal from popping up on menus to boost business.
The latest super cheap fast food item comes from Burger King: For a limited time at participating restaurants, an order of three pancakes costs a measly 89¢. That's less than 30¢ per flapjack!
Burger King has been promoting the new low-price offer on Facebook and Twitter. The 89¢ order of pancakes comes with syrup and butter, but not a side of sausage like pancakes normally come with at Burger King. (Let's not be gready, huh?)
As you might imagine, the reactions to this astonishingly cheap price range from excitement to shock, mixed in with plenty of jokes about gluttony and speculation about how and why BK could sell such an item for under $1. For example:
In fact, Burger King's move is one in a long line of stunning low-price deals that probably yield little to no profits, but which serve a more important purpose: increasing customer traffic. Early in 2015, for instance, Burger King, McDonald's, Dunkin' Donuts, and others waged an ongoing war over coffee, with competing free coffee giveaways left and right. More recently, several fast food players have stepped up their game in terms of cheap value meal deals, with offers like 4 items for $4 and even 5 items for $4.
Read Next: 'Brunchfast' Is the Latest Play for Fast Food Customers in All Day Breakfast Battles
It's no coincidence that many of the low-price promotions feature breakfast items. For years, breakfast has been regarded as the most important meal of the day in the fast food business because it was the one mealtime seeing a constant increase in customers. What's more, restaurants like the idea of getting people to start their days eating their food, with the hope that this habit crosses over into lunch, dinner, and snack time as well. McDonald's introduction of all day breakfast last fall has proven immensely popular as well, and competitors have unveiled new breakfast items and low-price offers as a way to win back customers wooed by Egg McMuffins at any hour of the day.
Burger King hasn't said how long it will keep selling three pancakes for only 89¢. What we do know is that the BK restaurants hope that you buy coffee, orange juice, and maybe a breakfast sandwich while you're swinging by for cheap pancakes. And the bigger hope is that you get in the habit of swinging by your local BK for breakfast and more long after the cheap pancake offer disappears.
If you want the super cheap flapjacks, just remember that breakfast at the chain ends at 10:30a.m. sharp.