Buying a House Together Before Marriage? Read This First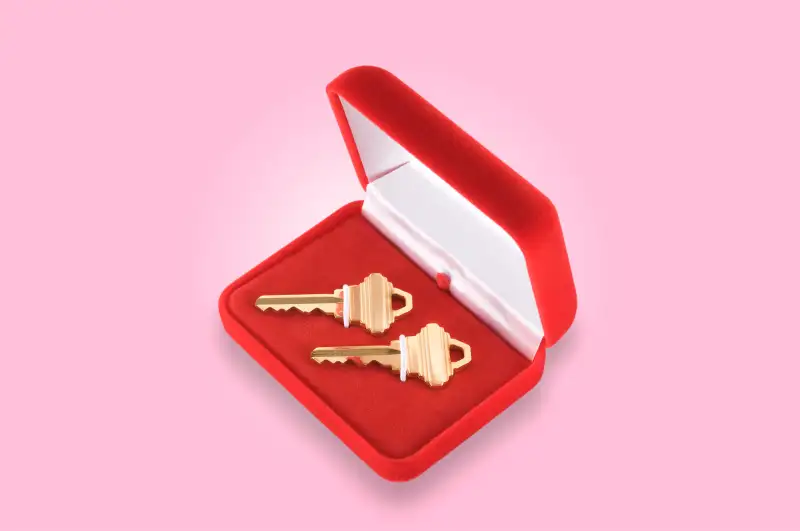 Serious young couples used to mark their commitment to each other with an engagement ring, but now they're in the market for a bigger asset: a set of shiny new house keys.
One in four couples between the ages of 18 and 34 bought a house together before they were married, according to a study by Coldwell Banker Real Estate. Money found in our own poll of 500 millennials' financial attitudes that 40% think it's a good idea for a couple to buy a home together before marriage, while 37% think the purchase should take place prior to the wedding.
Low-rate mortgages, rising rental costs, and the ability to deduct mortgage interest from income taxes all make being a homeowner now rather than later seem like an attractive option. And while making that move first can work out well, as it did for Seattle couple Katy Klein and Charles Hagman, not every story has that same happy ending.
In fact, many financial planners advise against it. That's because buying a home is often the biggest and most financially complicated move a couple makes, and unwinding it can be especially difficult for unmarried partners if the relationship ends. So if you're buying a home with your beloved before getting hitched, spare yourself any potential financial heartbreak by following these tips.
Compare Credit Scores
You and your partner have probably already shared details about your income and savings when determining if you could afford to buy. But another piece of information you'll need to share well in advance of closing is your credit report.
"If a couple is entering into a business deal, which is what a home purchase between two nonmarried people is, they should know the creditworthiness of their business partner. A person's credit score will impact your ability to obtain a mortgage and the interest rate you will pay," says Pewaukee, Wisc.-based financial adviser Kevin Reardon.
If you or your mate has a poor score, it could influence how you decide to title the property and who takes responsibility for the loan. Married couples are generally viewed by creditors as a single unit, but unmarried couples are assessed as individuals, even if applying for the loan together.
"This can work to your advantage if you have the person with stronger credit purchase the home," says Sandra O'Connor, regional vice president with the National Association of Realtors. By eliminating the poorer score from consideration, you can secure better rates. On the flip side, with only one person applying for the loan, and thus one income on record, the amount you qualify for could be lower than what you could get with two incomes. And, of course, only one person's name will be on the loan and deed, leaving the other partner vulnerable in the event of a breakup.
Open a Joint Account
Consider setting up a joint bank account, if you don't already have one, that can be used to pay the mortgage, property taxes, insurance, and maintenance, Reardon suggests. Each of you can set up automatic monthly deposits into the account from individual bank accounts; this way neither party can forget. You can further simplify bill paying and budget tracking by having home expenses automatically deducted from the account each month.
Decide How to Manage Costs
When you cosign on a mortgage, you are 100% liable for the debt, which means if the relationship turns sour and your partner stops paying, you must assume the entire obligation. For this reason, financial planner Alan Moore, co-founder of the XY Planning Network, recommends choosing a home with a mortgage you can swing on one income. That can also be a huge help down the road in the event of unexpected illness or injury, since you'll still be able to afford the monthly payments.
Before setting a housing budget, both partners need to have an honest conversation about the amount of debt they're comfortable living with. Just because you can borrow the maximum amount doesn't mean it's a good idea. Stretch your combined budget too far, and any unexpected expense will likely have one of you coming up short when the monthly payments are due.
Put Your Agreement in Writing
Contact a real estate lawyer to prepare a written document, such as a property, partnership, or cohabitation agreement, that clearly outlines the full details of your arrangement, including what percentage of the home's equity each partner is entitled to, especially if you contributed different sums to the down payment or mortgage balance, and what will happen to the property if you split up.
"The contract should specify whose name will be on the deed or lease, one or both, who will pay for what—I pay the utility bill, you pay the cable bill—etc.," says Reardon. "It would be productive to note what happens if one party can't pay. Will both parties move out? Will one party take over the payments for the other, if they are able to, then create a note receivable from the partner who can't pay to the partner who can? Will this note be collateralized? It's great to iron out these details in advance because it removes any doubt or emotions in the event things turn out badly."
Title It Right
You and your partner must decide how you will own the home or take title. You have three options: One person can hold the title as sole owner, both of you can hold title as "joint tenants," or you can share title as "tenants in common."
Typically, you would want both parties to hold title, as putting the property in only one partner's name leaves the other partner without equity in his own investment. (You'll certainly want that separate written contract mentioned above if you go this route.)
If both partners sign the title as tenants in common, then each owns a specified percentage of the property. One person may own a 60% interest, while the other owns 40%, for example. This split is specified in the deed. If one partner dies, ownership will not automatically transfer to the other homeowner unless that person is named in the will; instead the deceased owner's heirs will inherit his or her share.
When you hold title as joint tenants with right of survivorship, you are considered equal owners, and if one of you were to die, the other would automatically inherit the other's stake and own the entire property.
Bottom line: No matter how you hold title, it is important that you and your partner enter this agreement with a complete picture of each other's finances and a written contract outlining your desires for the property's division should the relationship end.