Money's 2023 Changemakers: Meet the Trailblazers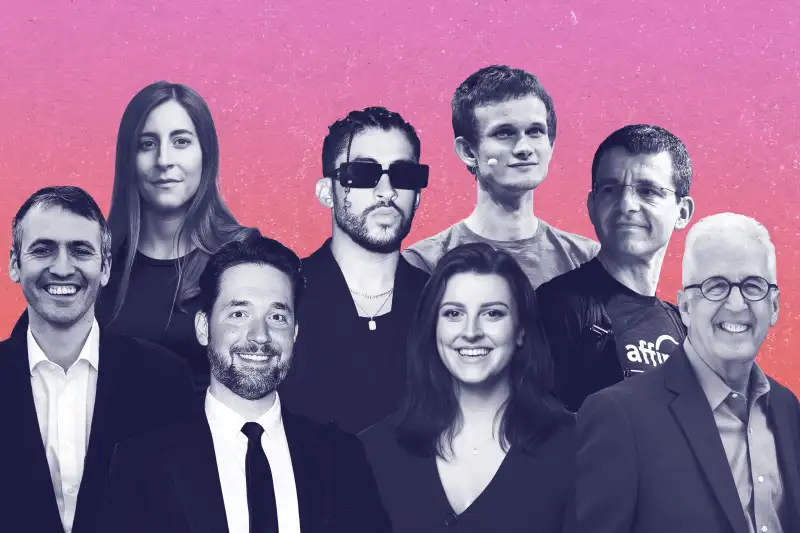 Money recently published its inaugural list of Changemakers, the 50 people impacting Americans' wallets. Our 2023 Changemakers include a wide variety of innovators making meaningful, positive change in personal finance. They fall into six categories: advocates, creators, educators, experts, leaders and trailblazers.
Meet the trailblazers below, and check out the entire Changemakers project here.
As founder and chief executive officer of Divvy Homes, a startup built around a modernized rent-to-own model, Hefets aims to help families afford homes (and shed the bad reputation rent-to-own models had in the past). Divvy allows potential homeowners to pick out a house, contribute to a down payment and lease it while they improve their finances. And it works: Divvy says half of the homeowners who complete their leases end up buying their homes.
"It disrupts what I think is a market opportunity for people who truly want to get a house but don't want to be scammed," Hefets says.
Ohanian, the co-founder of Reddit, doesn't want to be known only as the co-founder of Reddit. The investor has a busy, multi-pronged career: He now heads Seven Seven Six, a venture capital firm with a nonprofit twist; advocates for universal paid parental leave; and speaks earnestly about the challenges he's encountered in his quest to make "this world better — much better," per his website. Oh, and he's a #BusinessDad married to tennis icon Serena Williams.
"I want to make sure that there's just as many people who go up to my daughter and tell her how proud they are of her dad, and that the things that her dad did were remarkable" as with her mom, he says.
You can't talk about Bad Bunny, the rapper whose real name is Benito Antonio Martínez Ocasio, without mentioning Puerto Rico. The archipelago is not only his home but also a cornerstone of his identity. Bad Bunny uses his music, videos and platform to push for a better quality of life for Puerto Ricans, vocally advocating against gentrification, corruption and other injustices that affect islanders' financial futures. As his star power continues to grow, Bad Bunny doesn't shy away from the tough topics, and he certainly doesn't apologize.
"Everything I do is because I feel it," he said.
Simmons is part of the team behind Daylight, a digital banking app made by and for the LGBTQ+ community. Using her own economic challenges and experiences — like the difficulty of trying to choose the name on her credit cards — as a basis, Simmons has helped invent solutions to financial hurdles commonly encountered by LGBTQ+ customers. Daylight provides a range of services, from information on gender-affirming surgery costs to tips on family planning, to its ever-growing userbase. And Simmons herself is blending personal finance and activism, serving as a role model for trans Americans who want to use tech to make a difference.
"Our identities are what make us good at building for our community," Simmons says, "because we're solving problems that we ourselves have faced."
Upsolve co-founder Petts likes to point out that some of the biggest companies in history have filed for bankruptcy as a way to get a fresh start. And although bankruptcy for businesses is different from bankruptcy for individuals, the main benefit — namely, the clearing of debts — is the same. That's why Petts' Upsolve aims to make filing for Chapter 7, the most commonly used type of personal bankruptcy, easier and cheaper. Using Upsolve's free online tools, people can generate bankruptcy forms and kick-start the process of starting over.
"Bankruptcy is this super powerful poverty-fighting tool, but the people who need it most in our country are least able to access it," he says.
Playing Monopoly in the '60s made Kramer curious about finance — but as a deaf kid born to deaf parents, he had trouble finding reliable information. So when he grew up, Kramer devoted himself to bridging that gap. As the leader of Kramer Wealth Managers, Kramer employs several deaf advisors and full-time staffers, all of whom are fluent in American Sign Language. His team helps clients tackle topics like investing, retirement and estate planning. This is rare — Kramer says he only knows two Deaf certified financial planners — but crucial for experts and customers alike.
"There's a level of comfort that comes with working with someone with a shared experience and a shared language," Kramer says.
Now one of the top names in fintech, Levchin remembers getting a credit card in college specifically so he could score a free T-shirt. And then promptly racking up debt, failing to pay it off and ruining his credit score. Years later, he founded Affirm, a startup that allows people to finance purchases and pay for them in installments over time. Affirm pioneered the buy now, pay later movement, which comes with risks (it can enable people to take on lots of debt) but also makes major purchases more accessible.
"I very much care about this idea that access to credit should not mean being in debt forever," Levchin says.
Nicknamed the "prince of crypto," Buterin is one of the founders of Ethereum, a blockchain with the same foundation as the Bitcoin network. Ethereum has evolved far beyond currency-related uses, though: Buterin envisions the decentralized network expanding into gaming and supply chain management (it already underpins art in the form of many non-fungible tokens, or NFTs). Despite criticisms — much of crypto is untested and consumes a lot of energy — Buterin is enthusiastic, and realistic, as he looks toward the future.
"I personally would not blame anyone for being suspicious of the crypto space, because I think most sane people within the crypto space are themselves — ourselves — suspicious of large parts of the crypto space," he said.
More from Money:
Money's 2023 Changemakers: Meet the Educators
Money's 2023 Changemakers: Meet the Advocates