10 Supermarkets with Incredibly Cheap Thanksgiving Turkey Prices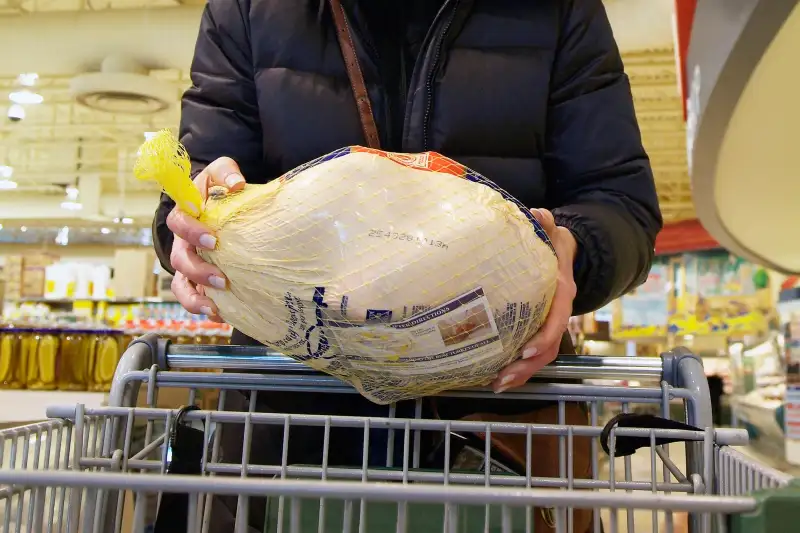 Brian Summers—Getty Images/First Light
For 2017's list of supermarkets with incredibly cheap Thanksgiving turkeys, check here.
Last week, the annual study on the cost of Thanksgiving dinner was released—and as expected, prices were up. Thanks largely to the bird flu epidemic that affected chickens and turkeys throughout the Midwest and beyond in early 2015, turkey prices have increased substantially.
According to the American Farm Bureau Federation, the average price of a 16-pound turkey is now $23.04, up $1.39 compared to last year. Meanwhile, prices for nearly all the other Thanksgiving dinner staples—including milk, fresh cranberries, pumpkin pie mix, and stuffing—barely budged this year. Overall, the estimated cost of feeding 10 people on Thanksgiving rose just 70¢, or 2% compared to last year.
What's misleading about the turkey prices mentioned in these studies is that they don't factor in Thanksgiving promotions at supermarkets. Neither do alarming headlines like "Thanksgiving turkey prices hit record highs." The truth is that regardless of the impact of the bird flu this year—or supposed "turkey shortages" in years past—major grocery stores are always compelled to sell turkeys are phenomenally cheap prices at this time of year. It's become the traditional way to drum up business, because when customers come in for inexpensive turkeys, they'll also be purchasing milk, eggs, bread, pies, cereal, and any number of other groceries.
"We lose [money] on every turkey we sell," the manager of an Apple Market in Missouri recently explained of his store's "loss-leader" deal, offering Best Choice turkeys for 75¢ a pound. "You have to be competitive. If they see the prices they want to see, they'll start buying. We have come up with a very competitive plan."
Here's a selection of competitive turkey promotions from grocery brands around the country, all offering prices under $1 a pound. (Note: Specials vary depending on locations, and most stores have a one or two turkey purchase maximum.)
Meijer: All turkeys are 50% off for customers who spend an additional $20 or more in the store. With the discount, the price of a Meijer frozen turkey runs as low as 52¢ a pound.
Albertsons: At some locations, prices are set at 59¢ a pound for Honeysuckle Turkeys, with a minimum $20 purchase. In some other stores, meanwhile, customers get a turkey for free with a purchase of $100 or $150.
Safeway: Depending on your location and the local weekly specials, Shady Brook or Safeway brand frozen turkeys weighing 10 to 24 pounds are priced as low as 59¢ a pound.
Stop & Shop: At select locations, promotional prices start at 59¢ a pound for Stop & Shop frozen turkeys and 99¢ a pound for fresh turkeys, with a $25 purchase required.
Quality Food Centers (QFC): Make a $30 purchase and a QFC private selection turkey costs just 69¢ a pound.
Apple Market: Weekly specials bring prices for Tom Turkeys and Best Choice Hams down to 75¢ a pound.
Target: Butterball fresh and frozen turkeys are available for 99¢ a pound, no minimum purchase required.
Hy-Vee: Buy a Hormel Cure boneless ham and you'll get a 10- to 14-pound Honeysuckle turkey for free, with coupon.
ShopRite: Once you meet the local purchase threshold on your Price Plus membership card, you'll be awarded a free turkey or ham.
WinCo: The low-cost supermarket is promising to beat any nearby competitor's advertised price on Thanksgiving turkeys, so long as any minimum purchase requirements are also met.
Read Next: The Big Lie About Young, Cage-Free, Hormone-Free Thanksgiving Turkeys