The Big Lie About Cage-Free, Hormone-Free Thanksgiving Turkeys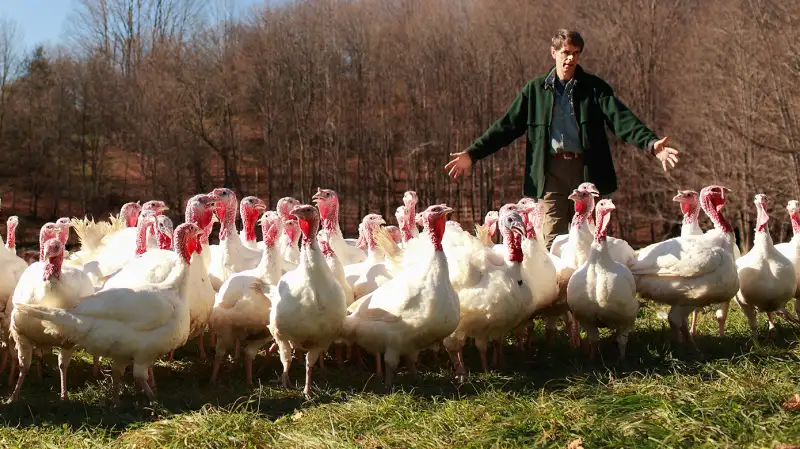 When you're shopping for your Thanksgiving bird, it will be tempting to grab one that is "young," "cage-free," and "hormone-free." Not only are cages and hormones are not part of the classic Thanksgiving story, but most of us like our birds natural, free, and ethically treated—not a jail-bird doing steroids. So you might even be willing to pay extra for such a turkey on Thanksgiving.
But don't get suckered in. By law, all turkeys are young, cage-free, and hormone-free.
As the Detroit News notes, the USDA is very clear: "No hormones are allowed in the raising of any poultry." It's that simple. Choosing a turkey from a non-mechanized farm is probably a good thing because the animals are treated a little better, but you're not getting a second-hand dose of anabolic steroids if you don't.
The term "cage-free" is similarly misleading. While cage-free means something for eggs—chickens raised for egg-production often are in cages because they make eggs easier to collect—poultry raised for meat do not live in cages. There's no advantage. Now, many turkeys and chickens do live in relatively small enclosures. So cage-free does not mean "free-range," which requires the turkeys and chickens to live out of doors for 51% of their lives. All turkeys that wind up on the Thanksgiving dinner table are cage-free. Don't confuse the term for free-range.
The last term you might see applied to Thanksgiving turkeys is "young," which is also meaningless because what farmer would want to keep a turkey around simply for the fun of it? It's not like a farmer pulls a turkey off a five-year egg-laying spell and sends it to death row. Turkeys are usually raised for meat production, and are slaughtered yearly. So if you see a turkey labeled "young" next to one that doesn't have its designation, know they're almost certainly the same.
Read Next: Forecasts Say 40% of Cars Sold in 2020 Will Be SUV