5 Clever Ways to Save Money at the Cheesecake Factory, According to a Former Server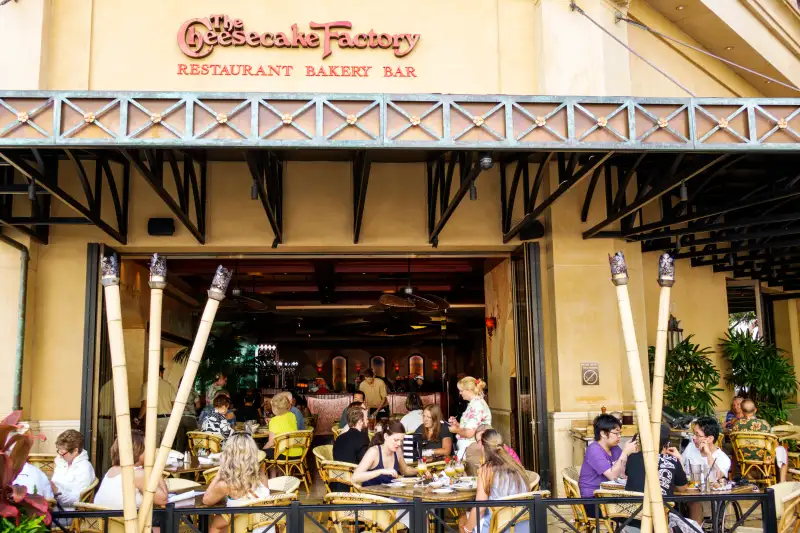 Jeff Greenberg—UIG via Getty Images
The Cheesecake Factory is mall food on steroids. Everything is bigger and extravagant, from the signature sugar-bomb desserts to calorie-loaded main dishes that barely fit on the tables.
The chain restaurant is also pricier than more middle-of-the-road establishments like Chili's or Olive Garden. Entrees tend to run from about $15 to $21, while fajitas at Chili's can be had for a cool $13. But, according to former Cheesecake Factory server Stella Stratigos, you get what you pay for there.
"All of the food is truly quality. Nothing's frozen, everything's homemade," the 29-year-old says, with the exception of the cheesecakes, which are shipped frozen into the restaurants from outside facilities. And there are smart ways to get a little more out of each buck.
Here are insider tips for getting the best deals at Cheesecake Factory while coming away full from its most delicious items.
Note: Prices vary at different locations. Cheesecake Factory prices here are for the Hackensack, New Jersey, location.
Skip the small stuff.
courtesy of Cheesecake Factory
The opening section of the nearly book-length menu at Cheesecake Factory isn't exactly cheap, with starters ranging from about $6 to $8, at least for what you're getting. "I would not do the small plates and snacks—they're literally called that. The little starter salad, the greek salad—they're kind of of tiny for how expensive they are," Stratigos says. Move forward instead to the appetizers, which include some rich favorites. She recommends the messy-in-an-awesome-way Factory Nachos ($12.95) and the Avocado Eggrolls ($11.95), which "are probably going to be on the menu forever."
Don't forget about happy hour.
Patrick T. Fallon—Bloomberg via Getty Images
If you are drinking adult beverages or even just eating, the happy hour at Cheesecake Factory is a relative steal. While the restaurant basically never offers discounts, that changes on weekdays from 4 to 6 p.m. in the bar area. Margaritas, Long Island Iced Teas, and Cosmopolitans will only run you just $5.95. Even better, those popular apps like those nachos and avocado rolls are the same price.
Learn to share the mammoth main dishes.
courtesy of Cheesecake Factory.
If you've eaten at Cheesecake Factory, you probably know the feeling of leaving the restaurant with what feels like a bowling ball sitting in your stomach. For the average person, the entrees provide a meal and then some. "Every entree is a value" based on its size, Stratigos says, and they're best shared. She loves the Steak Diane ($20.95) and Hibachi Steak ($21.50), both served with mashed potatoes. A couple could nosh on a couple appetizers and a single entree and feel more than satisfied. And Cheesecake, unlike some other restaurants, doesn't charge a table for an extra plate to split portions.
Take home the right kind of leftovers.
Patrick T. Fallon—Bloomberg via Getty Images
Of course, if your body resists ingesting everything you order at Cheesecake Factory, the natural thing to do is take food home. But in that case, order wisely. Ask for sauces on the side, Stratigos advises, and veer toward certain dishes. "The pastas and chicken all reheat very nicely if someone wants to take something home," she says. Salads, however, should be gobbled up in one sitting. Get the best of all worlds with the profoundly indulgent Louisiana Chicken Pasta ($17.95), featuring parmesan-crusted fowl, or the even spicier Cajun Jambalaya Pasta ($19.95), which has linguine tossed with chicken and shrimp. You'll thank yourself when you take a bite the next day, after the spices have had time to settle.
Mark National Cheesecake Day on your calendar.
Jeff Greenberg—UIG via Getty Images
Cheesecake Factory does give the public a price break once a year. Every year on National Cheesecake Day, July 30, the restaurant sells any cheesecake slice for half off and debuts a new flavor. Certain customers swear by the seasonal varieties, but Stratigos recommends the Adam's Peanut Butter Cup Fudge Ripple (normally $7.95) and the Ultimate Red Velvet Cake Cheesecake ($8.50). "You can have a full three-course experience—just share it all," she says. "You'll save an extra couple inches in your pants and leave not feeling disgusting."