20 Perfect Holiday Gift Ideas for Bosses, Coworkers, and Even Your 'Work Spouse'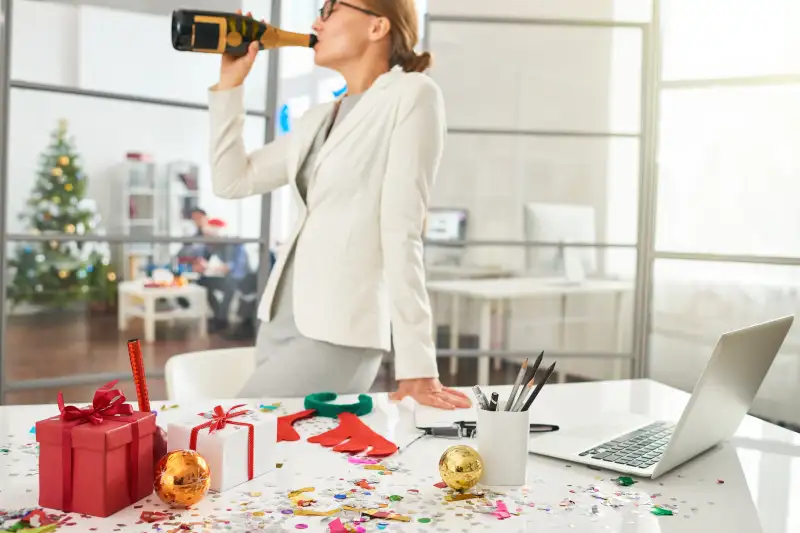 mediaphotos—Getty Images/iStockphoto
Figuring out what to get your dad or teenage niece for the holidays is tough enough, but buying Christmas gifts for coworkers can be a much more fraught challenge.
For what it's worth, there are plenty of career experts out there who say it's better to steer clear of holiday gifts in the workplace entirely for Christmas 2017. Why? One person's idea of a funny or "useful" gift just might be cringe-inducing or even offensive to someone else.
"My favorite approach is some version of the 'white elephant' gift exchange," says career expert Todd Dewett. "I would not generally recommend buying gifts for many people at the office."
But we understand that if your job has a holiday gift-giving tradition, you're probably not going to change that overnight. Whether you need a silly gift, a generic one for a blind swap, or you're looking for a thoughtful but inexpensive gift for a coworker, we've got you covered for Christmas gift ideas.
Since most grab-bag or round-robin swaps have a price cap, we've flagged our top picks under $20, and some even under $5 if you need really cheap gifts for co-workers. We also have some suggestions for humorous gifts that will get a laugh but won't get you in trouble with HR, and some nicer presents you could gift to your boss or "work spouse."
Cheap Coworker Christmas Gifts Under $20
This is quite possibly the chicest dry-erase calendar we've ever seen, and the "perpetual calendar" format means it can be wiped clean and re-used each month.
Dewett says simple games are common office gifts, so you're in safe territory with this category. This eight-cube wooden kit invites the recipient (or whoever else drops by their desk) to create spontaneous poetry.
Courtesy of Uncommon Goods
If you need small Christmas gifts for coworkers, gift-giving expert Robyn Spizman suggests Pinch Provisions' emergency kits. This gift packs essentials like safety pins, an emery board, clear nail polish and stain-removal wipes in a cheery bag accented with a fuzzy pom-pom.
Courtesy of Urban Outfitters
Let's face it, most of us are more productive after we've gotten some caffeine into our systems. This 16-ounce mug has a slide closure on the lid to prevent spills, so the cupholder or keyboard will stay dry.
Because who couldn't use a mantra or a meditative thought during those blood pressure-elevating brainstorming meetings or client conference calls?
Cheapest Coworker Christmas Gifts Under $5
These were the highest-reviewed earbuds we could find on Amazon at a sub-$5 price point — because everybody needs to just put on some tunes and get into the zone sometimes.
Spizman likes tea as a nice low-cost gift for coworkers. We're big fans of Yogi's mellow lavender and honey stress-relief herbal blend.
Filing paperwork is boring. Enliven this unavoidable chore with these colorful binder clips.
This pillar candle layers seasonal vanilla-woodsy scents and burns for up to 30 hours.
Stop a headset cord or charging cable from sprawling all over a desktop or conference table with this set of two winders, which have a suction base for easy anchoring.
Funny Coworker Christmas Gifts
You probably never realized how absurdly appropriate quotes from a galaxy far, far away are as modern workplace inspirational sayings — until now. Depending on the vibe in your office, you can also get ones with quotes from the movies "Mean Girls" or "Anchorman."
This tongue-in-cheek T-shirt says it all, while slyly poking fun at the perennial office holiday party tradition.
This gift may be funny, but these black lumps of soap get their dark hue from activated charcoal, which is serious business when it comes to cleaning and clarifying your skin.
Courtesy of Uncommon Goods
For some perspective after a gaffe or blunder: Hey, at least you weren't the workers responsible for the epic fails compiled in this book. (We still wouldn't recommend giving it to a coworker right after they bust out some ill-advised dance moves at the holiday party, though.)
For that one work buddy who's sarcastic as all get-out, this gives a way to get into the holiday spirit without being cutesy or cloying. It's currently 25% off the normal $29 price, too.
Best of the Best Coworker Christmas Gifts
This soft case has a scratch-preventing fleece lining and comes in two neutral shades that will go with whatever color messenger bag they carry.
You might be in the urban jungle, but you know your coworker would rather be scaling a peak, hitting the trail or paddling up a creek. Acknowledge that they have a life outside of work with this infinitely handy multi-tool and watch combo.
Courtesy of Uncommon Goods
Spizman suggests a subscription to an audiobook service like Audible — make the gift more personal by suggesting a few titles you really love.
When it comes to your work BFF, "Give them something with a personal touch," says Gary Beckstrand, vice president at corporate rewards and recognition firm O.C. Tanner. If they're on the road a lot, this improbably chic Italian leather tag contains USB and Lightning connectors for on-the-go iPhone or iPad charging.
For your work bestie who's always freezing, these cozy scarves get raves from reviewers on Amazon, and the price seriously can't be beat. (If you're thinking about picking one up for yourself, too, we wouldn't blame you.)
We've included affiliate links into this article. Click here to learn what those are.