Check Out This Business That Does Nothing But Give Away Free Stuff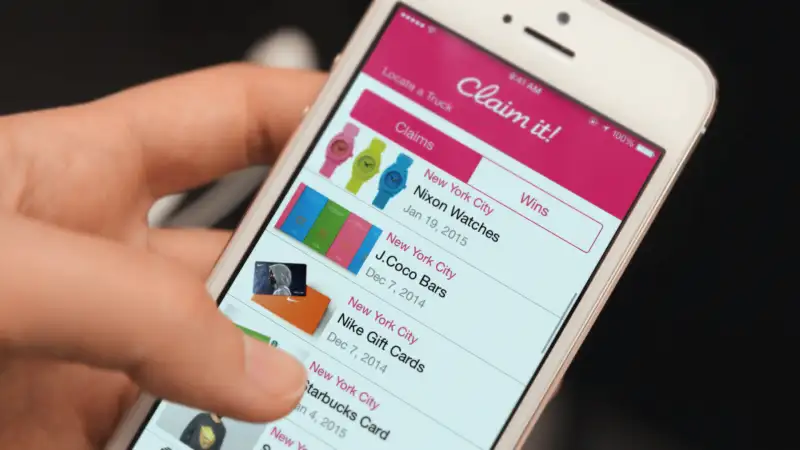 When a friend told Anna Monzon about a pink van in New York City where she could win valuable free prizes, she was intrigued. "I love free stuff," says Monzon, a 25-year-old commercial real estate agent who lives on Manhattan's Upper East Side.
So Monzon began entering the contests, run by Claim it!, a New York City startup. First she'd enter a random drawing using the Claim it! app from her mobile phone. Then she'd hope for a text message on her mobile phone on a Sunday evening telling her if she won the drawing.
She got lucky and snagged several prizes. "The first thing I won were Beats headphones," she says. "One time I won Air Jordan sneakers. I don't wear them, so I ended up selling them on Craigslist."
To pick up her prizes, there was one condition: She had to find the van—which changed its location in the city each day—and watch a short commercial. (She'd find where the van was parked from the company's app.)
Monzon had plenty of company when she showed up: So far, the app has close to 100,000 users, according to Ali Abdullah, a former senior product manager at Google who started the now nine-employee business in December 2014.
Claim it! operates only in New York City and gives out prizes ranging from $25 Shake Shack gift cards to GoPro cameras. Revenue—as well as the prizes—come from advertisers who, Abdullah explains, appreciate that contestants have a 100% rate of viewing their 10-to-15-second commercials. Advertisers include P&G and Unilever Brands, Abdullah says. (He declined to say how much revenue the company brings in.)
Currently, prize winners must pick up their goodies at the van, but in the third quarter, Claim it! plans to start partnering with retailers. Users will be able to collect their prizes at retail stores, too. Recently, Claim it! did a test run at Crumbs Bake Shop, and has secured a variety of retail partnerships, he says.
Read next: From Trap to Table: Luke's Lobster Serves Fresh Maine Catch
Abdullah came up with the idea for Claim it! after a period of joblessness, when he lost his family's home to eviction and ended up living with friends. At the time, he says, his relationship with his girlfriend was strained and the only thing that brightened his days was receiving gifts in the mail from retired NBA star Al Harrington, whom he had befriended through Harrington's sister, a friend. Among the gifts were a pair of LeBron James sneakers. "I had this idea: 'These sneakers are extremely valuable'," says Abdullah. "Should I wear them or should I sell them?" In dire need of cash, Abdullah sold that particular pair of shoes to the manager of a local store.
Eventually, Abdullah got back on his feet, found a contract job as a web applications engineer at the Clinton Foundation. But the spark of excitement he got from receiving the prizes in the mail stayed with him.
Influential investors have decided he's onto something. Stephen Sadove, former chairman and CEO of Saks Fifth Avenue, bought a small minority stake in the business in 2014. Sadove met Abdullah at a business event and was impressed by the vision the entrepreneur showed in early demos of Claim it!
"My world was retail," says Sadove. "I was interested in different technologies that could disrupt retail in some way. People like getting things for free. I listened to his thinking and the idea that people would view a short video to get free things. It was a very interesting concept. I decided to invest and advise him."
Another investor is Harald F. Stock, president and CEO of ArjoHuntleigh, a medical device maker headquartered in Malmo, Sweden. They got to talking about Claim it! when Stock was having a beer in a bar near Manhattan's Columbus Circle and Abdullah was sitting nearby, working on his computer. Stock found the entrepreneur's approach compelling.
"On one side he's very down to earth, very grounded, able to communicate and network very well," says Stock. On the other, Stock says, Abdullah has impressive technical knowledge and visionary thinking. "That's a rare breed," says Stock.
Read next: How to Make Sure Your Small Business Outlives You