Retirement Planning for Singles: 5 Tips for Flying Solo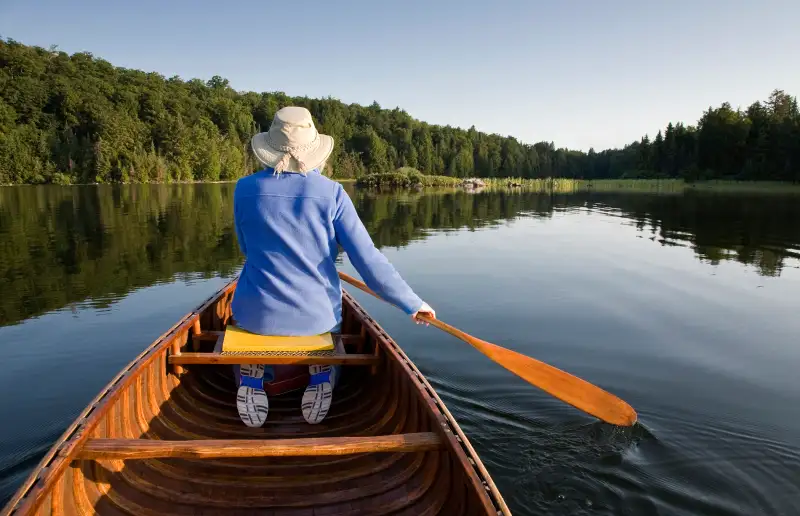 Mary Ellen McQuay—Getty Images/First Light
Planning a retirement for one? You've got plenty of company. About 40% of women and 35% of men ages 45 to 64 are unmarried, according to the U.S. Census Bureau.
Retirement planning brings challenges regardless of your marital status. But for single people, "there's a bit more tension," says Scott M. Sadar, a financial planner with Somerset Wealth Strategies in Portland, Ore.
Singles are nearly twice as likely as married people to feel "not at all" financially secure, with 38% of single men and women reporting such feelings, versus 23% of married men and women, according to a recent survey by Northwestern Mutual. What's more, 49% of single people say they have not spoken with anyone about their plans for retirement, compared to 24% of married people, so they may feel particularly weighed down by questions about their financial readiness.
Not single? Money's Ultimate Retirement Guide for Couples includes advice for duos in their 20s and 30s, their 40s, their 50s, and nearing retirement.
The good news is that you don't have to square your vision of retirement with a spouse, so in that respect you may have it simpler than your coupled counterparts. A financial adviser can help you figure out if you're on the right track, possibly relieving a lot of the anxiety. To find an adviser who charges a fixed hourly rate, do a search at garrettplanningnetwork.com or napfa.org.
Here are 5 important ways to get your ducks in a row:
Check your safety net
Singles rely on just one paycheck to meet their living expenses and save for retirement, so it's especially important that you have disability insurance to replace part of your income if you become unable to work. Check to see what your employer offers—some companies offer both short and long-term disability coverage through payroll deduction. Commonly, long-term disability policies will replace 60% of your income if a serious illness or accident prevents you from working. If you don't have group coverage through work, you can buy an individual policy through a broker or directly from an insurance carrier. Rates will vary according to your age, health, occupation, and policy details.
Have a rich life beyond the office
It's important for everyone not to be defined solely by their work. And having a busy and fulfilling life outside the workplace is particularly critical for singles, since you won't have a spouse at home with a long list of trips, projects, and activities to get to once you both leave work behind. Moreover, whatever your outside life entails—family, friends, athletics, a religious community, charitable work—may ultimately shape your decisions about where and how you want to live when you retire.
Like everyone else, you'll want to spend some time imagining how you'll fill your days in retirement. "How will you keep yourself physical and mentally active?" says Michael Brady, president of Generosity Wealth Management in Boulder.
People who are newly single—either widowed or divorced—may need to do a little more soul-searching to figure out meaningful activities, says Terri Orbuch, author of Finding Love Again: 6 Simple Steps to a New & Happy Relationship. "You need to figure out, 'who are you, really?'" she says. Perhaps you played golf with your spouse. Is that an activity you like enough to continue it on your own, or do you have another passion you want to pursue?
Find groups with similar interests. If talk among your friends typically revolves around grandchildren, and you don't have any, then start a book club where you can discuss the selected book when you're together, Orbuch suggests.
Name your proxies
All adults need to designate trusted individuals who can make medical and financial decisions for them if they can no longer act on their own. For those without a spouse who can step into the role, appointing proxies takes on an increased urgency. An estate-planning attorney can help you designate a health-care agent to make medical decisions on your behalf and a financial agent to handle money matters. Ideally, your health-care agent will live close to you, so he can come to your side quickly in an emergency. A financial agent needn't live locally, although she should know where to find all your financial information, such as bank and brokerage account numbers and passwords.
Those who need extra help with finances might engage a daily money manager, a professional who helps with bill paying, budgeting and record keeping. These professionals typically do not act as financial power of attorney themselves. Find one on the website of the American Association of Daily Money Managers.
Consider long-term-care insurance
Medicare does not cover the kind of long-term care that is most often needed by older adults: help with activities of daily living such as bathing, dressing and eating. Nearly 70% of those turning 65 will eventually need some form of long-term care, according to government projections. That expense generally needs to be paid out of pocket, unless you've exhausted all your assets and meet strict criteria to qualify for Medicaid.
Those without spouses or children to provide hands-on care may benefit in particular from long-term-care insurance, Sadar says. Needing care, he notes, is "a huge risk to your income in retirement."
Read next: 5 Essential Retirement Moves for Couples in Their 20s and 30s
Many long-term-care insurance policies pay for care in the home, not just in a facility. A single man age 55 would pay premiums of $2,035 a year for a plan that provides three years' worth of benefits at a level that grow 3% each year, with a 90-day elimination period, according to the American Association for Long-Term Care Insurance. Assuming the annual premium stays the same, the man will have paid $50,875 in premiums for a policy that will be worth $365,000 in benefits by the time he's 80. For a single 55-year-old woman, the annual premium would be $2,580, and she will have paid $64,500 in premiums for the same coverage once she's 80.
Know all your Social Security options
If you have always been single, your Social Security benefit will be based only on your work history. But if you were previously married—and your spouse died or you got divorced—you may be eligible for a benefit based on that person's work history as well. There are multiple Social Security strategies for survivors: You might do better to first claim your earned benefit and later switch to a survivor benefit, or the reverse, depending on your situation. To collect Social Security on your ex's record, you must have been married for at least 10 years and you must be single now.