141,000 Freshmen Say Their Major Reason for Attending College Is...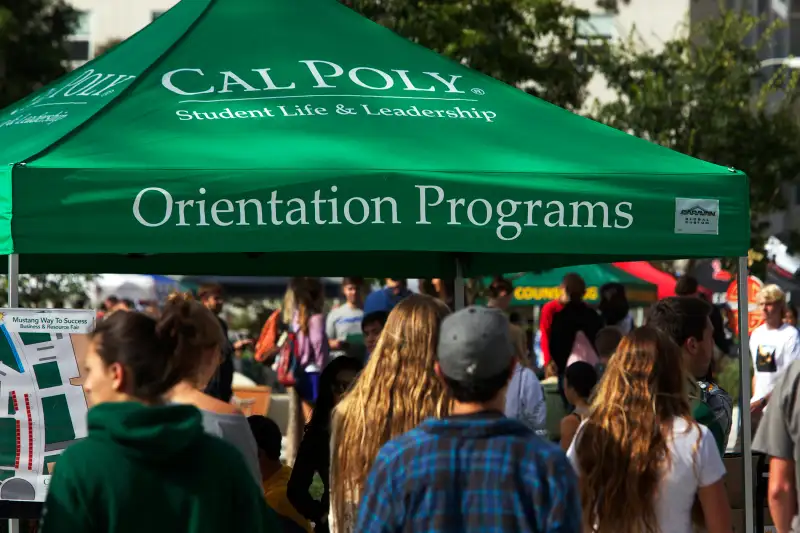 Patrick T. Fallon—Bloomberg via Getty Images
The importance that college students place on the cost of a college and getting good jobs after graduation continues to grow, according to a major annual survey released today.
About 85% of freshman this year said getting a better job was a major reason for going to college, and six in 10 considered a college's ability help its graduates get good jobs when deciding where to attend, according to the survey published by the Cooperative Institutional Research Program at the University of California at Los Angeles.
Now in its 50th year, the survey asks full-time freshman in the early weeks of their fall semester about their reasons for attending college, how they're paying for it, and a variety of contemporary cultural issues. Some 200 four-year colleges and universities and 141,000 freshman participated this year.

Major findings this year included a record-high 8.5% of students who said there was a "very good" chance they'd participate in student protests while in college. That, along with increased importance of other issues, such as being a community leader, understanding other countries and cultures, and influencing the political structure, makes this year's freshman class among the most political and civic-minded in the history of the survey, the authors said.
"If college administrators were thinking or hoping that the enthusiasm (for protests) or engagement with students was going to subside...our data are showing, at least with this incoming class, that may not be the case," Kevin Eagan, director of the research center that conducts the survey, told Money.
Looking specifically at the financial questions, there have been some large shifts over the decades, as you'd expect. Compared with 1967, almost three times the share of students today say the cost of the college they attend was a "very important" factor in deciding to go there. About 45% of students said that in this year's survey, which is also twice the percentage who did 25 years ago.
But some factors have remained relatively unchanged. While the use of loans, grants, and scholarships to pay for a significant part of the first year's expenses has become more common, the likelihood of using a contribution from family members and a student's own savings or income has changed little.
Likewise, the share of students saying they had major concerns about being able to pay for college has only grown slightly over the past five decades, from 9% to 12% (See the chart below for responses to a sample of financial questions roughly 50, 25, and 5 years ago.)
About a quarter of students said they were receiving a Pell Grant, a federal, need-based grant given to low- and middle-income students. Those students were more likely to have loans than their peers without Pell Grants, and far more likely to express major concerns about paying for their education. Less than a third of Pell recipients said they expected to use $3,000 or more in family resources, compared with almost 75% of students who didn't receive a Pell grant.

NEWSLETTER: COLLEGE_PLANNERSign up for COLLEGE_PLANNER and more View Sample
Overall, about half of students said they did not plan to use a loan to pay for any of their first year's expenses, though other studies have found that about seven in 10 undergraduate students borrow. Students were asked only about their first year, so it's possible more will have to borrow in subsequent years, after one-year scholarships or grant aid expire, Eagan said.
The income distribution in the survey, which questions only full-time, first-time freshman, also has shifted to more affluent households in recent years, so survey respondents may come from families that don't need to rely as heavily on loans, he said.
Students continue to apply to more schools, on average. In the late 1960s—when the annual survey began—roughly half of students applied to just one college. Today, almost three in 10 students applied to seven or more schools, double the percentage that did so a decade ago.
| What Freshmen Say | | Then | | Now |
| --- | --- | --- | --- | --- |
| | 1967 | 1990 | 2010 | 2015 |
| Applied to seven or more colleges | 1.7% | 7% | 25.5% | 36.3% |
| Family will pay for significant amount of first year's expenses* | 57% | 54.8% | 54.4% | 54.2% |
| Student's own money will pay for significant amount of first year's expenses* | 21.4% | 16.1% | 14.3% | 16.5% |
| Grants will pay for significant amount of first year's expenses* | 21.5% | 35.2% | 54.8% | 56.6% |
| Loans will pay for significant amount of first year's expenses* | 16.9% | 23.5% | 39.3% | 36.1% |
| Has major concern about ability to finance college | 9% | NA | 11.1% | 12% |
| Plans to earn degree beyond a bachelor's | 58.9% | 67.9% | 77.8% | 76.7% |
| Cost of college was "very important" factor in deciding to attend | 16.3% | 23.3% | 41% | 45.2% |
| College's grads get good job was "very important" factor in deciding to attend | NA | 43.4% | 53.3% | 60.1% |
| Being "very well off financially" is essential or very important | 40.7% | 71.1% | 77.4% | 81.9% |
*This question was asked in different ways over the years. In 1967, students were asked what (family, self, loans) would be a "major" source of funding. In 1990, the survey asked about sources that would contribute more than $1,500. And in 2010 and 2015, there were several dollar ranges given. We defined all the ranges above $3,000 as a significant amount.