The Confederate Flag Is Getting Some Interesting Reviews on Amazon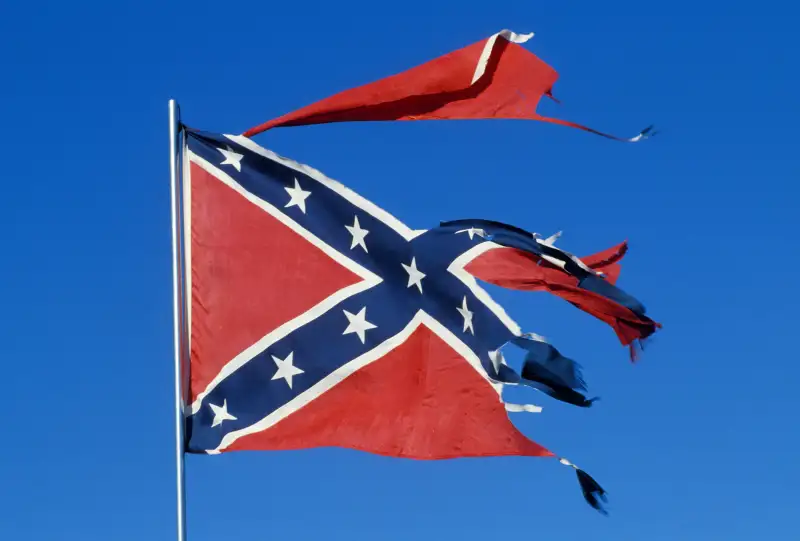 On Monday, South Carolina Governor Nikki Haley called for the removal of the Confederate flag from statehouse grounds. "For many people in our state, the flag stands for traditions that are noble," Haley said. Yet at the same time, she said, in light of the way the flag has been used by some as a symbol of hate—most obviously, by the suspect in last week's deadly shooting in a historic black church in Charleston—"the flag is a deeply offensive symbol" that must be removed from the capitol grounds in Columbia.
Soon after Haley's announcement, Walmart, Sears, and Kmart stated that they would stop selling flags and other merchandise featuring the Confederacy's "Stars and Bars." As of Tuesday morning, however, there was no sign of e-retailers Amazon and eBay following suit with bans of their own. Tens of thousands of items featuring the Confederate flag design remain available for purchase at the sites.
[UPDATE: Well, that didn't take long. By Tuesday afternoon, Amazon and eBay both announced they were removing Confederate flag merchandise from their sites.]
Considering that there's a tradition for sarcastic and faux Amazon reviews to be used as bullhorns for political opinions—see the reviews of Wendy Davis's Mizuno sneakers or Paula Deen's books—it shouldn't come as a surprise that people are weighing in on the Confederate flag controversy with new reviews. In many cases, they're not only bashing the merchandise and the sellers, but also Amazon itself for facilitating the sales of what many deem to be a symbol of hate, racism, and intolerance.
Dozens of reviews have been added at Amazon.com over the last few days for one Confederate Rebel Flag in particular. Sold by a company called Rhode Island Novelty, the three-foot-by-five-foot polyester flag—made in Taiwan, priced at $5.74 (down from the "list price" of $45)—has drawn loads of one-star reviews and comments such as the following:
As Quartz pointed out, reviewers have been adding their two cents to the Q&A section for the item as well, with users entering sarcastic queries like, "Is the other side of this flag a Nazi Swastika? I only have one flag pole to show my pride in defunct nations based on racism."
While the majority of new reviewers take aim at the Confederate flag merchandise and the sellers of such goods, some are defending the "Stars and Bars," or at least the right of people to buy and sell the items. "This flag does NOT stand for racism and it's NOT a rag," one commenter stated. Another commented, "My husband and I both shop at Amazon all the time and if they STOP selling the Flag I'll no longer shop here."