All the Celebrities and Companies Cutting Ties With Facebook Because of Privacy Concerns
Money is not a client of any investment adviser featured on this page. The information provided on this page is for educational purposes only and is not intended as investment advice. Money does not offer advisory services.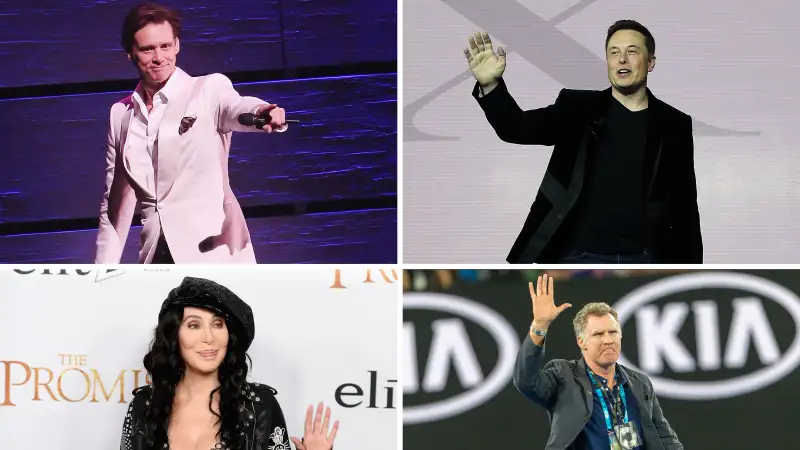 Getty Images (3); Shutterstock (1)
The #DeleteFacebook movement is expected to pick up another high-profile member by the end of this week when famous funny man Will Ferrell quits the social network.
On Tuesday, Ferrell made an announcement—on Facebook, somewhat ironically—that he would be deleting his profile within 72 hours. Ferrell wrote that he "always had an aversion to social media," and that he was quitting Facebook because of revelations that the social media platform allegedly allowed a company called Cambridge Analytica to improperly gather users' data for political purposes.
"I know I am not alone when I say that I was very disturbed to hear about Cambridge Analytica's misuse of millions of Facebook users' information in order to undermine our democracy and infringe on our citizens' privacy," wrote Ferrell, best known for performances on Saturday Night Live and in movies like Anchor Man and Elf. "I can no longer, in good conscience, use the services of a company that allowed the spread of propaganda and directly aimed it at those most vulnerable."
https://www.facebook.com/WillFerrell/posts/10156316454065439
As the Cambridge Analytica scandal has grown, and the responses of Facebook and its founder Mark Zuckerberg have failed to satisfy users, the #DeleteFacebook hashtag has gone viral. Investors have soured on Facebook as well, hence the steep drop in Facebook shares and the personal net worth of Zuckerberg.
Thus far, no major politicians have quit Facebook—and it seems highly unlikely that any will. While many political leaders have criticized the social network recently, and have called Zuckerberg to testify before Congress, political candidates and incumbents probably won't delete their accounts because they find Facebook "virtually indispensable," the San Francisco Chronicle reported. "On a basic, public level, Facebook serves as an online bulletin board for campaign events and a way for supporters—and potential supporters—to weigh in on issues. It helps campaigns recruit volunteers and get voters to the polls on election day."
Still, when Ferrell officially deletes his account, he will be joining a growing list of celebrities and brands that are deciding to cut ties with Facebook due to the alleged data breaches. Here are some of the stars and brands who have quit Facebook entirely, as well as a few that have stopped advertising on the social network:
Jim Carrey
The actor and comedian was ahead of the curve with his decision in early February to delete his Facebook page and sell his stock in the company. (In retrospect, the latter was a very wise move—Facebook stock has since fallen more than 15%.)
Elon Musk, Tesla, and Space X
Tesla and Space X founder Musk was called out on Twitter last week to delete his company's Facebook pages—and then Musk promptly responded by doing just that.
Cher
The actress and singer admitted that it was hard for her to quit Facebook, but said that it was the right thing to do. Apparently, she must be talking about her personal Facebook account, because the professional Facebook page where information is posted about Cher concerts and merchandise is very much alive.
Playboy
Cooper Hefner, the son of Playboy founder Hugh Hefner and current chief creative officer of the company, said on Wednesday that Playboy was suspending all activity on Facebook.
Pep Boys
The auto parts retailer announced earlier this week that it would suspend advertising on Facebook in the wake of the data breach scandal. "We are concerned about the issues surrounding Facebook and have decided to suspend all media on the platform until the facts are out and corrective actions have been taken," Pep Boys chief marketing officer Danielle Porto Mohn said in a statement.
Mozilla
The software firm Mozilla, perhaps most best known for its Firefox browser, announced last week that it was "pressing pause" on Facebook advertising due to growing concern about the social network's privacy policies. "While we believe there is still more to learn, we found that its current default settings leave access open to a lot of data—particularly with respect to settings for third party apps," a statement from Mozilla said.
Sonos
In a blog post, the wireless sound system firm Sonos said that it is suspending advertising this week not only on Facebook, but Instagram, Google, and Twitter as well. "The Cambridge Analytica scandal, like many recent headlines coming out of Silicon Valley, raises questions about whether Big Tech is doing enough to balance its own interests with one of its biggest responsibilities: Safeguarding your privacy," the company said. Instead of spending money on advertising, Sonos said it's making a donation to RightsCon, a conference focused on defending the rights of everyone in the digital age.