Why Delta's New Security Checkpoints Are So Much More Efficient Than TSA's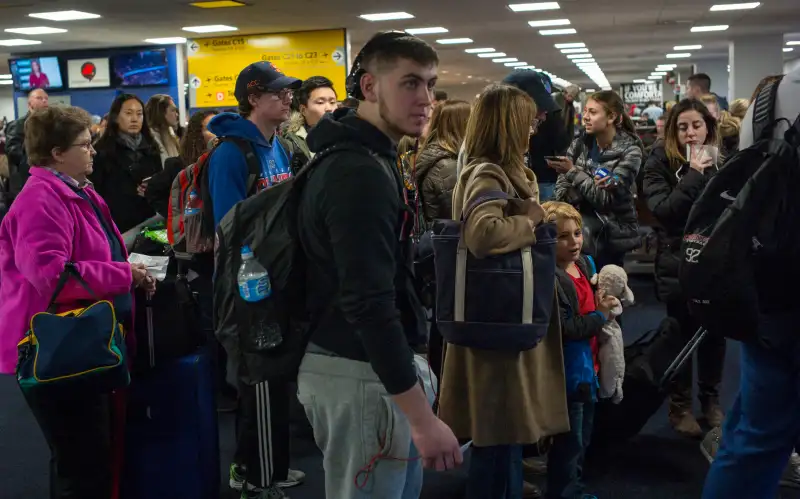 Robert Nickelsberg—Getty Images
Delta Airlines' new "innovation lanes" in the security checkpoint at its home airport in Atlanta do more than just add manpower to improve the sluggish passenger screening process. They change the process itself to make it more efficient and cost-effective.
Instead of the single current checkpoint, Delta's setup introduces five "divestment points"—places where you empty your pockets, remove your belt, and take off your shoes—to speed up the one-at-a-time process whereby you have to wait until the person in front of you is finished before you can empty your things into a bin. An automated system routes bins that trigger an alarm to a separate area for inspecting, so one person's too-big bottle of hot sauce or laptop left in its case doesn't hold up the entire line. The system also automatically recirculates empty bins, which means an agent doesn't have to spend time collecting used bins and ferrying them back to the other side of the checkpoint.
Delta isn't the only airline that has ponied up money to help address the crisis, but its innovations could be a model for transforming the Transportation Security Administration's security screenings, which have made headlines in recent weeks as travelers braced to contend with extremely long lines at TSA security checkpoints heading into the summer travel season. Delays due to TSA gridlock are expected to be so bad that some would-be travelers say they'll just stay home, leading to a loss of $4.3 billion on travel spending in the U.S.
Read Next: The Best Free Thing to Do in Every State
The carrier says it spent more than a million dollars to implement the new system, which took only two months to launch. The airline claims that its new process—by moving people through faster and offloading Delta customers to its own lanes, thereby freeing up space in the TSA's old lanes—has led to a 10% improvement in productivity at all checkpoints.