After Dick's, Only One Major Retailer Is Still Selling Semi-Automatic Assault Rifles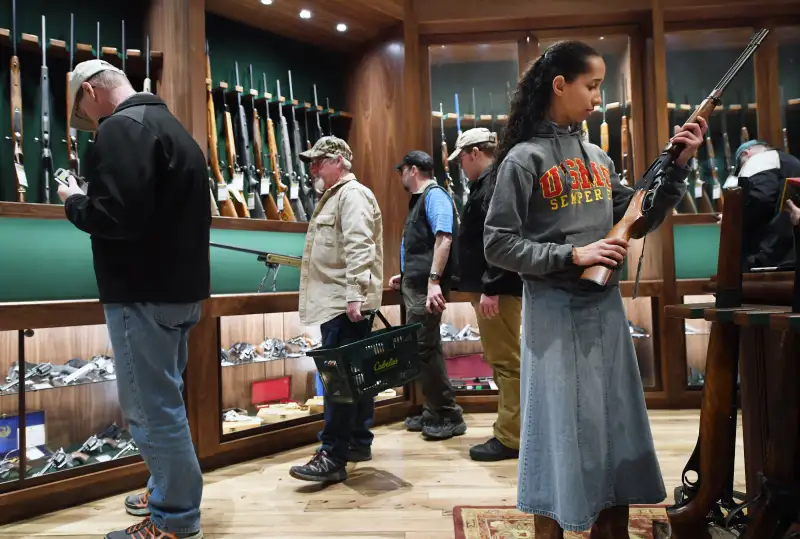 The Washington Post—The Washington Post/Getty Images
Dick's Sporting Goods announced on Wednesday that it would stop selling assault-style rifles in all of its stores, a direct reaction to the February 14 high school shooting in Parkland, Florida, that left 17 dead.
"When we saw what happened in Parkland, we were so disturbed and upset," CEO Edward Stack said.
The move leaves just one major retailer standing alone in continuing to sell the semi-automatic assault-style rifles commonly used in mass shootings: Bass Pro Shops, which now includes Cabela's, a competitor it purchased last year. Bass Pro Shops was named by Forbes as one of America's largest privately-owned companies. There are a total of over 160 Cabela's and Bass Pro Shops retail stores in the U.S. and Canada. Both stores also sell high-capacity magazines, which allow shooters to fire a higher number of rounds without needing to reload.
Bass Pro Shops did not immediately return a request for comment. The weapons also remain available for sale at gun shows and independent gun shops around the country. Another popular outdoors retail chain, Utah-based Sportsman's Warehouse, also sells the assault-style rifles Dick's is banning.
Many large companies have changed their policies around guns lately, as protesters push for tougher regulations. Some have cut ties with the National Rifle Assocation, ending discount programs for NRA members. Dick's announced that all of its stores would immediately stop selling assault-style rifles and high-capacity magazines, and that it would no longer sell any guns whatsoever to customers who are under the age of 21.
While stating that "we support and respect the Second Amendment," Dick's also urged Congress to take action and called for a national ban on assault-style firearms, a ban on high-capacity magazines and bump stocks, and a minimum age of 21 for all firearms sales. "Thoughts and prayers aren't enough," a Dick's press release said.
This isn't the first time that Dick's Sporting Goods, which has roughly 600 locations in the U.S., has taken action after a deadly school shooting. In the aftermath of the mass shooting at the Sandy Hook Elementary School in Connecticut in 2012, Dick's removed all guns from the store nearest the tragedy and said it was suspending sales nationally for certain kinds of semi-automatic weapons. But Dick's soon began selling assault-style rifles again, via its gun-and-hunting-focused retail chain Field & Stream, which has roughly three dozen locations nationally. Going forward, neither Dick's nor Field & Stream stores will be selling these products.
Walmart, the world's largest retailer, has also been scaling back gun sales at its stores. In 2006, Walmart stopped selling guns at roughly one-third of its stores, citing "diminished customer relevancy." In 2015, all Walmart stores stopped selling semi-automatic rifles like the AR-15, the weapon of choice in mass shootings such as those in Sandy Hook, San Bernardino, Las Vegas, and most recently in Parkland, Florida.
After we first published our story, Walmart announced that it would stop selling ammunition or firearms of any sort to customers under the age of 21, and that it would ban sales on assault-style rifles. Another big retailer, Kroger, which is known mostly for its supermarkets, also said it would institute a minimum age of 21 for anyone buying guns at its Fred Meyer brand stores.
Dick's decision leaves Cabela's and Bass Pro Shops as only major retail brands still selling semi-automatic assault-style rifles.
Dick's CEO Edward Stack went on ABC's "Good Morning America" on Wednesday and told George Stephanopoulos how the company made its decisions. "As we looked at what happened down in Parkland, we were so sad and disheartened, we felt we really need to do something," Stack said.
Stack said that current laws fail to prevent mass shootings. He expressed frustration that the Florida school shooter, who was 19 and had given off many warning signs he was dangerous, purchased a shotgun last November at a Dick's store (though the weapon was not used at the school). "We did everything by the book. We did everything that the law required. And still he was able to buy a gun," Stack said.
Stack said that his company was inspired to take action by the student survivors in Parkland who have been leading the calls for tougher gun regulations and improved safety. "If the kids can be brave enough to organize like this, we can be brave enough to take these out of here," he said.
It is unclear how many guns Dick's Sporting Goods stores sell annually. But firearms are clearly an important part of Dick's business. Last summer, Dick's stock price dropped 19% in one day after reporting decreasing same-store sales—and declining gun sales during the Donald Trump era were cited as a major reason for flagging sales overall.